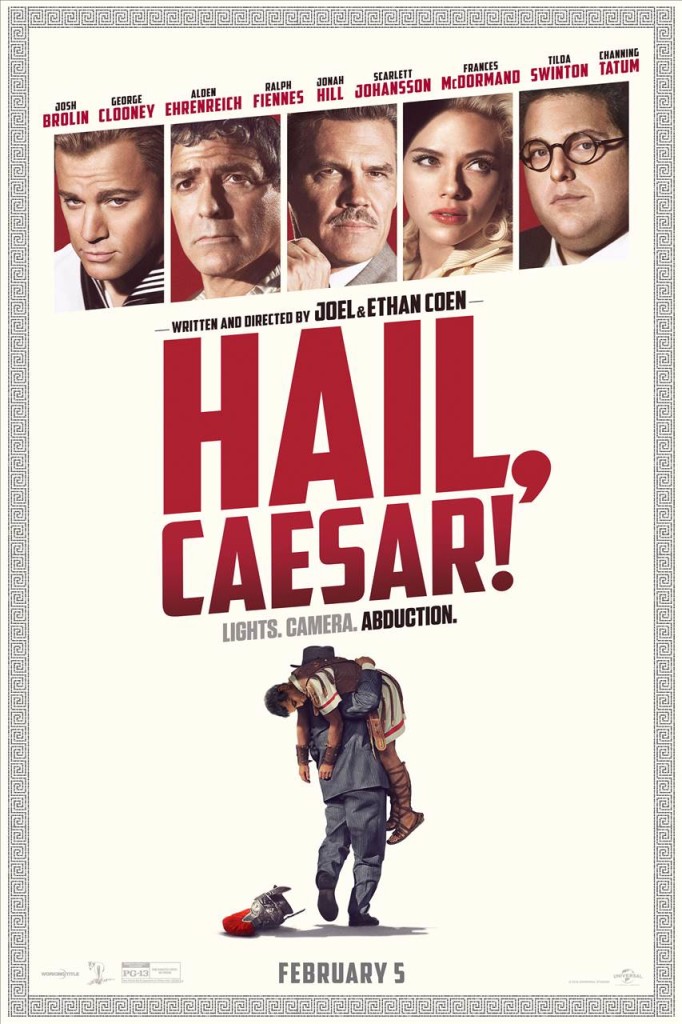 "Hail, Caesar!" has been marketed as a high paced screwball comedy, a sort of spoof of the 1950s Hollywood studio system and the distinct genres of movies in which that system trafficked, replete with odes to Gene Kelly dance numbers, Esther Williams aquamusicals, hokey Westerns and of course prestige pictures. But being a Coen brothers movie, audiences will be getting more than just jokes, as this is not the high paced comedy advertised, but instead an alternately silly and somber reflection on faith, purpose and personal fulfillment, emphasized by scenes in which characters discuss communism or have dialectic debates on the truth of divinity in disparate theologies. The Red Scare and Catholic Guilt, both examined in a movie about the one sane person keeping the nuthouse in check.
That one sane person is Eddie Mannix (Josh Brolin), who runs the day to day operations of Capitol Pictures, which fans of the Coens' film "Barton Fink" will recognize as the same studio for which Barton wrote in the 1940s (they even name drop Wallace Beery again), and this whole story pretty much plays out over the course of 27-28 hours, though its one of those days that just happens to be pretty pivotal for our main character. While he goes around the studio lot addressing problems and making sure everything is fine, he's also thinking about a job offer he has to go work for Lockheed Martin, a job that would give him easier hours, better pay, and a guaranteed gig for a very long time. But…would he find it fulfilling?
Meanwhile, just as Capitol Pictures is about to finish shooting on their big expensive prestige picture "Hail, Caesar! A Tale of The Christ," that movie's star Baird Whitlock (George Clooney) gets kidnapped and ransomed. Eddie has to take care of this kidnapping while simultaneously keeping it out of the press, and in addition to this he has to deal with an unwed pregnant movie star (Scarlett Johansson), a pair of nosy journalists (both played by Tilda Swinton), and also he's trying to quit smoking cigarettes for his wife (Alison Pill). He is also forced by his boss to force an inexperienced actor (Alden Ehrenreich) upon a well meaning but frustrated director (Ralph Fiennes), and he also has to suppress an old unsavory story (especially by 1950s standards) about his studio's biggest star. Suffice to say, this guy has a lot to do over the course of one day, and it isn't even apparent whether or not he got any sleep during this time.
Brolin plays Mannix pretty straight forward, leaving the mugging and embellishments to the other characters, which makes sense because he's "the fixer," the one who keeps everyone in line, keeps bad stories out of the press, manages actors' public images with the help of legal counsel, he has to be the one with his head on straight. But this character is also plagued with classic Catholic guilt, as he apparently goes to confession once a day and recaps all the little slights and lies and bursts of anger, whatever he feels like needs to be expunged from the record, and it is obvious that this job weighs down on his soul in many ways. But then when the Lockheed Headhunter tries to get him to sign a lucrative contract to work for them, he tells Mannix that he works at a circus with clowns and the work they do ultimately doesn't matter, especially in relation to aviation, and this obviously offends Mannix, as he still takes pride in the work he does and what they do overall. So he's a bit conflicted, to say the least. On the other hand, pretty much every other character around him is a caricature of some sort, talking with different 50s style accents and acting in what could be considered "broad strokes," all of them with singular functions for purposes of the movie, so it all comes down to Mannix. Fortunately Brolin is pretty great and the character is an interesting one, so this works out.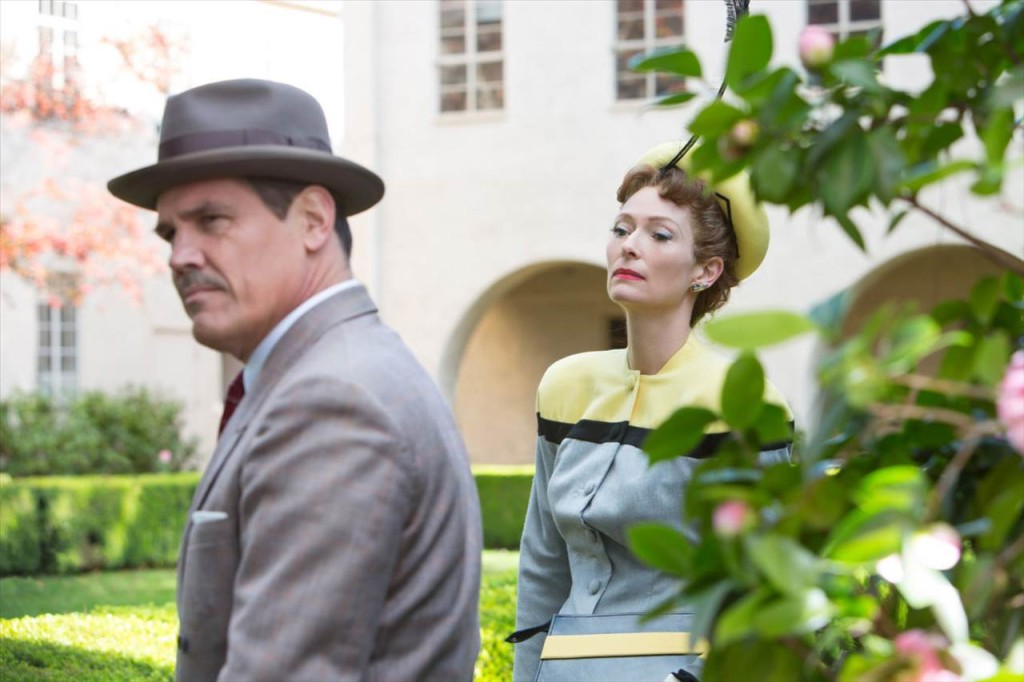 All the other characters though do help in widening the scope of the story, showing how much a single person would have to interact with in one day. This is emphasized by Mannix going from movie set to movie set, each one with a different production, each production a different genre. Here the Coens get to pay a little homage to the movies of yore, showing us little scenes depicting distinct popular genres of the time period, and they usually show both how it comes across on screen and how it would look while on set actually making it. The best of these scenes might be the aquamusical, featuring a synchronized swimmer routine, a fairly elaborate and fun recreation of a weirdly popular but now distinct genre of movie. The Channing Tatum dance sequence was also pretty fun, but he wasn't in a swimming pool, so points to the swimmers on that one. Seems harder, for some reason. Maybe because of the chance of drowning to death? That could be it.
But again this movie more than just the screwball antics of the studio's employees and the wacky and harmless kidnapping of Baird Whitlock. In the making of the movie within the movie "Hail, Caesar!," Mannix shows a desire to remain respectful to folks of multiple religious persuasions, so he has a meeting with three different Christian leaders and one Rabbi, and he asked them to give him any possible theological critiques or suggestions for the movie's depictions of Jesus Christ. This leads to an often hilarious and also observant debate about the nature of God and how this relates differently to everyone involved, and leaves Mannix with no straight results or answers, which is bothersome to him as a man of faith but also as a studio fixer worried about any possible public backlash to their very expensive movie. This coupled with several scenes in which the merits of capitalism are weighed directly against the ideas of straight up "Das Kapital" communism lead to a movie that tends to get a little more philosophical than expected from the outset. While not a particularly deep movie so to speak, at "Hail, Caesar!" goes to some places that most populist art would be afraid to, like the idea of capitulation of commercialized art on religious grounds and subversive propaganda and public deception. To wash all that down here's a mugging George Clooney in a ridiculous Roman officer outfit twirling finger sandwiches on toothpicks and Jonah Hill in one scene in which he speaks without a doubt less than twenty words total and Tilda Swinton as competitive twin sister Hollywood journalists hounding Mannix for information. You know. Silliness.
It does feel like this will ultimately be categorized as a "minor Coen brothers" movie, as opposed to their biggies like "Fargo" and "No Country For Old Men," but even a minor Coens' film is going have more to offer than most other mainstream movies to get big releases, and "Hail, Caesar!" definitely has something to offer, so it comes down to what you are expecting to get out of it when you sit down to watch it. Do you care if people have theological discussions and talk about communism to a large extent, or are you there for some silly hijinks and goofball humor? Cause you're gonna get a lot more of one of those two, and I think it would help if people knew that ahead of time.