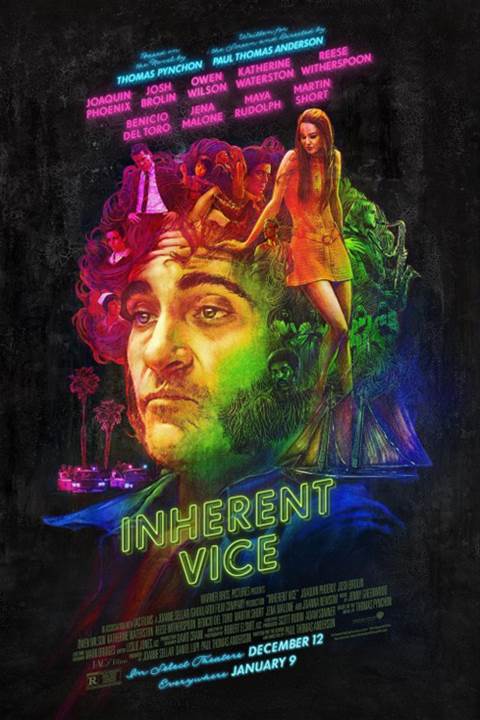 "Inherent Vice" is a rambling, shambling, somewhat confusing, extremely colorful, fun yet melancholy film noir about a burn out private detective, his love for his ex-old lady, and how that love gets him embroiled in all sorts of trouble with all sorts of weird characters in a somewhat fictionalized 1970 California. Based on the Thomas Pynchon novel of the same name, this is Paul Thomas Anderson doing his version of Robert Altman doing his version of a PI story, and if that sounds delightful to you, then you need to see this movie right away.
Larry "Doc" Sportello (a delightfully unpredictable Joaquin Phoenix) is just laying around his home one night smoking that weed when his ex-girlfriend Shasta Fay (Katherine Waterston) shows up out of nowhere and enlists him to help her out of some jam revolving around a secret plot to kidnap a wealthy real estate developer named Mickey Wolfmann (Eric Roberts). He agrees because he still loves her, that much is as obvious as the sun in the sky, and he's off snooping around and asking questions and just getting himself deeper and deeper into some mystery involving Neo Nazis, the LAPD, heroin smugglers, a mysterious schooner with its own back story, a massage parlor, a presumed dead saxophone player turned government snitch, a drug abusing dentist, a privatized mental hospital and a lieutenant with aspirations that include becoming a big time movie star.
Now how do all of these things connect into a singular story? Well that's a little harder to sum up. This is like "The Maltese Falcon" or any number of Ray Chandler stories, in that our protagonist follows each clue, some of them to dead ends, some of the coming back around in weird and unexpected ways, and a bunch of coincidences keep happening, and he just keeps falling down the rabbit hole, with femme fatales and sadistic brutes tripping him up along the way. Like those stories and the movies based on those stories like Altman's excellent "The Long Goodbye," the exact dynamics of the plot aren't really the point; it is all about the weird characters that we keep meeting, all inhabiting this strange world that looks and sounds a lot like ours, but is definitely askew somehow. Every person acts just a little off, has their own potential film noir type story in their past or immediate future, all of them floating in and out of the story like a dream, like puzzle pieces that come together to form abstract art.
(note to self: investigate Jackson Pollock puzzles. The more pieces the better).
But not just the characters. Sure they are top priority in something like this, but that's not all that sets apart these film noir types. There also has to establish a certain atmosphere, whether it be the hard boiled, hard charging world of "The Big Sleep" or the darkly comedic 1990s Los Angeles in "The Big Lebowski" or the Vangelis score driven, dripping wet dread of "Blade Runner," there has to be that moody mix of paranoia and strangeness throughout the whole thing.
Here in "Inherent Vice," that moody atmosphere comes in the form of that Nixon-fueled paranoia of the day mixed with the weirdness that happens when you follow a protagonist who scarfs down whatever drugs happen to be in his way. With many scenes playing out in long, sustained single takes, with a camera moving very, very slowly closer to the conversations, and lots of natural lighting and 35 mm film grain that is still visible even on the digital projection, and with a stringy, strangely somber score throughout, this movie lulls you in, pulls you slowly into the colorful world of people and language, takes on a dream like state with the way the story plays out. And there's comedy for sure, but the overall feel of the movie is much more somber, kind of like a resigned sadness. Adding to that is a narration from another character, choice bits pulled directly from the novel, and the way these lines are read along with the music and imagery really brings out the strangely pensive and thoughtful layers of this otherwise goofy almost screwball movie.
(note to self: order 1,000 piece Jackson Pollock puzzle, become frustrated for months on end)
Joaquin Phoenix is pretty great at Doc Sportello, and it's fun to watch him trip through each scene, getting lost int he haze and occasionally snapping out of it long enough to sound like he has it together. He does little things with his body, his hands, little quirks and things that are always surprising and strange and kind of a delight, and yet when the story calls for him to get sad and introspective, he of course pulls that off as well. Everyone is really good in this movie, actually. It is the kind of movie built around actors, as the scenes really let the actors breath and inhabit each space, really own the dialogue and it all rests on them often.
This is a great movie about love and regret and how strong and/or fragile relationships between people can be. It's a throwback movie, nostalgia for a time and place that didn't quite exist like this, but did kind of. It's all there, just a little off. And it's off in a good way, that's for sure.