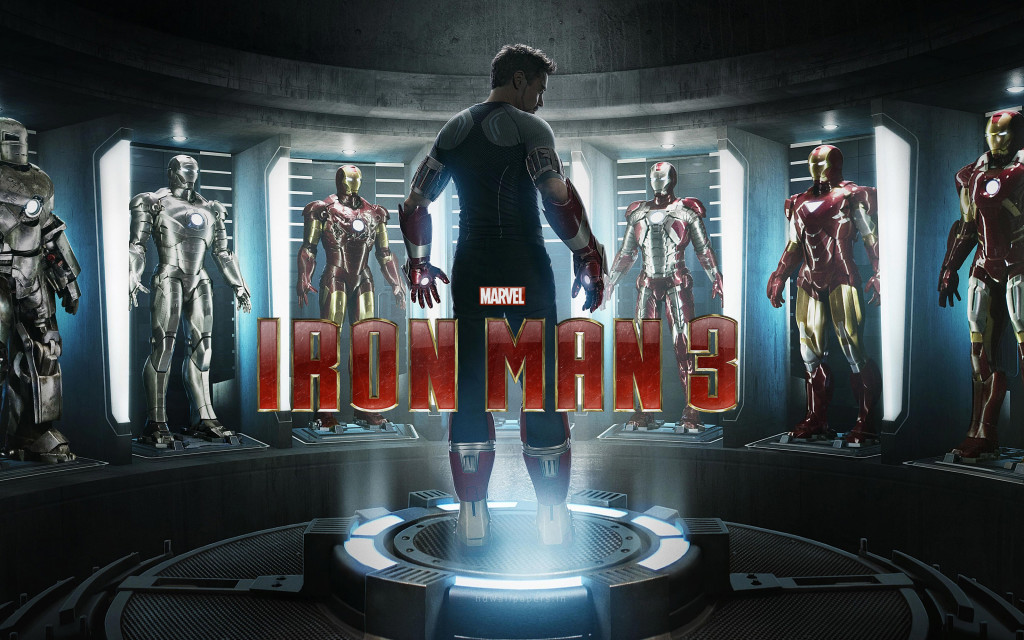 Hey, you guys hear about this "Iron Man 3" picture that just came out? Apparently it was hotly anticipated and people came out in droves opening weekend to check it out, a record setting opening weekend, mind you. But was it all worth it? Did this movie delight the world like the first "Iron Man," or did it leave a wet fart in the collective mouth of the audience like "Iron Man 2?"
Well it is safe to say that "Iron Man 3" is certainly no wet fart in the mouth (okay, enough with that imagery). As a matter of fact, "Iron Man 3" definitely boasts the tightest and most professionally written Iron Man story to date, as the first film had a very unspectacular third act and denouement, while the second film was just a cobbled together mess of a movie. But not so with "Iron Man 3," written and directed by Shane Black, who took the elements that gave him such success with "Lethal Weapon" and "The Last Boy Scout" and implemented them here with aplomb. Right from narration that opens this movie, one can feel Shane Black's unmistakable style on this thing, as the opening voiceover feels like a leftover bit of dialogue from "Kiss Kiss Bang Bang" (the last Shane Black – Robert Downey Jr. collabo).
"Iron Man 3" follows the latest model for superhero movies, in which our superhero spends a majority of this third film not in his super suit and not being a superhero. Much like Batman in "The Dark Knight Rises," this movie feels like it is mostly the character of Tony Stark outside the suit and dealing with personal issues like recurring panic attacks and insomnia. All three "Iron Man" movies are actually pretty good at giving Tony Stark a smaller, personal problem that gets reflected in the bigger problems of the movie – in the first film Stark is dealing with a newly discovered conscience, which did not conform well with his arms-dealer lifestyle, and in the second film Stark finds himself succumbing to both celebrity and to his addictions. So now Stark is having horrible panic attacks and can't seem to refocus his life after the giant alien attack that happened at the end of "The Avengers" (remember that movie?), which causes him to make some mistakes in dealing with the big threat of the movie.
And sure enough there is a big old comic book level threat to Tony Stark and his world in the form of the legendary Iron Man villain The Mandarin (Ben Kingsley), and there is also the usual "too many villains in one movie" trope with the addition of tech rival Aldrich Killian (Guy Pearce), but Black uses this to his advantage and does some very interesting things with these two characters that will delight some people and will infuriate others (the "others" being people who need their comic book movies to 100% reflect their comic books). Kingsley is pretty fantastic in this movie, and again in a similar vein to "The Dark Knight Rises," the Mandarin is a terrorist with muddled ideals, apparently just content to level threats at the United States and take credit for bombings around the world.
And through the Mandarin and his terrorist organization (which I do not think is actually ever named in this movie), "Iron Man 3" is actually making some surface-level points about the War on Terror and how this concept can actually be quite profitable to parties on both sides of the War. And actually it would have been nice if they delved into this just a little more, considering that Tony Stark is a character that made most of his money by supplying weapons of mass destruction and war machines to the government, so it actually could have been tied in a little better to the character and his overall arc through the film series. Instead they were content to throw in a line here and a line there and just elude to the profiteering of the War on Terror, but then again, no one is coming to a Marvel comic book movie for political stances and big ideas about the world we live in. Just about every audience member will be happy with a little whiz-bang and some RDJ one-liners.
Still overall it is a well made movie, the best made of the bunch, and while it does not have the initial surprise and fun of the first "Iron Man" movie, it does have a confidence and swagger that makes this the most interesting of the three films. It also has an ending that denotes this will be the last of the "Iron Man" movies as we know them, so enjoy this one while it is out.
By the way, the 1970s detective television show style credits at the end of the movie are bloody brilliant. The little bonus stinger scene at the very end of the credits is merely okay.