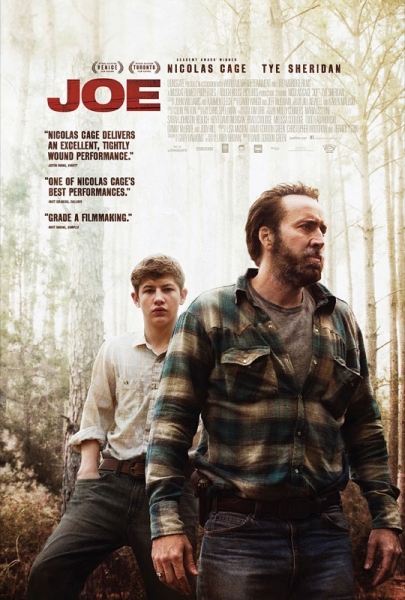 "Joe" is a very interesting character-based Southern drama from David Gordon Green; specifically the David Gordon Green that made movies like "All The Real Girls" and "Undertow" and "Snow Angels" and "Prince Avalanche" as opposed to the David Gordon Green known for the more mainstream "Pineapple Express" and "Your Highness." We got a moody, atmospheric, heady film, concerned much more with character development and emotional arcs as opposed to mugging for guffaws and weed jokes and dick jokes and such. So actually I guess it depends on which mode of DGG you prefer, though there's nothing wrong with liking both. I like both.
But "Joe" is certainly the former, a story about an ex-con (Nic Cage) who runs a possibly illegal crew of tree-killers, paid to pave the way for some developers, and the 15-year old drifter kid he takes under his wing and who might actually be able to help give Joe a second chance on life.
This kid, by the way, named Gary, is played by a dude named Tye Sheridan, and he's putting together a helluva filmography so far, with this being his third movie after "The Tree of Life" and "Mud." Now there's a connection there between the three movies, with David Gordon Green being a friend and collaborator of "Mud" director Jeff Nichols on Nichols' first movie "Shotgun Stories," and both Nichols and Green being obvious admirers of the work of "The Tree of Life" director Terrence Malick and also with Green and Malick becoming friends and collaborators themselves with "Undertow." So it all comes back around, these great American filmmakers of different generations.
And with "Joe," not only do we have the second movie in a row of David Gordon Green getting back down to his nitty-gritty low budget character-driven storytelling roots, but we also get one of those electric, engaging, top notch performances that Nic Cage delivers every now and then that reminds us all why we like Nic Cage so much to begin with. He's a tough son of a bitch in this one, a man thoroughly at war with the world around him, trying to keep it all bottled up, thrashing out violently at anyone that gets in his way, otherwise a genial fellow; he's a lot like the blood thirsty bulldog he keeps chained to his house, a dog which can be the sweetest thing in the world when in the right hands, but provoked and pointed in the correct direction, can become a thing of horrific violence.
Joe is seemingly fairly fresh out of prison, doing a shady job, giving work to some other folks who are likely pretty down and out themselves, and there is a definite sense of Joe not knowing exactly what he is doing with the remainder of his life, whether or not his life can even be salvaged into something worthwhile, not after the way he's lived his life until this point. So when Gary comes along, wide eyed and very eager to work and learn from anyone who will teach him. He's part of some horrible drifter family, with a mother seemingly strung out most of the time, and younger sister for whom he worries about, and most destructively in his life, his alcoholic father Wade (Gary Poulter) who disappears for days at a time, roaming the streets looking for money for booze, only to come home and forcefully take his own son's hard earned cash right out of his pockets. It is a sad situation, and Gary is a nice, well meaning kid, so it is easy to see why Joe would want to protect him and help him out in regards to the rough life he undoubtedly has to suffer through.
And of course it is easy to see why Gary would look up to Joe, even though he's an ex-con of dubious morals; when his own dad won't give him the love and attention he needs and deserves, he gets something similar from Joe as an employer and mentor and latches on to that, despite the fact that Joe is absolutely NOT a role model in any way. But beggars can not be choosers, and Gary will take what he can get.
Stylistically, Green is back to his own tricks, but this time with an added air of menace, as there is a palpable sense of danger and bad times down the road for everyone in this story as the movie progresses; the darker scenes, more shadowy and dramatic than ever before, the intense, moody music building the tension through the movie, everything comes together nicely here to make "Joe" a very satisfying, tense story of an ex-con possibly getting a second chance at life, by giving a second chance at life to a teenager who needed it.