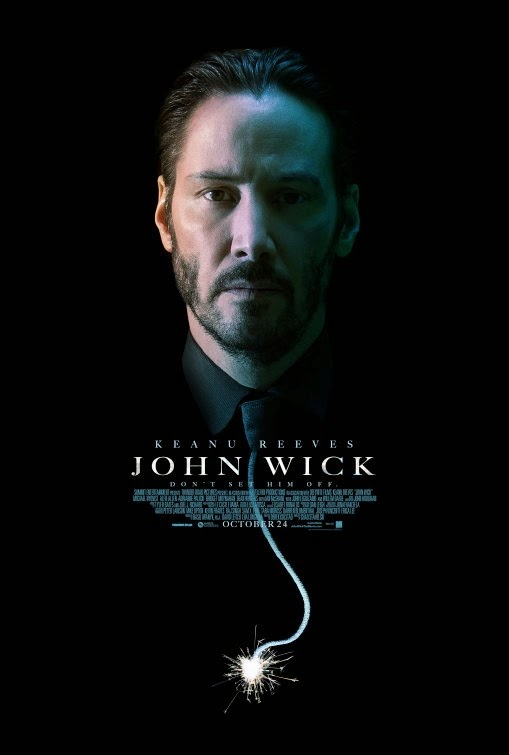 "John Wick" is a near-perfect action movie, in which they did so many things so well that it is kind of easy to overlook some of the smaller, silly flaws, things that would almost be nitpicking when compared to the great action, sweet cinematography, awesome build ups and pay offs, an interesting underworld, and the iconic bad ass character on which this whole thing is centered around, played perfectly by a guy who just doesn't get enough credit when it comes to his body of work. Is "John Wick" the best action movie of 2014? I think that might be a given at this point, cause it really is awesome.
So there's this guy named John Wick (Keanu Reeves) and he's a retired hitman. At the start of the movie, his lovely wife is freshly dead due to some unnamed illness and the only thing he has left is his sweet antique muscle car. Oh, and the world's cutest puppy, bought for him by his dying wife so he would have something to love and love him back after she had passed. And when some idiot Russian criminals decide to steal his car, beating him up and needlessly killing his puppy along the way, he finds himself a man at rock bottom, with everything he ever cared for taken away from him. What's a retired, bereaved and wronged hitman to do in a situation like this? We all know. We're right there with him. He makes a few inquiries, a phone call or two, he finds out the person responsible is the son of the head of the Russian mob in New York City, and, well, things escalate quickly from there.
First, let's get the negatives out of the way and then we can get to the praising. Because the biggest problem I have with this movie might be the score, which is okay and serviceable most of the time, but every now and then breaks into this overwrought rock song with lyrics like "I kill strangers so I don't kill my friends" or something like that, and it is cheesy and stupid and pulled me out of the movie because it was just dumb. The basic, radio-friendly rock guitars with the on-the-nose lyrics were just too much, when something more understated and sans bad lyrics would have worked much better. There is also a moment in the movie in which the bad guy has an opportunity to take out the good guy but instead of doing that he has him tied down so he can spend some time talking to him and then he leaves the room so OTHER people can kill the bad guy and doesn't stick around to make sure it happens, which is an absolute CLASSIC villain blunder. And what's with that title? Just his name? It's not even that interesting of a name. How many Johns are there in the world? Why not just call him and the movie John Doe? Or how about just "John?" Coming to theaters this summer, the new action classic…"John!"
But that's really it, and in the grand scheme, that is nothing. Everything else is pretty awesome in this movie. I like the very simple set up, it doesn't take much to get this story moving forward, but the catalyst, though seemingly extreme, what with the puppy murder and all, is rooted in the character and his grief and sense of loss and his bloody, horrific past which haunts him and causes him to question whether or not he deserves what he gets, either good or bad. He has a very clear goal with clear motivation and we understand the high stakes of this movie right away.
And then John Wick turns out to be the best kind of movie bad ass, which is the one with a huge reputation that everyone respects. When word gets around that John Wick is unretiring himself so he can exact some vengeance, everyone collectively shits their pants. When huge bodyguards are confronted by Wick, they are all like "thank you for not killing me, sir, have a good night." When the head of the Russian mob finds out that Wick is after his son for stealing his car and killing his puppy, he has to explain to his son who Wick is in a speech that lets us all know that Wick does the impossible and no one is safe when he sets his mind to murdering, and that Wick is not the Boogeyman but instead he is the guy they send out to kill the Boogeyman and if that's not a bad ass then I dunno what is. It is a lot of fun to watch the way people act around him, from the mob to the cops, all of them totally respectful and really kind of scared at what he can do, all before he actually does anything in the movie. It's a nice build up to the first action scene showcasing Wick's skills and when it comes it is totally worth it.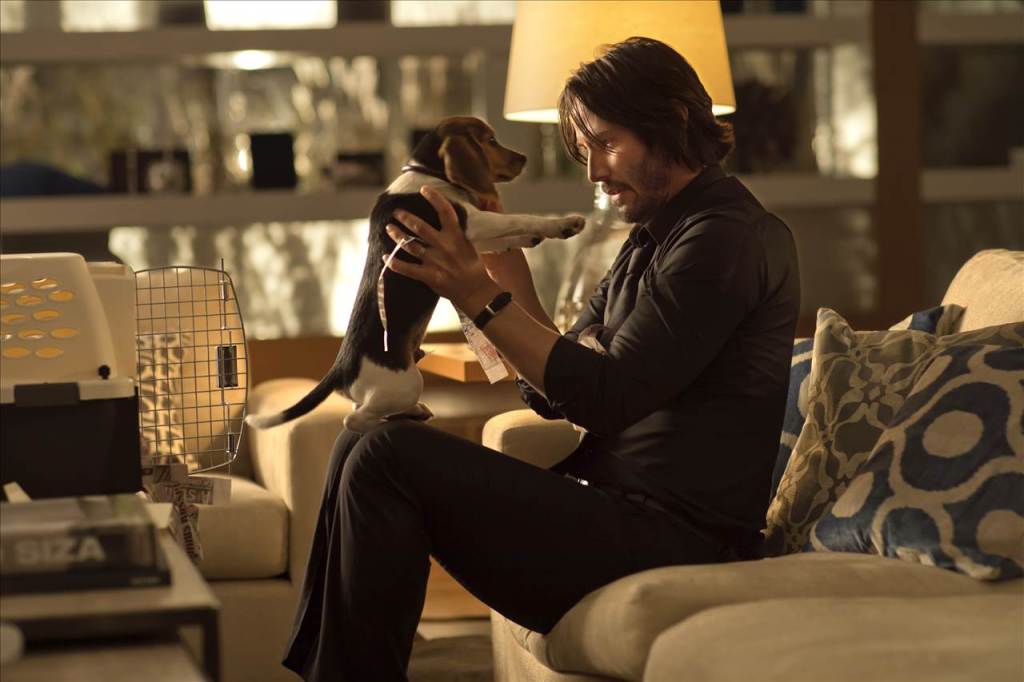 Obviously a movie like this is going to have a lot of action, that's the name of the game, so it helps that most of the action is shot and edited in a way that is extremely refreshing considering how choppy and horrible looking action movies are these days. We can actually see the fights and the movement and it is all really well done. This movie IS directed by the guys who have worked with Keanu since at least "The Matrix" so they know action for sure and they actually turned out to be some pretty solid directors as well, making strong, bold choices over and over that just about always work. There is one shot in particular that struck me, a protracted and very realistic struggle between Wick and another killer in which they jockey for position and for a knife and the camera very slowly pushes in on them, creeping closer and closer as the fight goes on and on, and it is TENSE because we get right in and we see the struggle. Just about every action scene is done with tension and clarity in mind and it pays off because it is all awesome.
They also came up with a cool little criminal underworld which includes a hotel in the middle of New York City called The Continental and apparently it is a hitman hotel, where they can stay and relax without having to worry about getting killed and where they can have access to a hush hush (and likely discredited) doctor when needed and other hitman specific amenities. And when they have bodies to be cleaned up, they have a cleaner service they call which consists of a bunch of tough looking dudes dressed in black, some of whom look funny when wielding squeegees, and led by a smaller, older fella who just happens to be played by the fantastic David Patrick Kelly. And all of this commerce is conducted via gold coins, like they were all living in the world of Super Mario Bros., which is a fun little detail that makes sense, I guess, because these people need to get paid but they don't want to have to report anything on their taxes, plus gold is always gold so that's a plus.
"John Wick" is a fun and exciting movie, filled with cool details and awesome action and a great Reeves performance as the titular master of disaster. I am looking forward to revisiting this thing down the road because it is a good time for sure and I definitely people check it out so we can all sit around and talk about the awesome things that happen in this movie (and also so we can all hate on that cheesy rock music).