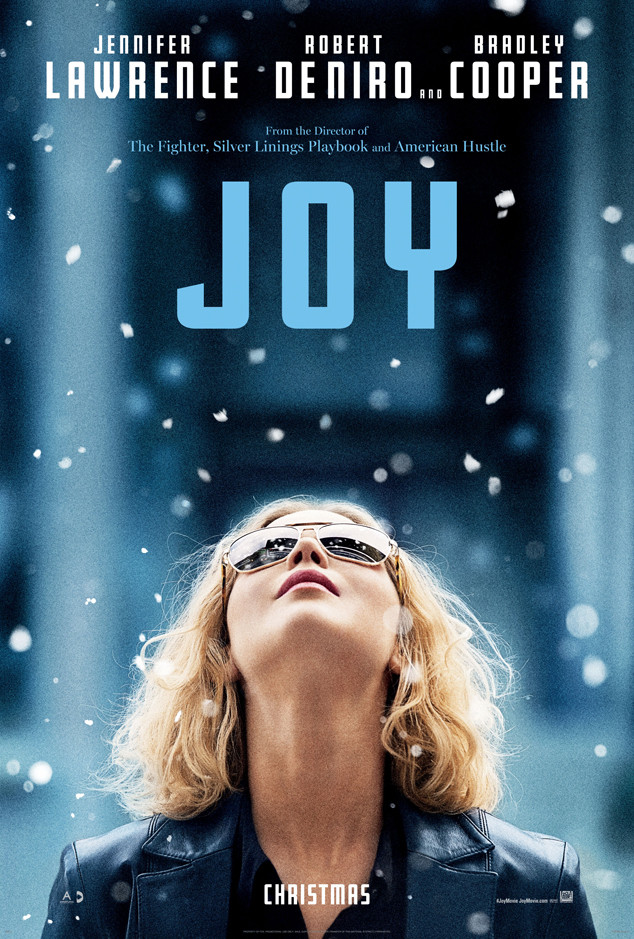 "Joy" is a movie about the invention of the Miracle Mop.
Okay, "Joy" is obviously about so much more than that. It is about the lady who did that, and what kind of odds she was up against when she set out to change the world one invention at a time. Sure there is nothing glamorous about a mop, but then again there wasn't anything glamorous about this lady's life and yet she turned shit into shinola, lemons into lemonade, resolve into opportunity, you know, that kind of thing. What happens when you make adversaries in business and you can't even rely on your family to help you out of trouble? You make it happen by yourself, just like Joy.
Joy (Jennifer Lawrence) takes care of her agoraphobic mother and her two children, and she lets her ex-husband live in the basement. This is a problem when her father (Robert De Niro), who left her mother years ago, breaks up with his new lady and has to move back in to the house. Everything is horrible for Joy and she has a shitty job that isn't working out for her and she is depressed because she realizes she became a person who put her life on pause for others, and she is miserable as a result. Remembering her younger days as an aspiring inventor, she comes up with an idea for the Miracle Mop and makes it her mission to sell these mops to the masses, a road which comes with more than its fair share of bumps.
Much of "Joy" is about this woman daring to not be a stereotype. When she was a kid she was told straight up that she would go to school so she could meet a boy and have kids and raise a family and it was told to her like it was a life affirming message, a good thing to tell a child, but really it just instilled something into this person that really doesn't want to do any of that. Sure she loves her kids and all but she also knows that she gave up a lot to have them and part of what she gave up was she was and wanted to be. So when she sets out to make this mop and sell it any way she could, she was actually reclaiming that piece of herself that she lost when she gave in to the stereotype. She wanted to be an inventor, a businesswoman, her own boss, and with determination she set out to do this, with each obstacle just strengthening her resolve and determination.
Writer/director David O. Russell has now made a string of successful movies featuring Jennifer Lawrence, Bradley Cooper and sometimes Robert De Niro, and this group obviously works well together, as everyone is pretty great in their respective roles. Kind of unconventional in its approach and style, this movie has a very interesting energy to it, a kind of momentum one wouldn't expect from this kind of story, yet when it comes down to a hotel room showdown between Joy and a shady Texan businessman, everything is on the line, the tension is high, and it all feels very vital and important.