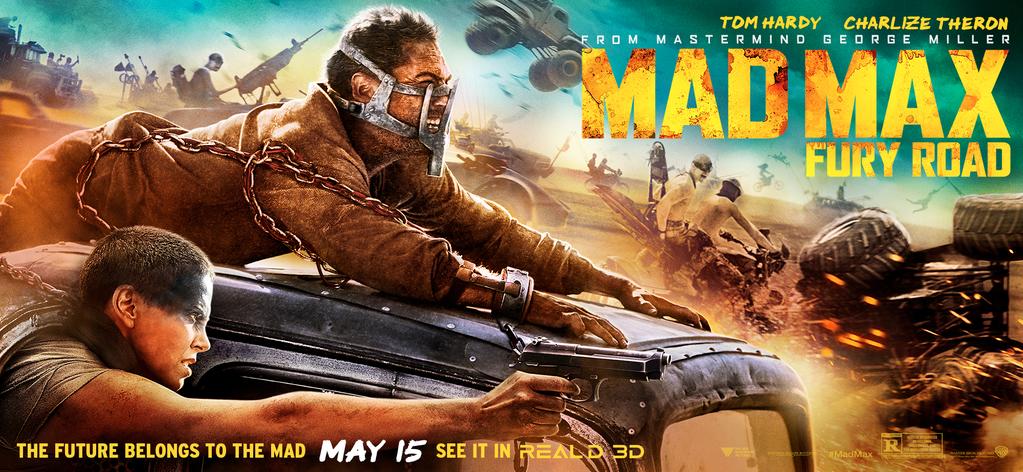 "Mad Max: Fury Road" is the big budget action blockbuster that puts all the others to shame. Whereas so many big summer movies have devolved into convoluted and uninteresting stories wrapped up in a shit-sheen of hyper editing and shaky camerawork that reach bladder-busting lengths of time, here we have the antithesis – a wonderfully simple script, incredible and eye catching action scenes, and a sense of vitality that has been apparently missing from movies for the last decade-plus.
Here is my immediate reaction to seeing "Mad Max: Fury Road," as posted to Twitter:
Just saw #MadMaxFuryRoad. pic.twitter.com/RKSCoJckjS

— Chris Crespo (@IAmChrisCrespo) May 16, 2015
Like previous Mad Max based movies, this one takes place at least a couple of decades after mankind nuked themselves almost to extinction, with the survivors banded together in gangs that resort to violence as an answer to almost all of their problems. There is the gang from Gastown, who control all the gasoline, and there are the folks over at the Bullet Farm, and you can guess what they have, and then there's The Citadel, which is where all the water is held.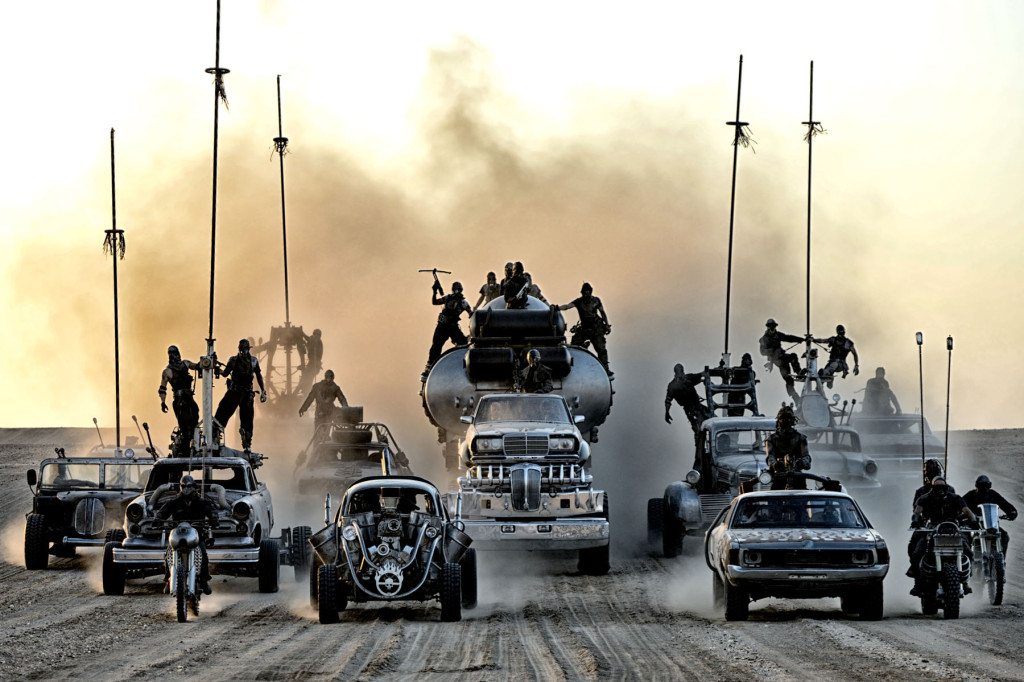 Whoever controls the water, controls the world, and this water is controlled by Immortan Joe (Hugh Keays-Byrne, the Toecutter from the original "Mad Max"), and Immortan Joe is an old gross man with a crazy mask that seems to be hooked up to something keeping him alive, and he manages to keep a huge group of people under his boot heel and uses an army of crazy young men known as War Boys who are all anxious to die while fighting in the name of Immortan Joe so they can ride the roads of Valhalla forever. Sound familiar? And working for him is the bad ass one-armed desert warrior Imperator Furiosa (Charlize Theron), and the story starts when Furiosa absconds with Joe's five wives in an attempt to free them from his disgusting grasp.
At the same time, Max Rockatasnky (Tom Hardy) gets kidnapped by the War Boys, who use him as a "blood bag" to give blood transfusions to the injured among them. Injured War Boy Nux (Nicholas Hoult) wants to join the chase to get Furiosa and the five wives so he straps his "blood bag" to the front of his car, and this is how Max finds himself involved in a huge car chase sequence that ends in an insane electrical sandstorm replete with tornadoes and lightning.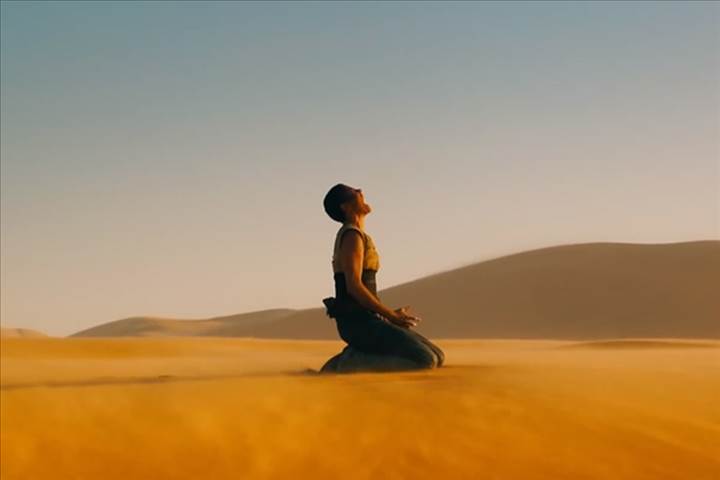 And that's pretty much the rest of the movie. It is one long chase, as Max begrudgingly teams up with Furiosa and helps her with her mission so he can get away from the massive amount of War Boys chasing them, led by Immortan Joe himself. Things only get worse when they go through land claimed by rival gangs and they join the chase for their own purposes. Oh yeah, and Joe called on the services of his allies at Gastown and the Bullet Farm, and they are all chasing Max and Furiosa as they tear ass through an incredibly vast apocalyptic wasteland on a gigantic imposing truck hybrid thing called the War Rig. Somehow they managed to make one huge chase sequence split up over 70% of a movie, with enough breaks between huge scenes to actually give everyone time to breathe and give us a little more of the story.
But there isn't THAT much story in this thing and that's actually good because we get enough movies with dozens of characters and multiple plot lines and MacGuffins that all get mushed together into an overly long noisy and ultimately pointless pablum, so it is refreshing to get such a big movie that has enough faith in its relatively minimalist story. It helps that the MacGuffin in this particular movie, which is to say the thing that propels the entire story, is very human based, as the desired object here are the five wives who have been used solely for breeding purposes and who refuse to be considered objects to be owned by Immortan Joe or anyone else, and really who can't relate to the idea of being able to live one's own life for themselves without having to be beholden to someone else in any way.
And then there is Furiosa, who is an awesome character and a great addition to a movie universe that has already birthed some iconic and amazing characters. She's bold and hopeful, seeking redemption for the time she spent being the violent right hand of Immortan Joe, and when the going gets tough she gets even tougher. This movie also does that time honored deal where the two "hero" characters meet up early on and don't get along and don't even trust each other and over the course of the movie they do things that surprise the other person and gain respect for each other so that at the very end they have a moment (usually a call back to something that happened earlier on) in which they show their new found respect for each other, and when done well that can very satisfying, like it is here.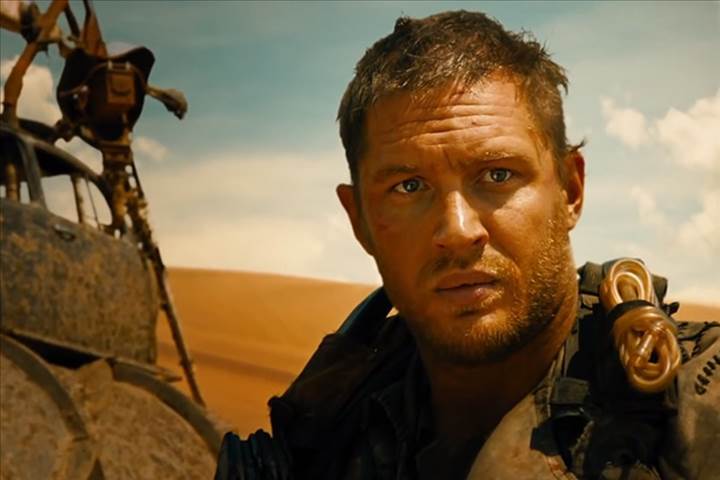 By the by, Tom Hardy is a great Max. The character is portrayed the same way as in the previous movies, meaning that he has very minimal dialogue and much information is given visually, and this is definitely due to 70-year George Miller being an old school guy and knowing how to make a movie and tell a story without having to rely on pages and pages of characters reciting info. Hardy really throws himself into the role physically and he spends most of the film grunting and mumbling, and there was definitely a moment or two where it felt like he was channeling some of that Mel Gibson half-Australian, half-American accent, and if they make more of these movies, they definitely found the right guy to take the iconic role.
How about that 70-year old director,  by the way? Making a movie that completely blows away the work of his much younger counter parts. Quentin Tarantino has famously said that directing movies is a young person's game and filmmakers need to retire before they get too old and become shells of themselves. But between this and Martin Scorsese's "The Wolf of Wall Street," we have two examples of older filmmakers cranking out some of the best and most energetic work of their storied careers in their later years. This is likely because these directors know how to meld their original sensibilities from their filmmaking days in the 1970's and 1980's with the more hyperactive viewing habits of people today. Whereas other filmmakers and editors believe that moving the camera a lot and overly active editing work are the keys to adding energy to their movies, these are movies that aren't afraid to have scenes that are patient and take time to pay off while also getting into sequences that are over the top but still shot and presented in a manner that allows the audience to actually see what's going on. The fact that we've seen so many movies that have had so much action and have cost so many millions of dollars and have done such a poor job of delivering these kind of thrills and visceral excitement just makes "Mad Max: Fury Road" stand so much taller than everything else.
Thank the cinematic gods for this movie.