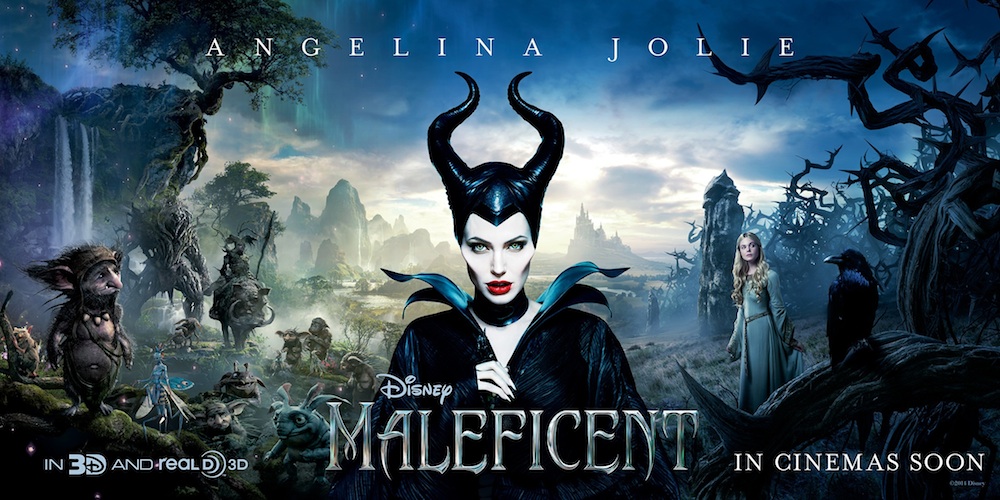 In Disney's "Maleficent," the world finally gets a chance to hear and see the story that no one wanted to know, the back story of the evil fairy witch lady from the Sleeping Beauty fairy tale. You know that one, right? We all know it. The young princess gets cursed by some mean old bitch to fall into an eternal sleep by her 16th birthday through the pricking of her finger on a loom, and she can only be saved by a kiss of true love. And when we all heard this story when we were kids, that's the thing that we wondered about, right? Why did she do this whole cursing thing? Who is this lady? What makes her tick? Well step right up for answers.
Angelina Jolie plays Maleficent, the woodland fairy who pretty much seems to be in charge of things in the Moor, which is just the magical woodlands, and at first we see her as a kid flying around and looking at all the CG creatures and having a merry old time. Then we see her when she becomes older, where she helps keep the pesky and murderous humans at bay, as they occasionally attempt to break into their enchanted forest in order to conquer it, but apparently whenever they do this Maleficent shows up with a whole army of tree-root based monsters and such and they have a Lord of the Rings style, two-sides-running-at-each-other-in-a-field battle until the humans run away.
But when an old childhood human friend of Maleficent named Stefan (Sharlto Copley) betrays her in order to gain power in the kingdom, her heart is turned cold and she starts wearing black and the woods around her turn from a magical wonderland of colors and fun into a dark, shadowy, thorny, evil looking place. The only thing missing was a sign by the front entrance that read "If momma ain't happy, ain't nobody happy." And when she finds out that Stefan the King aka King Stefan had a daughter, she shows up at the christening to curse the baby, and this scene in "Maleficent" is pretty much the same scene from "Sleeping Beauty" brought to life, which might be the best part of the whole movie.
And then for some reason the next hour or so of the film is Maleficent, who just CURSED this baby girl, hanging out in the shadows watching this girl grow up from afar, and this girl Aurora (played at first by some baby and then eventually by Elle Fanning) would have died an early and ignoble death at the hands of three buffoonish fairies if it wasn't for Maleficent going the extra mile to make sure Aurora got what she needed and didn't plummet to her death off of various cliffs and such. Because when you curse a baby to a horrible fate on her 16th birthday out of hatred for her backstabbing daddy, the one thing you make sure to do is help raise the damn kid from afar and ensure her well being.
In the end when it is all boiled down, this movie is really kind of silly. The attempt to come at the very old Sleeping Beauty tale at a different angle is admirable, and while I liked the idea of focusing on the villain of the story, I had to wonder how they would actually pull this off in the particular movie. And of course the way they did this was by turning the villain into a person who is simply a little misunderstood and with very identifiable and relatable heartbreak and suffering as the reason for their villainous acts, so in the end they aren't really a villain at all. Maleficent here is simply a woman scorned, who does a complete spiritual 180-degree turn when a man drugs her and takes advantage of her (for realsies), but whose heart begins to melt as her motherly instincts kick in as she cares for a child and watches her grow up. Actually, what kind of message are they trying to convey here? Seems a little suspect when you break it down to its elements.
The problem is that the movie really doesn't really seem to be trying to say anything at all; it is more like this movie exists solely as some sort of corporate mandate handed down from the overlords above, a decision made not in an artist's mind but in an executive's office. No one seemed to care what the movie was actually about, they just wanted the movie to exist because KA-CHING.
Not to say that Disney's "Maleficent" is a total loss or cynical waste of time. Angelina Jolie is perfect casting as the main character and seems to delight in playing this role. And much of the movie looks greats, either lush with colors or appropriately black and bleak, depending on Maleficent's mood apparently, and the final action scene featuring a giant dragon is pretty well done and cool, at least when it comes to the dragon.
But for a movie directed by a visual effects guy, much of the effects were just blah looking, and sometimes kind of creepy. For example the little mud creatures with the lily pad mushroom heads just looked unpleasant and very obviously computer generated. And then there are the three fairies, in which they took three perfectly capable actresses and turned them into uncanny valley style digital miniatures, each one creepier looking than the last. And then there are the flying sequences, which really don't come across any better than the flying scenes in "Superman: The Movie" from 1978. Just because we replaced rear projection with bad digital fakery doesn't mean we made a step up at all, not if done this way anyway.
There was also this thing throughout the action scenes in this film (because this movie DID require massive action scenes, right? Right?) in which the camera would ZOOM IN at the very end of the shot, usually pushing in on a character a little tighter, and it felt so awkward because its a camera technique that doesn't make any sense in regards to the tone of this movie and the story. We're talking about a fantasy movie, with magic and dragons and shit, so we all know this is all make believe, it is made up, there is no need for any "grounding in reality" or any real semblance of realism. This is a FAIRY TALE. So then why would they use this zoom in technique which is used in movies specifically to go for a cinéma vérité style? This is something you would expect to see in movies like "The Bourne Supremacy" or even "United 93," because the filmmaker in those cases (the great Paul Greengrass) is trying to make you feel the REALNESS of those stories, as if they are really happening, whether they be made up stories or a retelling of an actual event. But we don't need this realness in a fairy tale, so this is out of place. It just brings attention to the camera work itself, as opposed to what's happening in the scene, and subconsciously it is confusing because what are we supposed to be led to believe in this case, that there are actual documentarians on this battlefield capturing the action with their sweet Go Pros and zoom lenses and shit?
Also, can we get a moratorium on these action scenes featuring opposing forces clashes on an open field? Because after "Braveheart" and all the Lord of the Rings movies, I think we've taken this visual trope as far as it can go. And this year we've got this type of scene in two big budget movies, and they are the two you would LEAST expect these things: this movie here featuring fairies and "Noah." And my life is not any better after having seen these scenes, so let's put it to bed for a little while, please? At least a decade? Can we go one measly little decade without having to watch anything along these lines ever again? No matter what you come up with, it has already been done bigger and better. This type of action scene can not be improved upon right now. Please, for the love of god, think of something different.
Well it has it pros but it also has its cons. Overall pretty middle of the road and not too offensive to one's sensibilities as long as you don't think about what's happening too much, "Maleficent" could have been a helluva lot worse, though it could have also been a lot better.