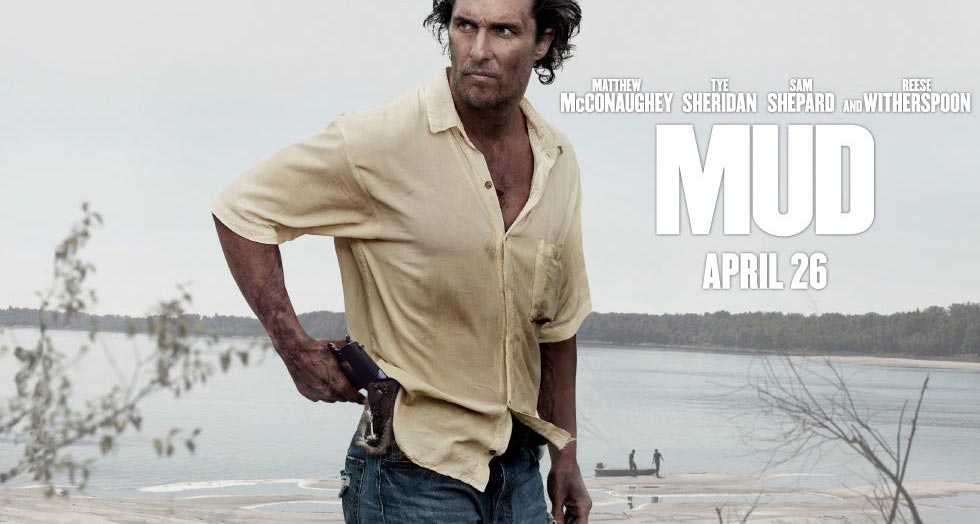 Jeff Nichols started pretty small with the little blood feud Southern-fried drama "Shotgun Stories," and then followed that up with "Take Shelter," an oh so slightly bigger Southern-fried movie about a man suffering from visions of an impending apocalyptic storm. And now he's back with something a little bigger in scope, a Southern-fried coming-of-age drama called "Mud," which makes Jeff Nichols three-for-three in terms of well-made movies.
In "Mud," 14-year old Ellis (Tye Sheridan) and his buddy Neckbone (Jacob Lofland) stumble across a dude named Mud (Matthew McConaughey), a fugitive chilling on an island in the Mississippi River in the Arkansas Delta area. Not too many movies made about this region of the world (and as a matter of fact, according to the interwebz, this $2 million movie is the biggest budgeted film ever shot in Arkansas). Mud convinces Ellis and Neckbone to help him fix up a motor boat so Mud can reunite with his girlfriend Juniper (Reese Witherspoon) and get the hell out of dodge.
Now, while the movie is called "Mud," the main character is actually Ellis, but "Ellis" doesn't have quite the same ring. Anyway, this is Ellis' coming of age story, as he is at the cusp of all that "becoming a man" bull shit that's gotta be done, and for a while it actually seemed as if this would be a movie about how this kid grows up to hate women. First he finds out that his mother is divorcing his father, which literally means they would lose the house he grew up in because he lived in a decrepit boathouse that was going to be torn down by the government once the owner abandoned it, which means Ellis' entire life would be disassembled and moved, which of course scares him (as well as his old man). And his father gets a few chances to get into Ellis' head and speak ill of his mother, which turns Ellis against her.
Around the same time, Ellis manages to impress a girl a couple of years older than him, enough to get her to agree to a first date, which ends well when she pretty much agrees to be her girlfriend. But then she becomes hard to get on the telephone, and then when he finally sees her, she is with another guy. And then when he confronts her about THAT in front her her friends, she's all like "you ain't nuthin' to me" and shit, and they all have a good laugh at his expense.
AND ON TOP OF ALL THAT, Ellis agrees to help Mud reunite with Juniper after Mud lays it on thick about how much they loved each other and how they were meant to be together and after he recounted the illegal things he did for her (and which got him in his mess to begin with), and Ellis jumps through a couple of dangerous hoops to try to bring these people together, even getting himself a nice black eye along the way. But at a critical moment in the plan, Juniper is AWOL and Ellis finds her in some shady bar, drinking beers and being all close to some random dude, ruining the plan, and confirming for Ellis that true love doesn't exist and all women are evil.
That's where it was going anyway, but then at the end (spoiler, duh) his mother explains to him WHY she needed the divorce and the change, which he seems to accept at face value, and he comes to understand why Mud and Juniper can still be in love but also can't be together and why that may be a good thing for them both, and finally even though he has to move out of the country and into the town with the rest of townies, he sees some cute teen girls in his new apartment complex and they smile at him and he realizes that there are plenty of other fish in the sea and true love exists after all and so on and so forth and whatnot.
So "Mud" is about how this dude Ellis ALMOST ends up hating women, but then comes to his senses at the end when he opens up his worldview shutters oh so slightly.
Meanwhile, Matthew McConaughey is continuing his current streak of being awesome all the time. He is great as the enigmatic Mud, full of stories and superstitions and a love of canned pork and beans, and despite being a manipulative and somewhat crazy individual, he's so damn charming and likable that I wanted to see this guy get his way, whatever that was, even if that was just a new future, free and clear of all his baggage.
It also helps that his character is being chased by Joe Don Baker (although really by proxy of his son, played by a very good Paul Sparks). Also being awesome is Sam Shepard in a small but pivotal role as Mud's surrogate father figure, and Jeff Nichols' go to guy Michael Shannon as Neckbone's Uncle, and here it's cool to see Shannon play a character that seems more normal and relaxed than we are used to seeing from Shannon these days.
Also this is my type of movie in that the story takes its time to unfold, there isn't any rushing through anything here, as emotions and moments are given time to sink in. Lots of thoughtful compositions, nice music, giving it all that kind of dreamy, nature-loving aesthetic that people like to associate with the works of Terrence Malick because short-hand is fun! So "Mud" gets very "Malicky," what with the beautifully composed shots of nature and the Mississippi River and other such things, as well as with its laconic and deliberate pacing.
So this a very good movie, as it is both original and interesting and it is also obviously very well made. We should all enjoy this Jeff Nichols now while we got him before he gets chewed up and spit out by the great Hollywood machine, which will surely have him directing a Southern-fried comic book movie any day now.