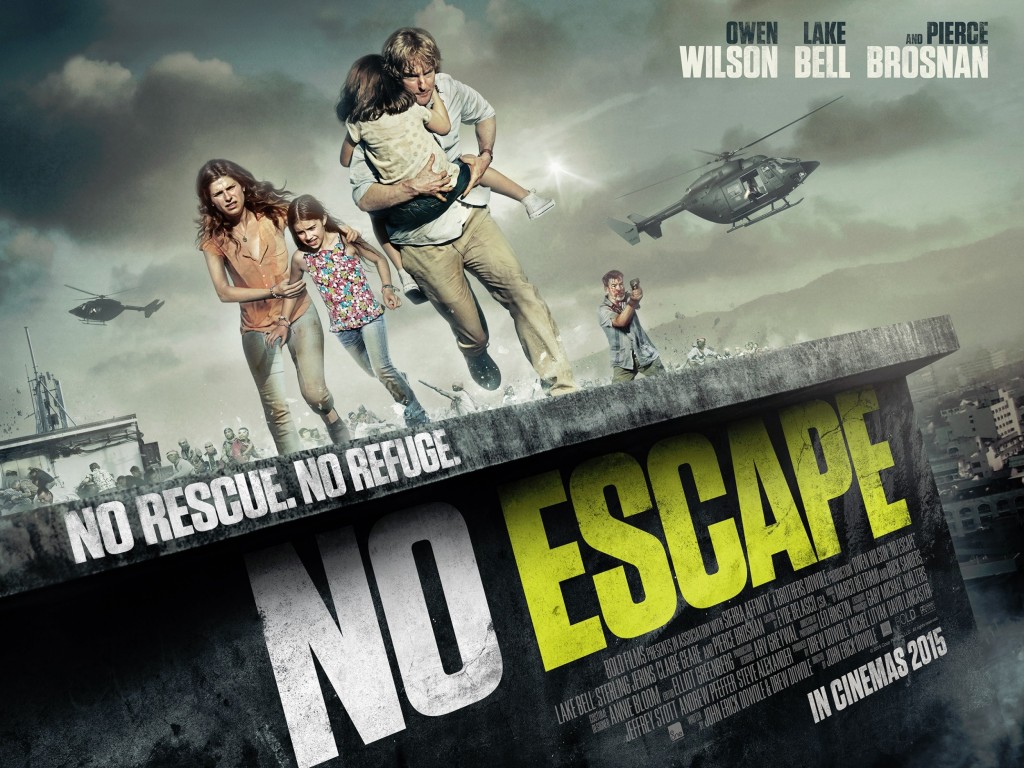 "No Escape" is a movie about the lengths parents would go to in order to keep their family safe. In a world filled with dangers and difficult decisions, this is one of the hardest and most stressful things a person could go through in normal day to day life, let alone in the middle of a war zone with imminent death around every corner.
Jack (Owen Wilson) works for a large American corporation, and his employer sends him to an unnamed Southeast Asian country to work on some sort of "clean water" project, which he sees as a noble endeavor. His wife Annie (Lake Bell) puts on a brave face but it is obvious that this whole situation is very stressful for her and their two little girls. Just the idea of moving to a foreign land and not knowing the language and customs is enough to make things difficult for them, so it doesn't help that they have no idea that a rebel coup is underway just as they land in the country, and that while they sleep overnight, rebel forces take to the streets and essentially take over the entire country. It then becomes evident to Jack that the rebels are not only killing the local police and military people, but they are also targeting foreigners and anyone sympathetic to foreigners. And as blonde haired American Jack is as foreign as it gets in this country, he has to wrangle his family and find a way to get out of the country and survive.
That is the entire movie, it is all about survival. Jack and Annie work together to protect their kids and navigate their way around a city that has become consumed with blood and death, and at every turn it seems more and more impossible that they would be able to survive the situation. A British ex-pat named Hammond (Pierce Brosnan) shows up at a couple of very opportune times to save the day and help the family as much as possible, but it really does all boil down to Jack and Annie, as parents, trying to keep the world from harming their kids. The movie would be tense enough if it was just Jack running around trying to survive, but by adding his family (especially two young children) the tension and suspense goes up immediately.
And as this movie was written and directed by the Dowdle brothers, who have previously only made horror films, they know how to ramp up the tension and scares because this kind of ultra tense atmosphere building is what they do. The "monster" in this movie is the high chance of death at the hands of rebels fighting for their country, so instead of demons or creatures we have roaming gangs of dudes with machetes and guns, which is actually much scarier than mere monsters because it is much more believable, stuff like this happens all around the world all the time. The Dowdles also find ways to give little breaks to the characters and as a result to the audience, as between the running and hiding from murderous people the family gets small breathers in order to regroup, and without these tiny little breaks interspersed here and there this movie would just be too much to take, too much tension and relentless. As it is now, the mix feels just right.
Of course when making a movie about a white American family stuck in a country of mostly brown-skinned people and running for their lives, it is very easy to fall into a xenophobic trap, as Fear Of The Other becomes the driving force. But in "No Escape," the Dowdle's kind of went out of their way to combat this viewpoint, as they go to lengths to explain that the rebels are people fighting for the sanctity of their own country and their own families, that the real "villains" of this story are the faceless multi-national corporations that exploit third-world countries, and that the rebels can't be blamed for being one of the very populaces refusing to put up with this imperialistic, capitalist-driven bullshit. Which then makes me scratch my head at the plethora of reviews out there slamming this movie for being xenophobic and retrograde, which I feel like is more of a reflection of the people who wrote that stuff than the movie itself. By claiming that this movie only shows the native population as killers ignores all the Asian characters in the movie who are NOT killers and rebels, and there is A LOT of them. Why are these people refusing to see this nuance? Would they have felt better if it was the story of a white family in an all-white country running away from rebels? Or how about an Asian family in a white country? Or a black family in a South American country? And it ALSO ignores that whole thing mentioned earlier in which one white guy tells another white guy that the rebels aren't the problem, it is the company they work for that is the problem.
And it is not like there aren't some things that people can't gripe about in this movie that they are forced to make shit up like this. Hell, "No Escape" does the very "movie" thing of having one particular "rebel leader" constantly popping up, always right around the corner from Jack and his family, and there is one scene where he does feel a little over the top and unnecessarily evil, but this definitely feels more like a concession to traditional movie storytelling than anything else – after all, wouldn't the movie be that much more suspenseful if we actually recognize one of the antagonists as he hunts down the family, as opposed to constantly introducing us to new faces throughout the film so that we don't have anything to relate to? Making this one dude extra dick-ish might be the reason why people see this movie as offensive but then again should an entire group of people be judged because of the actions of one person? Hell, if that's the case, then the rebels are right and Jack deserves to die, despite the fact that he doesn't know about his company's ultimate motives and he truly believes he is there to help the populace.
Anyway, it is not like this movie is all that great anyway, I really didn't want to spend a chunk of this review defending the movie, but I feel like while there is plenty of xenophobic entertainment and media out there, it doesn't do anyone any good to dismiss everything that seems jingoistic on the surface. "No Escape" sets out to tell a story of survival and parental love in a violent situation and it succeeds in doing that. It never gets spectacular but it also never gets bad or dumb (save for a pair of moments of storytelling convenience), it is kind of a middle of the road movie, good enough to act as a short bit of entertainment, not exactly good enough to call for a rewatch, but nowhere need bad enough to simply dismiss. It is the perfect kind of lazy Sunday afternoon type of movie, and with the proper level of expectations (read: low), it simply works.