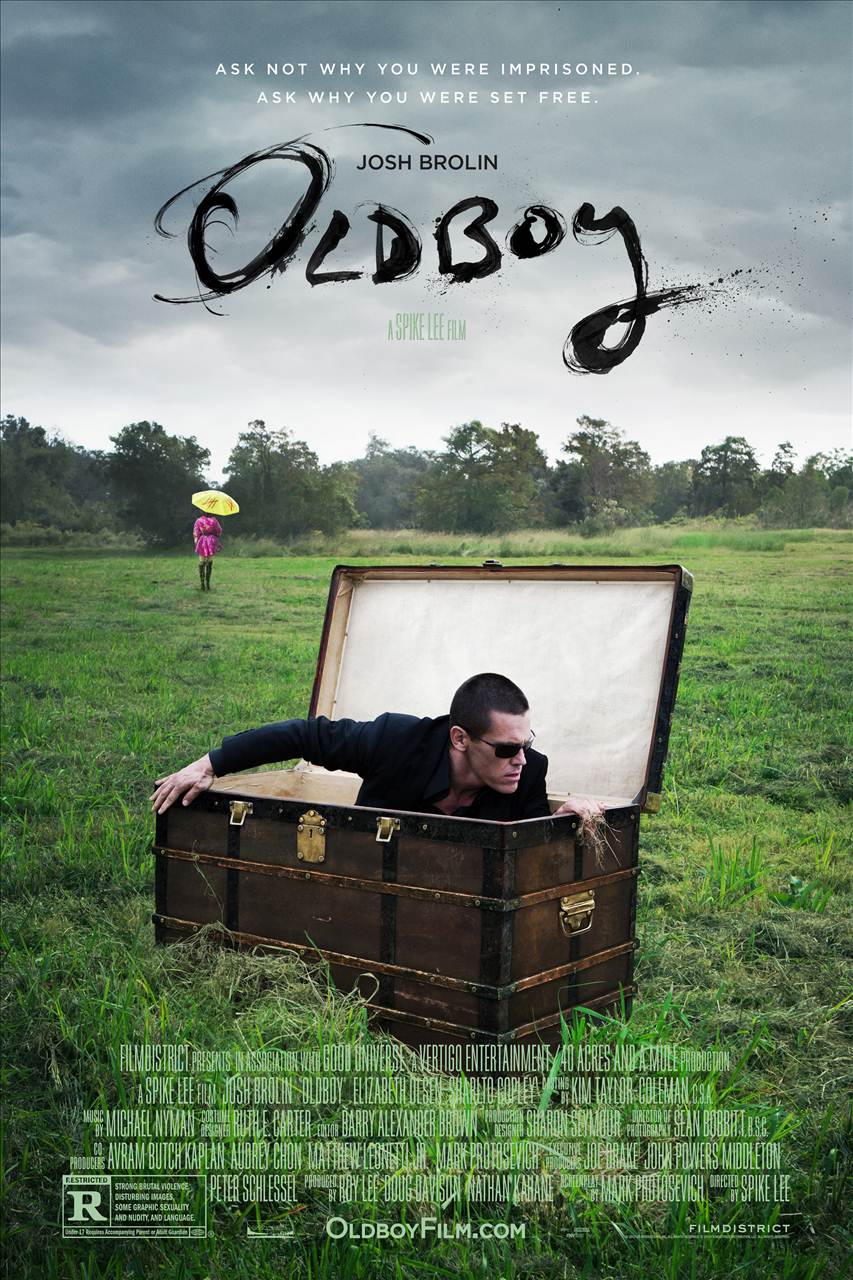 Well Spike Lee's "Oldboy" is not necessarily an easy movie to review (hence the small delay in writing this), as the 2003 South Korean thriller of the same name and which Spike Lee and screenwriter Mark Protosevich remade (or "reinterpreted," as Mr. Lee insists) has become one of the more popular non-American films to storm the U.S. in the last decade, and more personally, remains fairly high on my own list of awesome movies which everyone else should watch and appreciate. So how can I look at this new "Oldboy" as its own thing? It does not exist in a vacuum.
But is it really fair to compare the two movies? To be honest, I am pretty much unable to imagine this movie existing on its own, which means I can not imagine what other people would think when they see this movie for the first time without having seen the South Korean original. Would they be baffled by this movie? How would the ending hit them? Does the movie even make sense?
This last question is kind of important, as Spike Lee recently confirmed that this movie was taken out of his hands after he turned in a cut of the film that ran for two hours and twenty minutes and it was cut down to 105 minutes without any of his input or blessing (Lee also shot down the rumor that the film at one point had a three-hour runtime). No movie can survive a 35 minute trim to the story without suffering, and I really want to know what was cut, although I do have my suspicions based on what was actually screened for audiences. Will people understand the motivations behind the different characters? Will they be confused when people are angry at each other in one scene and then they are helping each other in the next scene without any rhyme or reason or connection to what came before?
It is quite apparent that a lot was cut out of this movie because there is just the weirdest feeling of things being rushed in this story, especially as we get closer and closer to the end. Having knowledge of the original movie, and realizing about halfway through this one that the main story beats remain largely unaltered, it was easy for me to follow along, to know where the movie was going and to expect certain things to happen. But without this prior knowledge, would I have been confused or thrown off by the quickness of the big revelations at the end of the movie? Would I have seen this ending coming or would it have surprised me like the first film did back in 2003?
So anyway, for those of you who have NOT seen the original (and for whom the previous couple of paragraphs might have been a little confusing themselves), "Oldboy" is the story of a man named Joe (Josh Brolin), who is an alcoholic ass and finds himself mysteriously locked up in a fake motel room, in which he is imprisoned for the next twenty years without any explanation. At the end of these 20 years, he is released from his prison just as mysteriously, and he is given a specific timeframe to tramp around the city and get answers as to why he was imprisoned and why he was eventually let go. His journey for answers leads him to an old friend (Michael Imperioli), an employee of the prison-motel (Samuel L. Jackson) and a social worker with a rough past and a heart of gold (Elizabeth Olsen), and each of these actors as well as people like Lance Reddick and Sharlto Copley do great work with the material given to them. And of course this is a Spike Lee movie (not a Spike Lee JOINT, mind you, which denotes that this is the LEAST personal film yet of his storied career), which means the film is more than competently made, as Mr. Lee has been around the block and knows how to tell a story visually in the best ways possible.
But all to what purpose? At the end of the day, is there really a good reason for this movie to even be? There is a scene in the original "Oldboy" in which our hero finds himself fighting a large group of people by himself with only a hammer, and this fight is presented in one extended take that traverses up and down a single hallway. It is a thrilling scene, full of life and excitement and acts as a stand-out moment in a movie loaded with stand-out moments. Spike Lee came up with a very similar sequence, and even made it bigger by changing the single hallway to a multi-level structure, adding more bad guys, and making the fight scene longer. Yet strangely, this new version of the same scene is just lifeless and dead, it does not have that same POP that came from the original, and almost feels like it was shoehorned into this movie just because it was in the original. And then it doesn't help that Film District, or whoever decided to cut out 35 minutes of movie from this thing, decided to SHORTEN this scene with an awkward cut at the end, so it doesn't even have a decent sense of building and then hitting a crescendo. It's just happening and then it suddenly stops.
This particular scene already had an uphill battle to climb thanks to having to be compared to the original coming before it, and having the scene truncated because the film's producer/distributor did not believe in it just hurt the scene even more. This is quite symbolic of the whole movie apparently.
I guess we'll just have to wait to see if that longer version ever sees the light of day, and additionally if it happens to make this a better movie. In the meantime, we might as well just rewatch the original, which is still one of the best movies of this century.