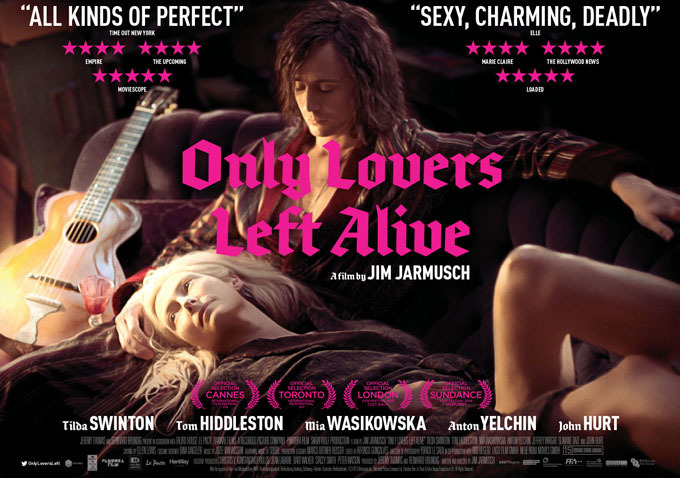 For years now in popular culture the vampire has been depicted in what really can only be described as "campy," or at the very least largely non-threatening. Whether we are talking about brooding, love starved vampires with diamond skin or vampires engaged in a centuries-old sewer-set gun fight with werewolves or vampires who simply lost their shirts (as well as the mere concept of shirts), the one thing we haven't seen lately is the idea of vampires in the real world, going about their lives, doing "normal" things like using iPhones and watching YouTube and listening to and creating music. In Jim Jarmusch's "Only Lovers Left Alive," this is exactly what we get, otherworldly beings in a real world setting, and we get to see how the deal with the pesky things known as people and the annoying burden on them that is known as life.
This story is set in the modern day, though our main characters Adam (Tom Hiddleston) and Eve (Tilda Swinton) are AT LEAST five centuries old, if not older. They are a married couple, though for unexplained reasons the movie starts with the two of them separated by 4,000 miles and an entire ocean; Eve spends her time trolling the streets of Tangier and palling around with another vampire named Marlowe (John Hurt), while Adam is actually hiding out in Detroit, creating entire albums of music for his own personal listening, refusing to allow himself to be known by pretty much everyone. He has one friend that comes around, a fella named Ian (Anton Yelchin) who has no idea that Adam is a vampire and just assumes he is a reclusive musician with apparent social anxiety, and Ian is happy to track down old guitars and analog equipment for Adam, as well as anything else Adam might need. But if it wasn't for Ian, Adam would have no one in his life, and it definitely appears that he would be happy with that.
For the most part, anyway. Because when his wife Eve suggests that they get together, he is obviously pleased to have her back, and she travels to Detroit, and they spend their time listening to music and dancing and hanging out and going for the occasional drive through the dark and rundown streets of suburban Detroit, a brilliant choice of a city, because the place is so unfortunately rundown and depressing that it becomes the perfect hideout for an undead ghoul. Detroit itself is practically undead, long past its prime and vitality and importance, but still hanging around, in the dark, silently, as if plotting, waiting for…what exactly? Who knows.
The same goes with Adam. He has apparently spent centuries creating music and assisting with scientific breakthroughs and then leaking these things out to society through human acquaintances throughout the years, but at this point in the story, when we get to meet him, he has stopped all of this. He keeps to himself. He doesn't even want his music to leak out anonymously. He has decided to sit in the dark and bide his time, waiting for…what? He was not waiting for Eve to join him, because he continues to be happy hiding out, just this time with his wife, and she seems content to hide out with him. But then their fun little existence gets shattered one night when Eve's younger sister Ava (Mia Wasikowska) shows up at Adam's home uninvited, much to his chagrin, and she immediately starts causing problems for Adam and Eve.
The story and plotting for "Only Lovers Left Alive" is quite simple, something that is kind of a staple of Jim Jarmusch's work. Much like "Ghost Dog: Way of the Samurai" and "Broken Flowers," it is not so much what the story is about that makes his movies special, it is how his movies are about what they are about. Because when it gets boiled down, "Only Lovers Left Alive" is only about a pair of vampires hanging out, enjoying each other's company, talking about the past, and then having it all ruined for a little while by a relative. And that's it. But really, it is about more than just these plot machinations, because it is about Adam and Eve's connection and their love for each other and how it has at least helped Adam through decades and decades of being a depressed musician and frustrated artist, and probably at the same time it has given Eve something to "live" for. Hell, the only reason for either of them to wake up from their daytime slumbers is so they can be together, because they have nothing else to do. They don't work. They don't earn money. They just exist. And without the love they have for each other, what the hell would they do with their time? Why would they even bother staying out of the sunlight? What's the point of existing if they have nothing for which to exist?
So this is not a movie about vampires trying to take over the world, or even a city, and it is not the story of the humans doing battle against them. There are no rival factions of vampires in some stupid "vampire war," there is not some Order of Vampires that our main characters have to defy, they are not constantly on the run, and they don't have to do battle with any religious figures or vampire slayers or (my favorite) werewolf enemies. The problems our two vampires are confronted with really begin and end with their need for blood, and how they go about getting it, and Jarmusch put a GREAT spin on this part of the lore, as vampires can't just go around sucking the blood out of random people because they can VERY easily get some tainted blood that could make them sick and even kill them. So they have to go out of their way to get what they need, illicitly buying the blood through medical suppliers, in order to ensure they can stay healthy, which is funny since they are undead. But apparently even the undead have to suffer through occasional bouts of stomach illness. Outside of finding the blood and just trying to stay hidden, which is actually fairly easy (answer: stay inside!), their remaining problems are existential: what to do with their time, does Adam's music matter, is suicide with a wooden bullet the answer, and so forth.
"Only Lovers Left Alive" is a pretty great movie, refreshing in its telling of a basic human story, though centered on characters that are only human-like. Because whether we be vampires or mortal humans, we still feel the same longing and desires as everyone else, it just so happens that vampires have MUCH more time to deal with these feelings. Lucky them.