In the grand tradition of movies about journalism as well as whistleblowers, "Spotlight" is a remarkable movie not because of the salaciousness of the story details but because of how well those details and this story are handled. An even keeled and classy drama that feels right at home with similar dramas from the 1970s, we have here a movie that can be seen simply as a procedural but really does point to some more profound aspects of our day to day lives and how they are interwoven with larger institutions throughout our culture.
For years and years the idea of the child molesting Catholic priest has been around, to the point where people were fine with joking about it among themselves. And despite being "a thing," it has persisted. This could only continue within a system that allows it to happen, discreetly of course. And as history has shown, the best way to deal with monsters is to drag them into the light. And that is exactly what happened in from 2001 through 2003, as the investigative reporting team of the Boston Globe made this their mission in regards to the Catholic Archdiocese and their consistent cover up of the sexual abuse of children in their own city.
"Spotlight" is so named after this small team of reporters, working in secret in the bowels of the Boston Globe, a team established in 1970 and responsible for its share of Pulitzer Prizes for their work, which includes investigations into local political favoritism as well as transit mismanagement. When this movie starts, the Spotlight team has been looking into a story about "the police department numbers," though it doesn't have much traction. So when the new editor in chief from out of town shows up and suggests they look into sex abuse allegations against the local Catholic Church, the Spotlight team bites and does a little bit of digging. And a little more digging. And some more. And soon they find out that this hole they are digging goes all the way down, and they follow it the whole way.
What is amazing in this movie is to see how their investigation evolves and how it grows into something they never thought would be so big. They started with literally one person and one priest, and when they asked questions, they started to realize this is more than one priest, and when that numbers keeps going up, they posit that this could only happen in a system that doesn't punish them for these crimes, which is where the Catholic Church higher ups come in like the Cardinal who runs everything in the area.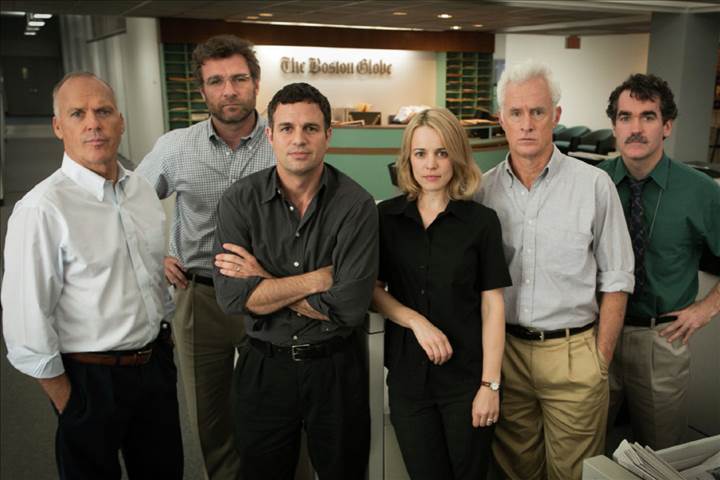 Of course, four reporters (and one attorney) poking at the Catholic Church and trying to air out their dirty laundry will find resistance from the organization which, as one person points out, "thinks in terms of centuries." And with Boston being a town that is overwhelmingly Catholic (and with the readership of the Globe itself being over 50% Catholic), there is a lot of push back against the reporters, all of whom have some sort of Catholic ties themselves. So it comes as no surprise when people seem reluctant to find this information and make it publicly known, why so many people would agree to look the other way as the Church handled things themselves, quietly and out of public eye, and why it would be so hard for these reporters to put this whole story together.
Between "The Station Agent" and "The Visitor" and "Win/Win," writer and director Tom McCarthy has shown a real knack for human relationships and interaction, and really knows how to tell a solid story without letting the direction get in the way. There is a Sidney Lumet quality to his work, in which the style of the movie is 100% in service of the story and characters, and "Spotlight" is no exception. Understated and naturalistic, this movie feels totally authentic, in the way everyone talks and reacts to each other to the way the city of Boston looks, everything just feels right. McCarthy's movies also seem to almost always feature spectacular actors doing great work, and here we have people like Michael Keaton, Rachel McAdams, Mark Ruffalo and Liev Schreiber all doing great work. There is just not one single false note in this movie.
Like a 21st Century version of "All The President's Men," this is a fantastic movie about journalism, the kind that reminds us how important this profession can actually be, how it can totally be a service for the public good, and not just a medium for selling classifieds and ad space to department stores, how reporters can be warriors for truth on real subjects that actually affect our daily lives, and not just gossip columnists vomiting out three hundred words at a time on the latest reality TV stars.