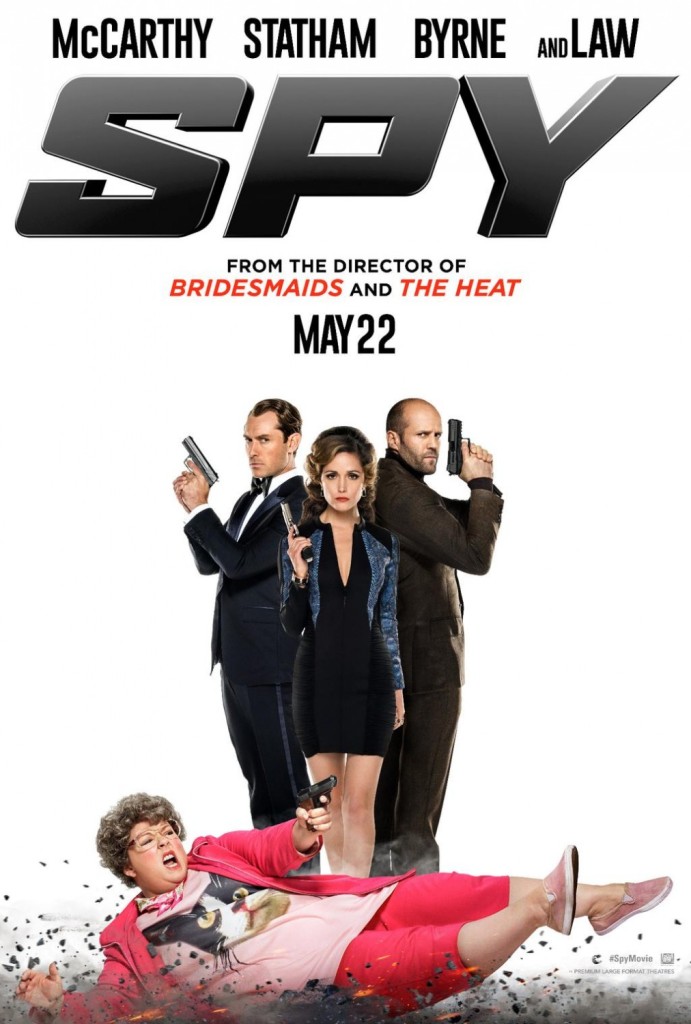 Melissa McCarthy and Paul Feig killed it with "Bridesmaids," and they even made some of that sweet cash money with the not-as-good "The Heat" (a movie that I didn't dislike but felt could have been developed more beyond it's initial premise), and here they are with "Spy," their third go-around together in the form of a spy movie spoof. And let me tell you, as unpromising as "Melissa McCarthy spy movie spoof" sounds, this thing actually works damn well on a few levels and may be the biggest surprise of the summer for me.
"Spy" is about Susan Cooper (McCarthy), a CIA Agent who works at the headquarters as a desk jockey, talking to a field agent through an ear piece and providing important and life saving information during each mission. The agent she has been working with is Bradley Fine (Jude Law), a total James Bond type of spy, and they work really well together and she also obviously loves the guy very much. So when a mission goes wrong and he is killed by a wanna be nuclear weapons dealer named Rayna (Rose Byrne) and it turns out that Rayna knows the identities of all of their field agents, Susan volunteers to go into the field for the first time on a simple "search & report" mission. And of COURSE she gets in way too deep and does much more than just report, as she feels she can stop Rayna and the nuclear weapon deal herself.
Much like the drug dealer angle in "The Heat," this whole "terrorists selling nukes" plot feels as rehashed as it gets, but at least in this case "Spy" has more on its mind than just inserting women into roles usually reserved for men. While spoofing the different elements of a typical spy movie like the gadgets and over the top characters, it also takes the actual plot and the danger seriously, which allows for the comedy to come from the characters. So for example we get the character of CIA Agent Rick Ford (Jason Statham) and he's the uber-agent, constantly crossing the line and being extra intense at all times, even when such an act is wholly unnecessary, and while he's trying to stop a terrorist and has no "comedic" reasons for his dogged pursuit of justice, his demeanor and the way he attacks certain situations are so insane that it can only be seen as crazy and funny. The same with the opening scenes with Brad Fine (and obvious allusion to James Bond), who is just so overly smooth and takes every moment to wink at beautiful women and crack jokes to the point where we see the ridiculousness nature of these James Bond type of characters, the logical extension of their sociopathic behavior.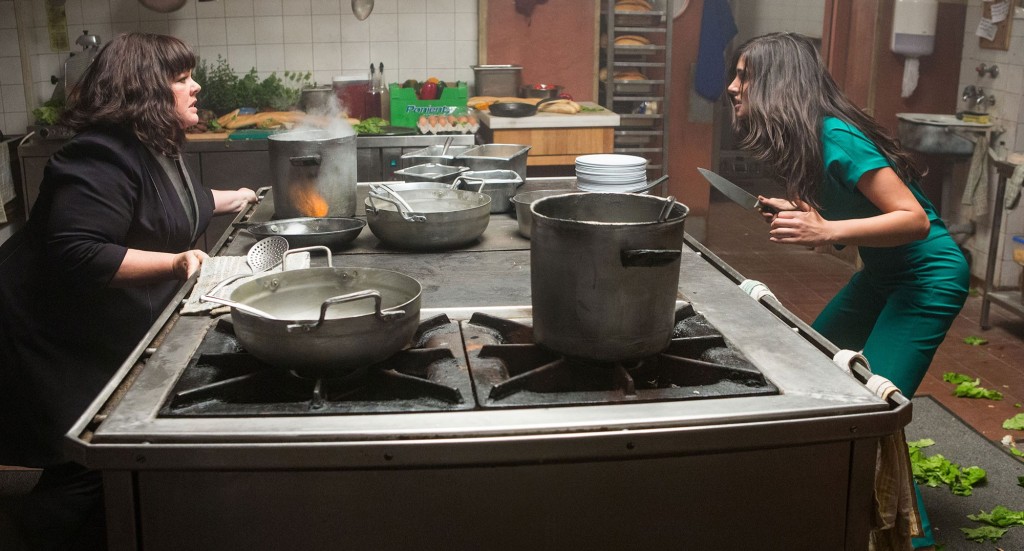 That's the thing with "Spy;" writer/director Paul Feig is such an obvious fan of the spy movie genre that they get all the little details right, and this totally feels like a "real" spy movie, just loaded up with jokes. From the action sequences to the opening theme song and Bond-style credit sequence to the silly gadgets and the use of alias and disguises, it feels like Feig could actually do a pretty bang up job making one of these films, and even shows some pretty decent action movie chops, especially with one fight scene that takes place inside a small kitchen. He's knows the tropes and conventions and uses them well, though it only really felt like he was subverting these tropes with the opening of the movie, in which he posits that these super spies are only super because they have analysts guiding them from behind a computer with all the latest in tracking and surveillance gear, which undercuts the mythos of the Bond-like spy who gets out of every situation with a superhero-ish solution or timing. A little more playing around with these tropes would have been fun, but hey, I guess a dart gun disguised as a rape whistle is still pretty good.
The real reason this movie works, though, is Melissa McCarthy, and the attention paid to her character arc. Whereas Fine and Ford (the name of an advertising agency if I ever heard one) are caricatures, Susan Cooper has hopes and dreams and fears and comes across as much more real. She's a person who had great promise in the beginning but was sidelined by her insecurity (which was exacerbated by being told she wasn't good enough to be in the field in order to keep her in Fine's ear), and when the opportunity comes up to prove herself, she jumps on it and takes it, which excites her but also scares her. And as the mission progresses and she improvises her way through some stick situations, we see that she is actually a very capable character – instead of being a fat, bumbling idiot who fails upwards, she is a person deserving of the chance and who manages to go that extra mile to show what she can do and this is much more satisfying than her falling over and accidentally saving the day. She is using this opportunity to gain the respect of her peers and employers, while also trying to save the world, so she has very tangible, relatable goals, which makes her a character worth following.
"Spy" just works as a solid movie. The spy stuff is on point, the characters are fun (especially Statham's insane Ford, who comes across as a mix of all of Statham's prior action movie characters combined to hilarious effect) and the blend of action and comedy here is well done. Definitely an enjoyable flick and one easy to recommend.