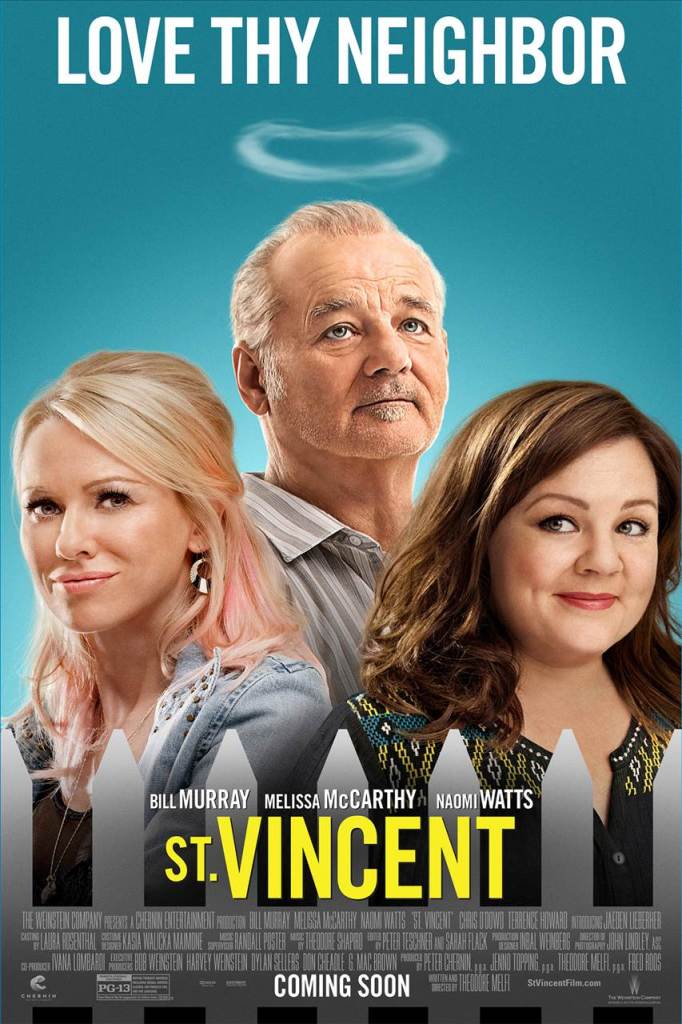 "St. Vincent" is one of those movies that starts out ostensibly as a comedy, and how can it not with Bill Murray playing the lead role, but then makes its way into heavier themes and moments, leaving most of the comedy behind for the anguish and tragedy, you know, the rest of the stuff that makes up this crazy thing we call life. The resulting thing is the ugly word "dramady," which we should replace with another word so as not to have to use that stupid word ever again, because what exactly is the laughs-to-scene ration needed to tip a film's scales from "comedy" to "dramady," if not into straight up "drama?" Can we just call these movies "true to life?" Because like life, it is often hilarious and often sad and sometimes both at once. That is "St. Vincent."
Vincent (Murray) is a drunk. His only "friends" are the nameless fellow regular patrons at his favorite bar and the Russian prostitute (Naomi Watts) who is pregnant with what may or may not be Vincent's child. He is mean to everyone, has no money, and is much debt thanks to a bad gambling habit. Suffice to say, the dude has issues. And then one day a new neighbor moves in to the house next door, a single mom named Maggie (Melissa McCarthy) and her 12-year old runt of a son Oliver (newcomer Jaeden Lieberher), and before long old Vincent finds himself hanging out with impressionable Oliver, and they become buddies. Vincent shows Oliver how to gamble and how to break someone's nose (for self defense purposes, of course) and Oliver, like, helps Vincent how to feel again. And stuff.
Okay so that part of this movie is pretty predictable and feels like it writes itself. But not every movie has Bill Murray in it, and this Jaeden kid isn't bad at all, so they have a fun rapport that definitely works, and Bill Murray IS doing more than just his Bill Murray thing, he's even doing some sort of accent work, like Long Island or something. So even though seeing an old man take a kid to the track feels kind of 90's, these two still make it work. They got that on screen chemistry thing going. And then of course it ain't the destination, it is the journey as we all know, so while we know each person is going to learn more about each other along the way, hence changing their own lives and perspectives of the world, it is the particular details of this particular story that makes it unique and original and interesting to watch.
So the movie starts with Vincent as a total asshole and actually ends with him still being a total asshole, but he's more open to friendship, while more importantly, we the audience (via Oliver and some school project he has to do) learn much more about Vincent and realize that we actually didn't know this guy at all when we first met him at the start of the movie, we just knew he was abrasive, but by the end we have more of  frame of reference for him, we can put him in context, and as such he appears different to us. He may be a jerk to some, but he's a saint to others. See? That's why they called it that. Because of that.
Actually the saint part of the movie ties into Oliver's school project for his parochial school, where his very modern and progressive thinking teacher Brother Geraghty (Chris O'Dowd) assigns his class a very movie-ish project in the form of writing about someone they know in the parameters of sainthood and saintliness, and then they double down on the movieness of this project by making it culminate in an apparently school wide assembly, complete with parents of the students in the crowd watching and cheering on their presentations like it was a school play. put on by kindergartners. A shot out to "Bill & Ted's Excellent Adventure?" Just maybe. Maybe. But probably not. Why? No time traveling historical figures. Vincent would have gone back and got himself, like, an Andrew Jackson or an Al Capone or someone to help make his point.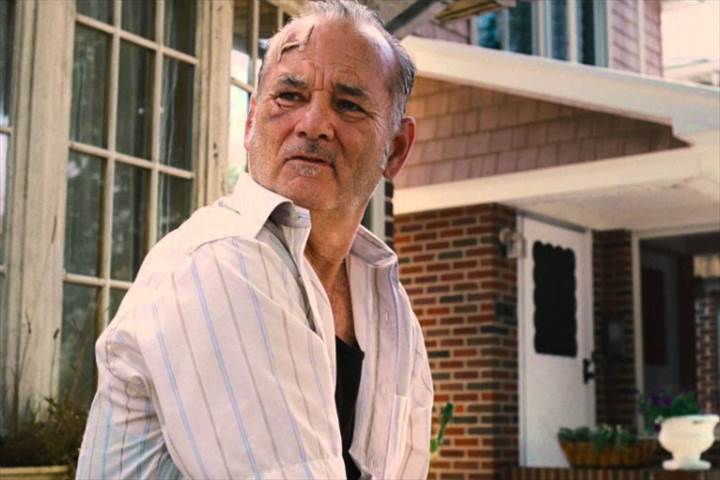 It does kind of feel like they held back a little though, like they could have pushed the boundaries of good taste a little more in terms of showing Vincent corrupting Oliver in ways that would seem pretty improper when spoken out loud inside a courtroom during a custody hearing. Sure going to a race track and a bar are not so good but he was drinking soda at the bar and he actually won his bets at the track so there wasn't much actual consequence to Oliver, it just wasn't a good look. Instead maybe he should have had him drink a little, get drunk for the first time in his young life, or maybe take him to a strip club, buy him a dance or two, something like that, I mean do something with some real consequences to them, because really what happens in this movie is kind of tame. And without going into any details, there is one part of this movie where Vincent does something that we just know will result in some serious drama and friction down the road but that drama never materializes and it is kind of forgotten, which is a shame because it was an obvious though readily available opportunity for some real interesting dynamics between the characters. A lost opportunity for sure.
So "St. Vincent" is good, though not great. As the story gets closer to the end, the heavy stuff in the movie gets heavier and the laughs are harder to come by, though it does still have a pretty satisfying ending, so all in all it is worth checking out but you shouldn't expect a new classic or anything. Some good Murray, a good (enough) story, and that's it.