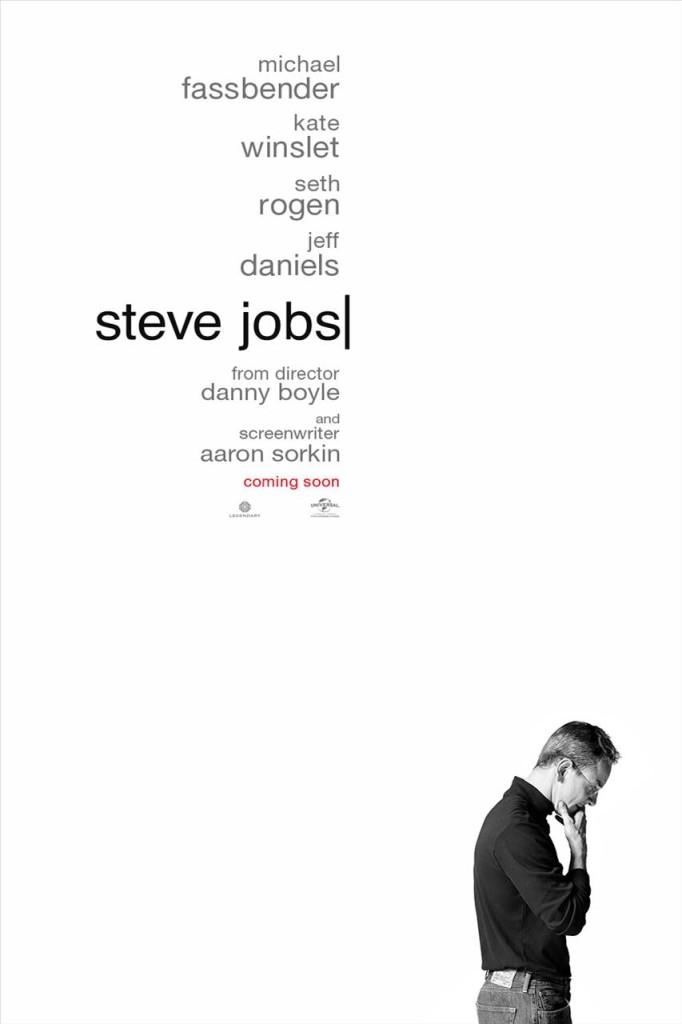 We're all sick and tired of the same old biographical picture formula, right? It's been done for years and we have seen it time and time again, regardless of whether the film's subject is an athlete, a businessman, an inventor, an artist, it simply does not matter, we get the same thing over and over, which is to say, a "greatest hits" package of a person's life, tracing their steps from childhood to as far as they can go, if not all the way to death. By shoving everything that happened to a person into a two to three hour movie means we just skim the surface, we get the superficial details, with very little insight, and then before we know it, the movie is all over. Might as well have just listened to music while reading a boring, by the numbers biography. But with "Steve Jobs," this is not the case at all, a different tack has been taken, one that is very effective and which tells us more than the "birth to death" biopic could have told us.
Written by Aaron Sorkin and based on an authorized biography of the same name, "Steve Jobs" does not start with the person's birth and childhood and work its way through his youth all the way to the end when he became one of the most popular people in the world through his work with Apple, but instead this movie cherry picks three very specific moments in the life of Steve Jobs and these three moments are actually quite similar, giving the movie a very interesting structure with which they were able to work in, and by limiting the scope of the story, Sorkin, director Danny Boyle and actor Michael Fassbender were all able to get way more out of this character and managed to tell the story of someone's life without getting bogged down in all the extra details.
Steve Jobs (Fassbender) may have created Apple in the 1980's with his buddy Steve Wozniak (a simply fantastic Seth Rogen), but the movie starts in 1984, at the public launch of Jobs' latest creation, the Macintosh computer. Here we see how his relationship with Wozniak evolved and how Wozniak was fine with acknowledging the success of the Apple II computer whereas Jobs wanted to leave that behind and only look to the future. We also see how Jobs treated many of his employees by seeing how he dealt with developer Andy Hertzfeld (Michael Stuhlbarg) and how he threatened Andy and berated him in order to get a relatively small and ultimately inconsequential glitch fixed in time for the presentation. We meet Joanna Hoffman (Kate Winslet), an Apple employee, specifically the head of marketing, but we quickly learn how she was much more than that to Steve and the importance of their working and personal relationship, and how she was seemingly the only person who he would even listen to, and even that was only on occasion. We also see the early stages of Steve's friendship with Apple CEO John Sculley (Jeff Daniels), which is important because of how that relationship changed over the years, and maybe most importantly we are introduced to his ex-girlfriend Chrissann (Katherine Waterston) and her five-year old daughter Lisa, of whom Steve Jobs denied being the father, much to everyone's uncomfortable dismay.
The establishment of these separate relationships is important to this movie because they are revisited at three different moments in Jobs' life – after we see the lead up to the 1984 presentation, we jump ahead four years to Jobs' 1988 presentation launch of his new company NeXT, and then we jump ahead a full decade to Jobs' introduction of the iMac at a third presentation. The movie is split into these three sections, and all three sections are the thirty or so minutes leading up to Steve taking the stage. It is pretty fascinating to watch how they managed to get background information into this story, like when Apple CEO Sculley confronted Steve prior to the NeXT launch regarding how Steve Jobs was ousted from the company he founded by his own board of directors, as we see the late night emergency board meeting that led to this momentous change via quick flashbacks intercut with a conversation between the two people backstage at the presentation. They even managed to get into Steve Jobs' adoption and the nuanced way that shaped him and his outlook on life and the way he treats other people, and how his friendship with Wozniak was so complicated, and how each presentation shaped his life and who he was and what he would try to do next.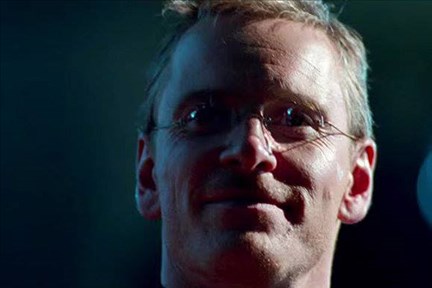 You know when people derisively say, "They don't make them like they used to" and complain about the spectacle first blockbusters that we are inundated with year in and year out? Tell those people to go see "Steve Jobs," because this is unquestionably a movie about people, not about spectacle, but about ideas and relationships and how humans treat each other, and though we may be seeing a movie about a very specific person, we can see his foibles and flaws as well as his dreams and aspirations reflected in all of us. This is drama of the highest order, no guns, no violence, no dastardly plans and no super villains and no huge CG-enhanced set pieces or car chases; instead we have people, using words and emotions as their weapons, and reeling from the use of these weapons. Steve Jobs is a visionary and a genius but he could also be mean and uncaring, to the point that we can see a major transformation in his behavior from 1984 to 1998 and while we are fascinated by the changes he has made, by his "softening" as a person, we can also see how some things never did change, and why these traits may not be desirable, they are what made Steve Jobs who he was. He was not a good dude or a bad dude, he was a person with a complicated emotional inner life, one that gets wonderfully explored through these relationships with different people over these many years.
Really "Steve Jobs" is a kind of beautiful movie in the way it explores human relationships, and what some people would be willing to put up with while others would have a lower threshold for such bullshit. And the way it gets into this unique person's life by narrowing the focus to such specific events did a lot to open up the movie to exploring more universal truths about all of us. This is a fantastic movie and one I am looking forward to watching again because it is all just so well made.