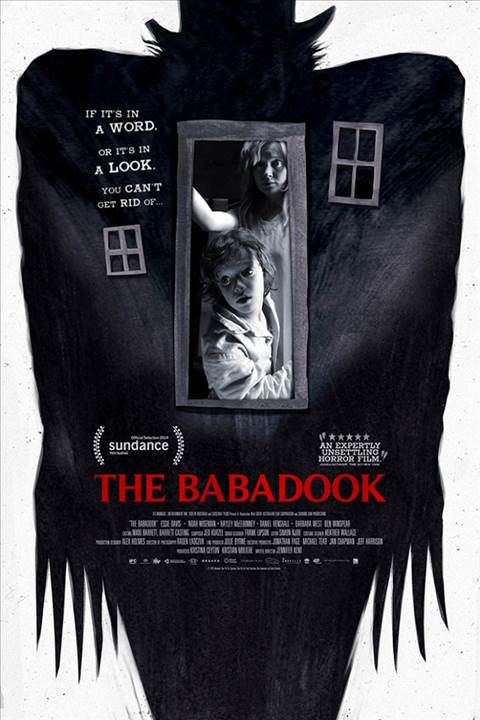 "The Babadook" is the kind of horror film in which a family is tormented by some sort of supernatural being, like a haunting kind of deal, but with the added benefit of the horror being directly tied into the emotional needs of the main characters and their relationship to each other. So there is some scary stuff about monsters in the shadows, but then there are also the monsters inside of us as well, ooooooooo, get it? The real monsters?
Amelia (Essie Davis) is a single working mom, and she is single because her husband died in a car accident on their way to the hospital, which they were heading to so she could give birth to her son Sam. And as they approach Sam's seventh birthday, Amelia is reminded again of her dead husband. What a bummer. Meanwhile, Sam has been acting out more and more, scared of possible monsters under his bed and in his closet, and feeling more and more isolated from his schoolmates, and his tantrums and seemingly paranoid fixations are just weighing down on Amelia more and more. Her personal life, what little of it she has, is a wreck, her son is off his rocker, and she struggles to even get some decent sleep. And just as all of this is going down, a mysterious book enters their lives.
Having a nightly habit of reading a book to her son before he goes to bed, one night he pulls a red book off the shelf called "Mister Babadook" and it is a short pop-up book about a ghostly creature thing trying to come into a home to be all scary and stuff and how you can't get rid of him, and the art and the wording freaks out Amelia as well as Sam, who then starts believing that the Babadook is in their house trying to get them. Well, really trying to get Amelia, which makes Sam scared because he wants to protect her. And Amelia doesn't believe him at first, but then weird things start happening around her, and before long, shit really starts to go crazy for her.
Or maybe she's going crazy? That's kind of the point of "The Babadook," as this movie tackles the verboten idea that sometimes a mother just wants to kill her kid, or wishes how she never had the kid for whatever reason. Society dictates that motherhood and parentage is a blessing and should be seen as an honored duty which is teeming with rewards, when in reality for many people being a parent is a grind and many parents look at their kid or kids and wonder how nice life would be without them, without the tantrums and bad behavior, the medical bills and food cost and clothing needs and just all the work and fiscal liability that comes with raising children. And while Amelia doesn't come right out and say it, it is obvious that she wishes she had her husband instead of her son, and that if she could somehow go back and change things, she would do so. Of course she loves her kid, but he's a pain in the ass sometimes and her patience is all but out and she just really misses her husband.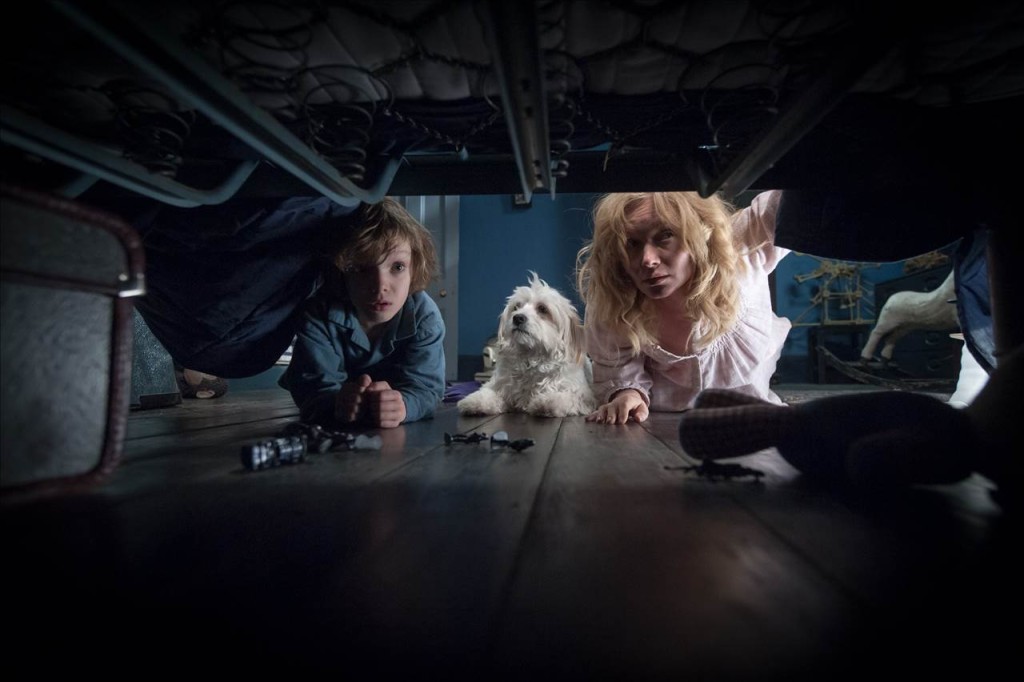 So the movie gets pretty crazy in the same kind of way "The Exorcist" does in regards to the intensifying atmosphere, with a little bit of the "Paranormal Activity" thrown in, mostly in terms of being tormented by an unseen horror and with special effects done on the cheap but still done well. The Babadook does make a few appearances in this movie, and they are all kind of different and otherworldly and weird and I really liked that. The presence of the Babadook was felt much more than it was seen and that makes things even more scary because nothing is scarier than the unknown.
This is a pretty cool movie, well acted and well made, and with a very clear vision and purpose. This isn't just a cheap cash grab or a throwaway movie so prominent in the genre, this is an actual film exploring themes of parenting and childhood and regrets and confronting one's real feelings and emotions and it does so in a very entertaining manner.
"The Babadook" is a very good movie and should be embraced by people looking for some scares from their movies.