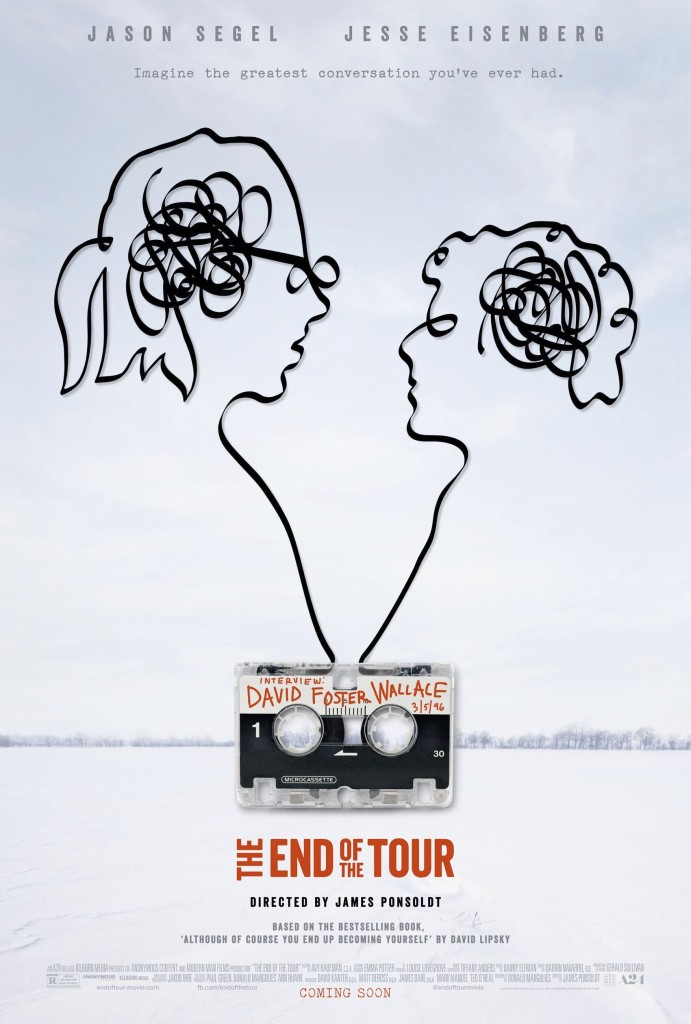 "The End of the Tour" is the exact kind of movie that people like to claim never get made anymore. Folks like to complain about superhero movies and blockbusters and spectacles and studios cranking out product instead of art, and the best is when they insist that nothing original gets made, oh woe is us, why can't we get movies made for adults anymore, just people talking about ideas and the inherent drama that comes from different people coming together, why oh why can't we get more movies like this? And then this movie comes along, and everyone is like "The End of the what? David Foster who? What Stone magazine? Just pass the Cheetos, will ya?" People, please, put down the fucking snack foods, shut off the reality television, get in your shitty car and go to the nearest theater showing "The End of the Tour" and do your part to support solid, well made, adult-minded entertainment.
Funny enough, "The End of the Tour" even goes a little into "good seductive entertainment," the type of movies that DO involve action and spectacle and aren't meant to change the world or even the way you look at the world ("Die Hard" gets specifically name dropped as an example) and this gets compared to eating candy and junk food and drinking soda, which is indeed pleasurable albeit not nutritious. We can consume this kind of middle of the road, for-entertainment-only type of movie (and television and music and literature and so on) but we can't make it the basis of our diets, we can't subsist on this alone and expect any sort of personal growth; on the contrary, we can only expect to die a very real death in a very meaningful way, which is how this movie describes what happens to a person when their primary sexual relationship is with their own hand and images on a computer screen as opposed to with an actual person. It all ties together in a way that asks basically what is this life all about and how can we all navigate this thing in the best way possible.
So as you can see, "The End of the Tour" gets into some deeper stuff, even when dealing with the results of eating nothing but candy or the merits of a 1980s action film, because this movie is just a conversation  between two people, a conversation that spans several days, a couple of states and a plethora of topics. In 1996, Rolling Stone magazine journalist David Lipsky (Jesse Eisenberg) convinces his editor to send him to Indiana to meet with acclaimed writer David Foster Wallace (Jason Segel) so he can interview the guy and write a profile about him, telling the editor that Wallace is the kind of "once in a generation" type of author like Hemingway and Pynchon who deserves to be profiled. So Lipsky goes to Indiana and meets Wallace at his home and five days of interviewing begins right then and there. Predictably, their relationship starts a little rocky, as the press shy Wallace is questioning himself as to why he even agreed to this to begin with, and pretty quickly finds Lipsky's questions prying, with Lipsky responding more than once by reminding Wallace that he agreed to the interview.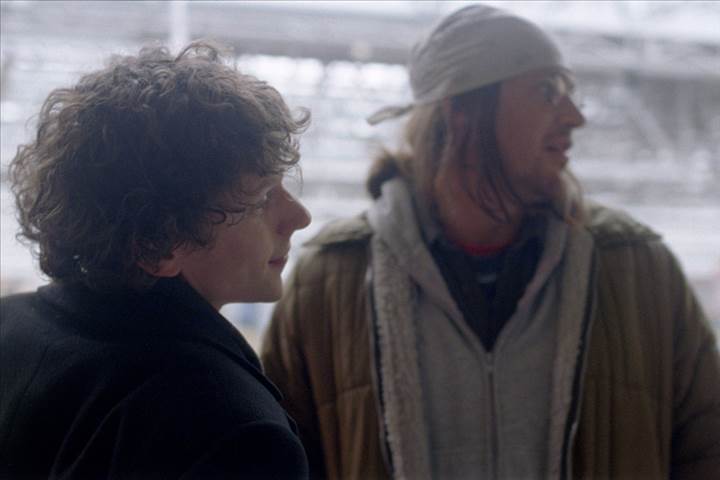 But Wallace slowly starts to trust Lipsky, little by little, especially as he manages to be very open with Lipsky in terms of his fears for the interview and how the eventual article will be shaped and molded and how people will end up perceiving him. Wallace expressed concern several times about coming across as an asshole of some sort, either pretentious or mean or whatever, and while Lipsky assures him several times that won't happen, it becomes obvious that Wallace doesn't fully trust him. And yet after an initial dinner and some talking, they do have common ground and they talk about some meaningful stuff, and Lipsky manages to get Wallace to admit to some intimate things, even embarrassing things, and Wallace admits he enjoys talking to Lipsky, and from there they are off. The rest of the movie is the two of them conversing in cars, on planes, in bookstores, kitchens, living rooms, restaurants…wherever they go, the recorder is turned on and they talk, and the conversations get pretty fascinating and deep reaching and it is a pleasure to be a fly on the wall of these two "obscenely well educated" people essentially discussing the meaning of life, why we are here, all of that stuff.
From these conversations and from the nature of their relationship "The End of the Tour" gets its central themes, namely how relationships form between people and what constitutes a genuine friendship versus those relationships in which everyone has their own agendas. It is obvious that Wallace doesn't really have many people he can fully open up to, and at times he does so with Lipsky but it is almost like he's being tricked into it, like Lipsky presents himself as Wallace's friend (which he clearly WANTS to be) but when Wallace asks Lipsky some personal questions about his own life, Lipsky shuts it down with the ole "hey, who's interviewing who here" gambit, which just reinforces to Wallace that this isn't a real friendship. So then Wallace tries to be nice to Lipsky while also taking things a step further, like forbidding Lipsky from talking to his parents for biographical information, or introducing Lipsky to someone by saying "we just met, he's interviewing me," as in to put some distance between the two of them. The two of them are having these great conversations and they are revealing quite a bit about each other but the mere presence of the recorder on the table between them with the red recording light on prevents them from having a true, real friendship, at least in those moments. Because they may be connecting on some level, but they are also both acutely aware of how this connection began in the first place.
Obviously it helps that Eisenberg is a reliably great actor, and he manages to ride a thin line with Lipsky, straddling between likable guy and creepy journalist. We laugh at his foibles as he tries some of Wallace's smokeless tobacco (likely in an effort to be more like him) and asks to use his bathroom so he can spit it out almost immediately, but then we cringe when he opens Wallace's medicine cabinet and starts writing down an inventory of what he sees in there. It is a reminder to us, just like to Wallace, that this guy has his ulterior motives, and it isn't like those motives are hidden, they are out in plain sight, but that doesn't make the situation any better. Lipsky is also shown to be a person who seems quite envious of Wallace's success as an acclaimed and well regarded author, as he just had his own biographical book published to very little fanfare, and he seems happy to at least be in proximity to Wallace on his own book tour for "Infinite Jest" so he can at least be literary success adjacent, so he can just get a whiff of it, an idea of what it is like to write something that so many respond to so viscerally. Meanwhile Wallace tries to talk Lipsky up and tell him that he's a good writer himself and telling him several times that he wouldn't want to be Wallace, which is true because a lot of us wish we could be like other people who seemingly have it all or at least have their shit together, ignoring the fact that every single person on this planet is in the midst of fighting their own personal battles and demons that others have no idea about. The whole "grass is greener on the other side" mentality.
Meanwhile, Jason Segel gives the best performance of his career as Wallace because he has to convey quite a lot and run through a helluva gamut of emotions. Initial distrust slowly gives way to more openness, he talks about life, death and Alanis Morissette, he's happy, depressed, jealous, at times child like and others like he has the weight of the world on his shoulders. He knows he's an acclaimed author and he knows how people perceive him and he tries to use his profile to convince the world that he's a normal everyday guy like everyone else but really he seems to be trying to convince himself of this, and the one person who ain't having that is Lipsky. It is actually pretty fascinating to watch him in this role because it is unlike anything else he's done; he doesn't rely on comedy to make this role work, he just plays it real, gets really into it, and it works great. It is a thoughtful performance for a meaty role and it is just damn good. It is silly to think of a sequel to a movie like this, but I could easily spend more time with Eisenberg and Segel in these roles having these conversations, they are that good together and individually.
I loved this movie. Next time you hear someone complain about superhero movies, tell them to watch "The End of the Tour" and if they come back with anything other than enthusiasm for what this movie set out to do and accomplished, tell them to go back to their Spider-Man movies and shut up because they don't know what they want. Hell, a lot of us don't know what we want, not truly. That's the essence of this movie. Be careful what you wish for. You want something original and interesting, here it is.