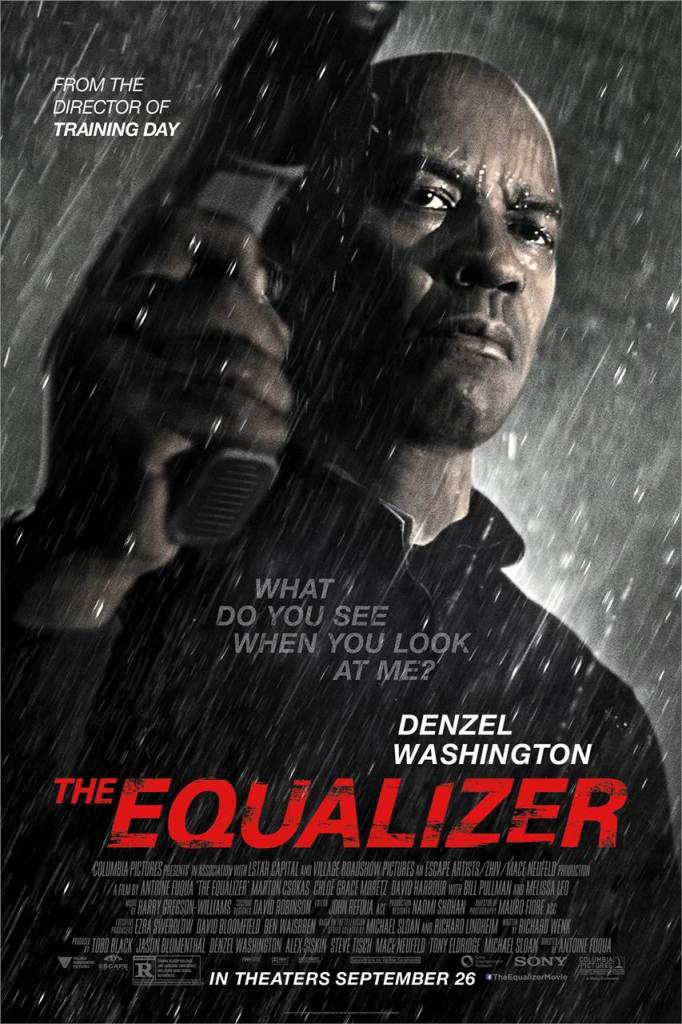 "The Equalizer" may be the best bad movie I have seen this year and I mean that in a very particular way, in that the story is filled with these ridiculous cliches and tropes and conventions and plays heavily into them and is also filled with these absurd moments and insane side stories but meanwhile the whole thing is being done by people who know how to make films so it is technically proficient and there are a number of cool moments and beautiful shots and in the end they even tie it all together with a nice little bow, set to rock guitars and drums, so it all comes together for a good time at the theater. A dumb good time, but a goo time nonetheless.
"The Equalizer" is about The Equalizer, a gray haired man working at a Home Depot-like home improvement store. His name is Robert McCall (Denzel Washington), and despite being very friendly and full of smiles and very willing to help his coworkers with their personal goals, he also lives a very austere and simple lifestyle, one fit for a monk, and oh yeah he's harboring a very violent past, one commissioned by the government to boot. And when the people around him get in trouble with criminals and corrupt cops and whatnot, he secretly gets involved and corrects the situation, leveling the playing field, equalizing the score, if you wil- ooooohhh I get it, I see why he's named that, oh man these people are clever.
Anyway, so this McCall guy, he keeps to himself, yet he also has two friends. One is a fat coworker named Ralphie (Johnny Skourtis) who called Robert "Mr. McCall" throughout the movie, so despite being friends, they really aren't friends, they are acquaintances at best, but still Robert takes time out to help him with stuff and encourage him to eat properly and shit. Actually, Ralphie has a whole little side story of his own in which he actually wants to become a security guard at the store they work at together, but he's all worried about passing the "security guard test," which I imagine consists of having the prospects climb in and out of golf carts as fast as possible and seeing who could take out their flashlight the fastest. Unfortunately they never show him taking the test, which is a missed opportunity if you ask me. If we're going to get into this guy's fascination with being low level security, why not REALLY get into it?
So Ralphie gets McCall to train him and I thought he would get the security guard position at the very end of the movie so it could act as a little button but no he actually gets the job kind of early on in the movie. And then he shows up at a company softball game in his security guard uniform and this particular scene is hysterical because it feels like the scene from the end of the movie but then pushed up an hour and placed in the middle of the movie. Everyone is all smiles and having a good time, even though the scenes immediately before this one were all about setting up the danger of the film and the bad guy who wants to find and kill the Equalizer. Also why was Ralphie wearing his uniform to the game? To show it off? And you know what? If so, it worked, because his coworkers were fawning over him like "aww shit, new sheriff in town" and shit. And other than that this scene had no purpose except to show how the Equalizer could still snag a pop fly in a softball game. At this point in the movie McCall isn't investigating anything, he isn't afraid of anything, or really even aware his life is in danger at this point, he's just chilling and having fun at the game and that was hysterical.
And then his other friend is this very young hooker girl named Teri but also named Alaina (Chloe Grace Moretz) and boy oh boy this is a weird friendship over here. Because McCall can't sleep, not without being able to kill some fools anyway, he goes to a local diner with a book and his own tea bag and he orders a cup of hot water, which the guy running the diner is happy to provide. They never show McCall ordering anything else or leaving a tip for the use of the cup and table and whatnot I guess, so that makes him an extra bit of a weirdo. And because Teri a.k.a. Alaina is a Lady of the Night she needs a place to eat some apple pie between turning high priced tricks for the Russian mob. And these two lost souls form a cute little movie friendship in which he is seemingly the only person in the world to encourage her to pursue her apparent dream of being a singer and she asks him questions about the different books he reads at the diner, all of which coincidentally have something in common with what's happening in this movie. But then she gets beat up by the mob guys, the Equalizer equalizes the guys thinking they are just low level pimps and then he EVENTUALLY finds out that they are Russian mob guys with ties to the top of the Russian mob pyramid.
It is a little ridiculous how long it takes him to find out exactly who these guys are. First off, he does manage to awesomely get a photograph of the main bad guy on his cell phone by walking directly at their car and just taking picture after picture as he walks past them, knowing full well that they would get out of the car and try to chase him down to kill him. And then he takes FOR-EH-VER to take that photo to some old friend with government connections so that he can get full dossiers on his brand new opponents, and then he goes on an equalizing rampage of equalization that the Russian mob is not prepared for. Good times.
Instead of using his time to find out who is trying to kill him, he takes a few equalizing side missions to help his boy Ralphie's mother with some crooked cops and he helps another coworker get her ring back from a robber (and if you watch the trailer, they literally show everything involved in this whole sequence. Everything) and you would think he would work with a little more urgency, but you know, I guess you can't argue with results. Still, they could have cut back on some of this side equalizing and just stuck to the main equalizing. That stuff was interesting enough as it is.
Sure enough, by the end of the movie, McCall is full of The Equalizer, answering Craigslist ads of people who need random help, and just as he did throughout the whole movie, I'd like to think that he continued using the home improvement store as his own personal batcave. And just like a bad ass superhero, there are multiple times throughout the movie in which people ask McCall through blood choked spasms, "Who…are…you?" and he awesomely NEVER ANSWERS THEM! So great, not only does he exact equalized justice but he won't give the bad guys the pleasure of knowing what kind of supreme bad ass he is.
Oh, and then there is the scene in which McCall equalized an entire shipyard by walking away from it in slow motion while it exploded behind him. No crazy scene of him rigging the place to blow, no sneaking around, no tension, just a sweet two minute sequence of McCall walking in slo-mo while things blow up around him and he's just like "ain't no thang but a chicken wing on a string." So dumb. So amazing.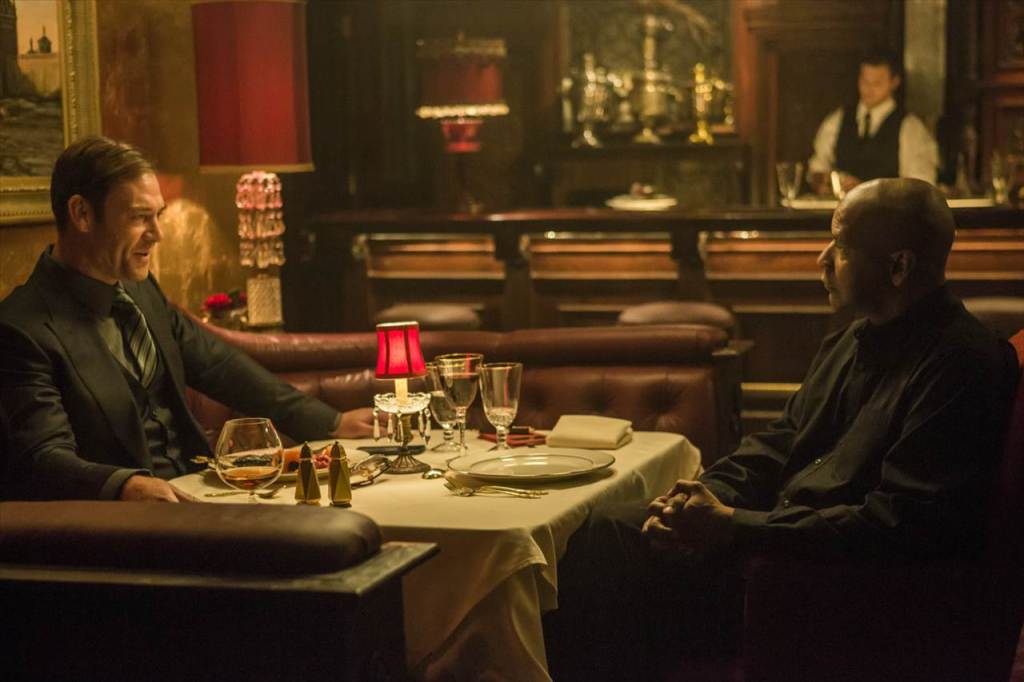 They make sure to throw in the right things to make a movie like this work, like having the bad guys (or somebody, doesn't really matter who) read off a bunch of information indicating how awesome our guy is. Think of all the Seagal movies of the 80's and 90's, there are always scenes depicting people reading from a file or reciting his credentials and medals and tours of duty, usually resulting in most of the bad guys (though rarely the main bad guy) collectively shitting their pants in fear. There is also the trope of having the good guy banter with the bad guy, usually matching wits if not one upping the villain, and in this movie we get a nice sit down scene in which McCall and the main Russian bad dude get to size each other up and talk some trash.
Also there is this one legit AMAZING moment in the movie in which the initial Russian pimp guys talk shit to McCall and tell him to leave and he smiles and says okay like it's all good but then he takes a skull sitting on the pimp's desk and turns it around to face the guy and pushes it forward and then does the same with two more skulls sitting on the desk to two other henchmen and the Russian guys laugh at him like "who does this idiot think he is," but we as the audience know this is an awesome omen of things to come for these guys, McCall his warning them that some equalizing is about to go down, which it does shortly thereafter, and in VERY violent fashion.
And then there is this weird thing that feels like it was a product of earlier drafts of the script but it all didn't make it all the way through to the final shooting script, and that's McCall's apparent OCD. He has more than one moment in which he does things that definitely comes across as something a typically OCD person who do, at least OCD people in movies and TV shows. For example before he takes out the first room full of Russian pimps, he opens and closes their office door 4 or 5 times, maybe even counting them out to himself? And then whenever he goes to the diner for his free hot water, he arranges his book and the silverware and his napkin in a very specific manner, and he does it the same way each time. But then this doesn't really pay off in any way, it never becomes a hindrance or a help to him, he just acts a little weird every now and then. Too bad they really didn't push this one and make him full on OCD, maybe make THAT the reason he had to leave his past behind or something, that would make for a really interesting action hero, battling through his problems to bring the justice he knows he can bring to people who need it. Makes sense to me anyway.
So "The Equalizer" is definitely dumb and not too well thought out and filled with ridiculousness but it is also fun and features a final shootout that happens entirely within the home improvement store and which features McCall hunting the bad guys who outnumber him one at a time like a monster in a horror movie. Pretty fantastic shit if you ask me.