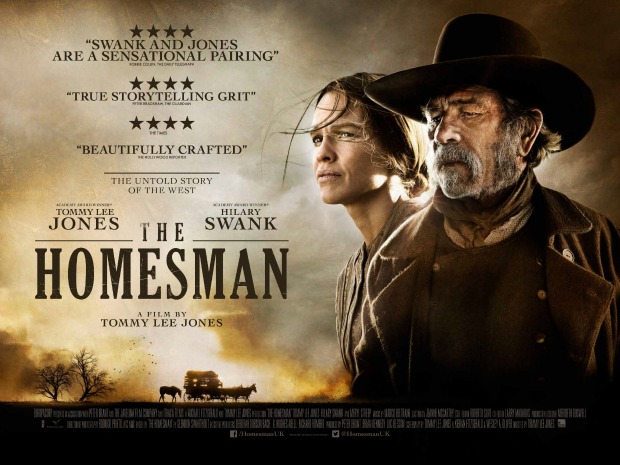 "The Homesman" is an interesting Western film directed by Tommy Lee Jones, which makes him two for two in directing somewhat unconventional Westerns (his other film being the sublime "The Three Burials of Melquiades Estrada"). An adaptation of a 1988 novel of the same name, this is a story centered on the harsh realities of living in 19th century frontier America, and the simple logistics of having to deal with people with various states of decaying mental health in a place and time in which such ailments are not very well known or treated properly. And also how much it sucks for plain looking women who couldn't find a man and had to fend for themselves. Cause that looked like it sucked.
Mary Bee (Hillary Swank) owns her own piece of land in Nebraska and she farms it and seems to be doing pretty well, having plans to expand and plant different crops and buy more animals, so even in such a desolate looking place, she seems to be doing okay for herself. But being in her early 30s and single, she is seen as a spinster, as women were expected to have been married and have kids well before her age. And it's not for a lack of trying, she just gets rejected mostly because she's plain and bossy, two things she can't seem to help much. It is obvious the loneliness is starting to get to her and it is hard not to feel kinda sorry for her situation. And then it is understandable when she volunteers for a seemingly very difficult task, that of transporting three women from Nebraska to Iowa so they could be reunited with their families back East as all three of these women for varying reasons have lost their minds and can no longer be tended to be their husbands. Early on she recruits a trouble making drifter named Briggs (Tommy Lee Jones) to help her with the job, and they are off on an arduous journey.
It is a pretty simple set up and there is no tomfoolery or messing around in setting up the story and the stakes. Early on we get a shot of one of the families in the very small community standing outside their dusty home and looking down on their dead cattle, all of them struck down by some illness, leaving them with nothing, the despair hanging over them like an oppressive dust storm, just coating everything, leaving them with no choice but to endure. That was the situation for many in the middle of the 1800s, just trying to settle down on some land and not die with each passing winter. With that short scene we understood what these people were fighting against. And then when Mary Bee and Briggs hit the trail with the three women in tow, much of the story is just about the simple logistics of what they have to do, like where they sleep and how they help the women go to the bathroom and how Mary Bee has to wash them and stuff like that, just the hard grind of such an existence.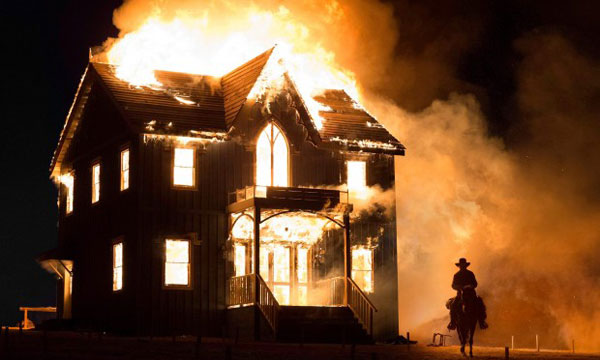 And this grind takes it toll. Briggs appears to have been beaten down pretty early by life and managed to weather through it all, which makes him a surly, sour man most of the time, usually out for his own interests, with no problems with walking away from responsibilities and promises. And Mary Bee can't keep getting turned down by men and not have it bother her in some way, especially when she really doesn't have any friends to lean on. So when these two come together, they actually make for a pretty good team after a little while and a begrudging friendship starts up that then goes somewhere quite unexpected, and from that point forward, the story takes a couple of interesting, unexpected turns.
Tommy Lee Jones and Hillary Swank are both pretty fantastic in this movie, and the rest of the cast is filled with great, reliable actors like John Lithgow, James Spader, Meryl Streep, William Fichtner and Tim Blake Nelson, and some other roles are played by young, very promising actors like Jesse Plemons and Hailee Steinfeld, so there is no shortage of excellent acting. Tommy Lee Jones has a very simple and effective directorial style, no flashy moves or anything, just straightforward storytelling accompanied by excellent cinematography from Rodrigo Prieto.
This is a well made movie in pretty much every way, it has some uncomfortable moments, some comedy, some tragedy, unexpected turns, and a poetic ending, and it all works pretty damn well.