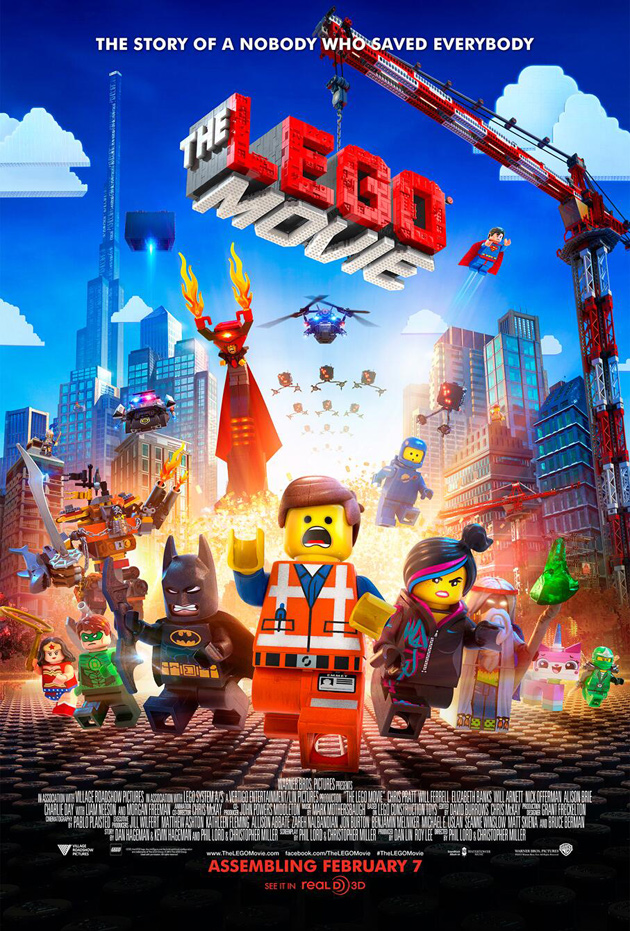 Boom. Insta-classic. Just like that. If only it was as easy as these guys make it seem, but here we are with "The Lego Movie," a film that traffics in both hilarity and profundity and never at the expense of either one. How did this happen? This really does not make much sense. This should not be. No one has been able to take plot-less toys and games and turn them into truly great movies, let alone good ones (we're looking at you "G.I. Joes" and "Transformers" and "Battleship"). Yet here we are.
"The Lego Movie" is about Emmet Brickowoski (Chris Pratt), who is a very bland and featureless construction worker Lego guy (in a sentient, active, awesome looking Lego world) and he goes about his day to day routine super happy to be bland and follow the instructions and fit in like he's supposed to. And then he literally stumbles ass backwards into an ancient prophecy, in which he is told he is actually the most special and unique person in the universe, and as such he will save the Lego universe from Lord Business (Will Ferrell), who seeks to end the Lego world as they know it by using a secret weapon to make all the world's pieces permanently stuck together, as per the instructions.
You see, in this Lego World, creativity has been thoroughly squashed, as Lord Business has installed himself as President of this world somehow and has convinced everyone that they must all "follow the instructions" at all times, as the strangeness of creativity made him feel uneasy and confused. And how does Lord Business make everyone fall in line? How about some mass consumption of things like overpriced coffee, bad television and worse music, all soaked in by the popular culture of this Lego World, to the point where they are no longer paying attention to what is happening to their world. Everyone is kept in line with lowest common denominator entertainment and consumerism which distracts them from the obvious threats to their very existence.
See?! This thing has way more on its mind than one would expect, especially for a movie based on a line of toys.
So Emmet comes into contact with the Master Builders, who all live in hiding, refusing to follow instructions and instead build and be whatever they want, and together they try to prevent Lord Business from destroying the world with the Kragle. And along the way there is much character development and emotional revelations and a very interesting meta-twist that I really did NOT see coming, all coupled with jokes coming at an "Airplane!" style rapid pace.
It is actually quite amazing how the humor in this movie has a distinct edge to it and the filmmakers are saying pretty much the same things that were said by Mike Judge in "Idiocracy," but it's all done without sinking into cynicism. There isn't a cynical bone in this movie's body. Quite the opposite, it has a sentimental, gooey center that somehow isn't too sweet when it's mixed together with the rest of this movie. So to be a little more specific, we have a movie in which Lord Business can have a soliloquy about how he wants to throw one of his henchmen through a window of a high rise building plummeting to his death below but then also has scenes in which characters make emotional confessions which peel back layers of who they are, and it all fits together perfectly like so many Lego pieces. The tonal balance is pretty incredible actually, and it is a large part of the why this movie works so well.
Of course this should actually have been expected, as the team of Lord and Miller (which is how they should go by, because that sounds awesome, like an 80s rock duo) also gave us the awesome family movie "Cloudy With a Chance of Meatballs" and the awesome R-rated movie "21 Jump Street," and they have now proven that they know how to put together a sweet comedy by going three for three with awesomely funny movies.
This is truly a family movie because people of all ages will like this thing. There are jokes for the kids and adults alike, some heady themes for contemplation, and a little bit of subversion for the young minds watching this movie, a film dedicated to telling us all that we can  all be unique and special in our own ways and that we should be wary of those trying to keep us in step with their own preconceived notions of how things should be. How refreshing for a mainstream piece of entertainment to come out against the homogenization of mainstream entertainment, bemoaning the robotic nature of the "art" and its consumers, begging for people to open their mind to the vast possibilities of the world around them.
"The Lego Movie" is brilliant and funny and touching and just great all around. Seriously. A movie based on Legos. Just fantastic.