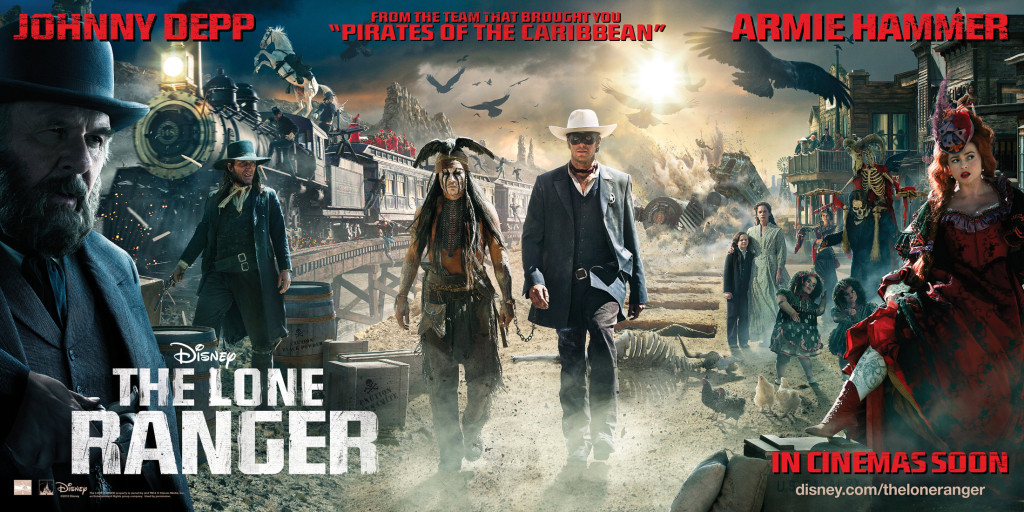 Man did this thing go pretty awry. Disney's "The Lone Ranger" was surely made with the idea that they could make a whole new billion-dollar-a-picture franchise with this old school property (because that's how Disney and companies of their ilk sees stuff like this anyway, not as art or craft, but as property and franchises, like fast-food), and their reasoning behind giving the project to the group of guys behind the successful "Pirates of the Caribbean" films  made sense on paper. After all, if Gore Verbinski could turn a theme park ride into a well-liked movie, then imagine what he could do with something with a rich history in radio, television, movies and comic books, going all the way back to 1933. What could go wrong with this set up?
Apparently Mr. Verbinski wasn't satisfied enough with just bringing the now iconic characters of the Lone Ranger and Tonto to the big screen; he also apparently wanted to make an epic western (half John Ford-style, half Spaghetti-style) rooted in the tragedies beset upon the Native Americans by the invading white men and their Manifest Destiny, what with their desires to unify the country by iron rail resulting in massive genocides, pretty much finishing the job started by the European settlers a couple of centuries prior. Perfect for summer blockbuster entertainment, right? Genocide? Yay? Anyone?
The movie may be called "The Lone Ranger," but the main character is definitely Tonto (Johnny Depp, Dark Shadows, The Rum Diary), and the movie actually starts with a very old Tonto telling the story of the Lone Ranger to a young child, so obviously you have to consider the narrator as you watch this movie; any weirdness or embellishments can be chalked up to an old man making a grand story sound even grander in order to entertain a young kid. Tonto tells of how he came across a possible resurrected corpse of young attorney-turned-Texas Ranger John Reid (Armie Hammer, The Social Network) and how he told the guy that he was a spirit walker and had to wear a mask to convince people he was still dead or something like that and so they could go get the gang that ambushed him and that also killed a bunch of Indians in the past because bad guys suck.
But for some reason, this takes two and a half hours to do, which is ridiculous. There is this whole story about the railroads being built and the one guy who wants to control it all, no matter the cost, but at the same time he has eyes for the Lone Ranger's widowed sister-in-law, and then there's also the crazy bad guy Butch Cavendish (William Fichtner, Drive Angry), who is a cannibal but it seems like they didn't really want to get too deep into that because that's a little creepy but they still touched on it every now and then. It was weird how this detail was thrown in and then seemingly hidden, it just seems like it was too much, or some old idea from an old draft that somehow survived anyway, despite everything else changing around it. Much like the carnivorous rabbits that show up in two scenes and do absolutely nothing and do not add anything to the stories or characters. Just because Tonto mutters that "nature is out of balance" every now and then doesn't mean it all makes any sense.
There seems to be a real problem with tonality in this film. First they try to go epic western with overtones of tragedy, like a Sergio Corbucci or Sam Peckinpah movie, all violence and catharsis, but they quickly undermine much of this with awkward humor, adding in punchlines and non sequiturs immediately after moments meant to be filled with gravitas and/or emotion. For example, there is a moment in the movie in which John Reid, before he really becomes the Lone Ranger, decides that he has to become an outlaw in order to enforce the law, and this is an important moment because he is turning his back on what he strongly believed in and allowed himself to change based on the new information he had received, and this a big moment in the movie, and for absolutely no reason whatsoever, just as this character is making this revelation, they cut to their horse just standing in a tree, eating some leaves, wearing a white cowboy hat. What was the point of undercutting that emotional character beat and turning point of the story with a stupid joke that goes nowhere?
It feels like Verbinski wanted to make a crazy western but felt burdened by the Lone Ranger himself, as if he had an idea for a weird, mystical western, took it to Disney, and they were like, "we'll give you $200 million to make this, but you have to make it a Lone Ranger movie because we have these copyrights laying around and we need to capitalize on them." Was Verbinski saddled with this thing? Was he embarrassed of the character? Why else would they portray the character of John Reid as such a naïve dope, who would have gotten absolutely nowhere without the aid of Tonto (himself now portrayed as half-shaman, half-con man, possibly touched in the head, but also given an incredibly heavy and guilt-ridden back story)?
There is even a spectacular little moment where it felt like they were finally embracing the character and his stoicness and iconic status with an awesomely shot moment of the Lone Ranger on top of his horse Silver, rearing back with the sun behind him and proclaiming "Hi-Yo, Silver! Away!" and it's actually pretty bad ass for a moment there, but then they immediately cut to Tonto looking on in absolute horror and telling the Lone Ranger to never do that again. So in the end, even though the moment was shot with seemed like appropriate gravity and tone, they were still embarrassed by the cheesy line and came across as "Really we're too cool with this stuff so we're gonna goof on it at the same time."
Did I mention the pointless carnivorous rabbits? I did? Okay good.
So what did Verbinski want to do? Make a movie addressing the slaughter of Indians by homicidal whites? Because the only thing treated with any respect in this movie are the Comanche warriors forced into a battle they know they will lose, but even then THAT gets undermined because during an absolute massacre of Comanches by a hail of machine-gun fire, the Lone Ranger and Tonto make a bumbling and humorous escape right in the middle of it all, because why make a movie about Indian massacres if you can't throw in jokes at the exact same time.
This movie is crazy, and not in a good way. A big part of that crazy comes from the bloat. I love a long, two and a half to three hour western, but it has to have a purpose and keep moving forward. I can't think back on this movie and imagine any moments or scenes that justified the incredibly long running time. With this particular story and characters, they could have given us a tight movie just under two hours, and who knows, maybe this thing could have been edited down to something more watchable and entertaining. cut out the pleasant yet unnecessary narrative device of old Tonto telling the story to a kid, cut out the whole side story of the Lone Ranger's sister-in-law actually loving him and not his brother whom she married (because again, this whole thing goes absolutely NOWHERE), cut out those stupid carnivorous rabbits, tighten up the train plot and the thing about mining for silver (there's a thing in the movie about mining for silver, it's just a tangible stand-in for humanity's greed), cut out absolutely everything having to do with Helena Bonham Carter's character, as she is all exposition and completely pointless to the story as a whole, and then maybe you have a movie there worth watching.
But none of this is going to happen, this is the cut of the movie we were given, and it just stinks. Which sucks, because I wanted to see an awesome big budget western, and instead I just got a lot of bloat. What a shame.