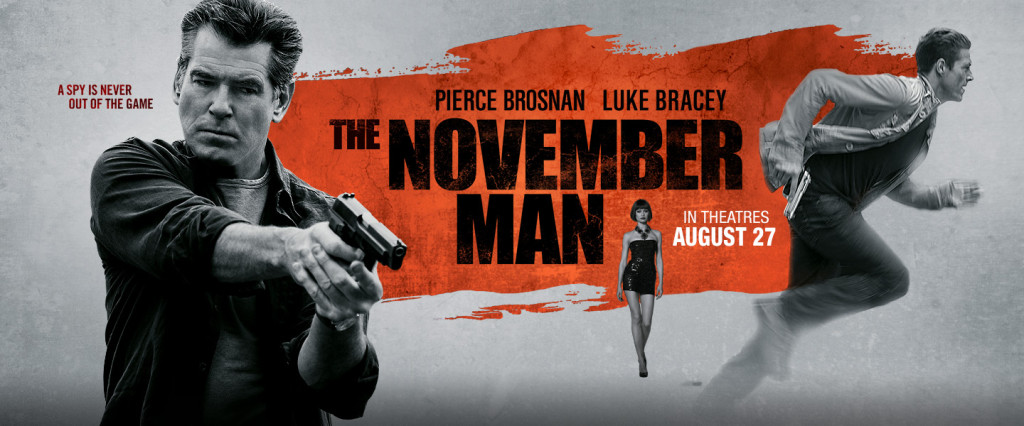 "They used to call you The November Man, because once you came through, everyone would be dead." That's actually said in this movie, as if it was supposed to mean something, and as you can see with your own eyes, it does NOT mean anything at all. But that's why Pierce Brosnan's old man grizzled (yet suave) special agent veteran was apparently called the November Man at some point and that's the name of this movie so god DAMMIT we are keeping it in, you got me? Say the line of dialogue, you piece of shit! You want to get paid? That's how I figured that day of filming went anyway, with Brosnan off to the side eating a plate of cheese and crackers and watching with bemusement.
So this "The November Man" thing, someone tell me how it made it into theaters, how this was not a straight-to-dvd, holy shit what's this Pierce Brosnan movie I've never heard of doing in the Redbox kind of release, because this movie is just not good. And that's no slight on Mr. Brosnan, who acts his ass off in this thing, fully invested and selling the absolute shit out of every scene he is in, maybe a little too much here and there, but still, the man was totally committed to what he was doing and it showed. It was a shame that they cast some bland face, no charisma having nobody next to him as the former student turned adversary character, because that really gave the movie a low rent,, straight to video feel that could only be amplified when watched on a big screen.
There is this whole story about the illicit start of the second Chechnya Civil War and girls taken into sex slavery in Eastern Europe and a Russian politician wiping out all previous criminal associates and somehow for some reason Mr. November Man (Brosnan) has to get involved and doing some stunt driving and gun shooting and shouting and screaming and drinking, don't forget the drinking. Anyway, apparently November Man's wife has something to do with this? And November Man gets stuck having to protect some chick (Olga Kurylenko) as they look for some other chick, all the while a bad ass Russian assassin (Amila Terzimehic) is tracking them down and also they have to deal with some CIA bad guys and November Man's former protege Mr Bland Face (Luke Bracey).
Really they quickly got to a point where some old melty looking dude was being interrogated inside a shipping container by some random CIA operative and it just made my brain glaze right over with boredom. They spouted out Russian names and locations and protocols and I didn't care about any of it. It's like picking up a random James Patterson book and accidentally investing emotional interest into the story and characters. It is all a bunch of throwaway bullshit, so apparently we are here for the Pierce Brosnan show. And he's okay enough, but not worth seeing anything in a movie theater. That's overkill.
Because it is not like they do anything with the cliches and conventions of the spy thriller genre, and instead rely kind of heavily on one or two of them. There is nothing unique here. The November Man is sometimes a nice, even tempered dude who is very measured and relaxed, and sometimes he is a knife wielding maniac, ready to kill a random chick just to make his point. November Man has got some problems, and he spends a lot of his down time drinking whiskey and scotch and other dark liquors and one gets the idea that one of said problems for November Man is of the drinking variety. But it doesn't get addressed or actually seem to impede him in any way so I guess booze is what makes November Man operate? Don't try this at home, kids?
Look, we all want to see a cool Pierce Brosnan action movie, he's a cool guy, has made some cool movies, he was Bond for a while there, we'd like more Brosnan. But this ain't the way to do it. We couldn't squeeze him into an Expendables movies or something?