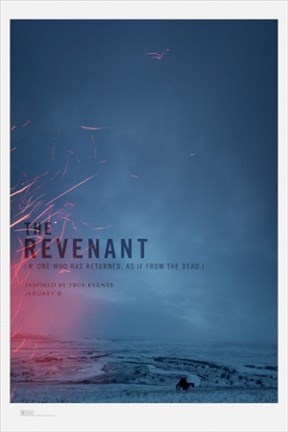 "The Revenant" is a number of different things rolled up into one. It is a grand artistic statement. It is a meditation on life and death, as well as mankind's place in relation to nature. It is the story of a nation's messy and violent birth. It is about revenge. It is about a father's love for his son. And maybe above all else, it is a reminder to always play dead. At least when there's a bear involved.
An expedition of settlers in 1820s western America gets attacked by a large group of Native Americans, and the small group of survivors has to try to trudge their way though thick forests and across mountains to make it back to their outpost alive. Hugh Glass (Leonardo DiCaprio) is their scout and tracker and it is up to him to lead them through the land to safety. But when he's mauled by a grizzly bear protecting her cubs and finds himself on the verge of death, he becomes a burden that the men try to carry through the wilderness, which they soon discover is impossible to do. A pair of men, Fitzgerald (Tom Hardy) and Jim Bridger (Will Poulter), agree to stay behind and watch over Glass, but Fitzgerald tricks Bridger into leaving Glass behind, which they do. Also Fitzgerald kills Glass's half-Pawnee son, which gives the dying Glass something to live for – righteous vengeance.
At two and a half hours, "The Revenant" is a movie that takes its time and luxuriates in its imagery, along with a story that is epic in its scale, the improbable survival and journey of this left-for-dead tracker and grieving father. All done with natural lighting and in remote locations in North and South America during the wintery-est of winters, you can really feel this journey, the bitter cold, the dampness, the vastness of the space, this whole movie is just so expressive and in your face with the shots of the huge mountain ranges and never ending skies, with little people in the middle or foreground, turned into ants against the grandiose backdrop provided by the world's best production designer, Mother Nature.
Also driving home this sense of going on a huge journey are the actors, especially are leads in DiCaprio and Hardy. Hardy's Fitzgerald is all distrust and self-preservation, acting out in ways that seem cruel but in reality is just his way of trying to ensure his own safety in a near impossible situation. When he sees an opportunity to better his chances of survival, he'll take it, even if that means doing something less than honorable. Meanwhile DiCaprio is put through some physical hell to tell this story, and with dirt in his teeth he makes us believe this character's pain and desire in what is an all-in performance in a very demanding role.
But the real star of this movie must be the settings, the natural landscape, the huge swaths of land, populated with huge trees shooting high up into the impenetrable sky, the bubbling creeks and roaring rapids, an unspoiled land, indifferent to the suffering of men. Part of the making of this nation was a wrangling of the land itself, spreading throughout it like a parasite, using it against itself to go deeper and further, and nature fights back by merely existing, continuing to exist no matter what happens to these individual people, whether they freeze to death or kill each other or simply have accidents out in the middle of nowhere miles away from the nearest person, nature just continues to exist. It always was and it always will be.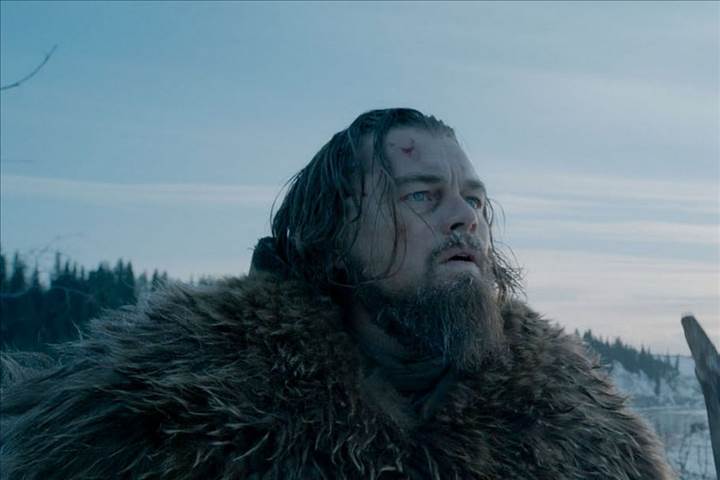 Then there is the whole savagery of mankind business that "The Revenant" chooses to explore. Despite Fitzgerald's actions stemming from a surely relatable desire to survive, Glass is rather sympathetic in his vengeance quest. But that is not the only bit of violence among people within this movie. Not only do the Natives fight back against the American settlers pillaging and stealing their land, but they also find themselves in opposition to French troops in the area, as well as other tribes. It is a very violent period in the history of this land, with the specter of death hanging over everyone at all times. Violence and distrust, these are the building blocks of this country, a shameful genocide, a disgusting display of arrogance and commercialism, this is the world Hugh Glass and Fitzgerald and the rest of the men involved are fighting and struggling to get back to, and they may realize a little too late that this system has turned them into what they are, and maybe their anger and vindictiveness were being directed at the wrong target.
This is a big-budget art film, as they used this revenge story conceit to slip in a movie very much about the nature of life and mankind, specific to the early 1800s but still universal in its sense of tragedy and awe, beautiful to look at even in its most gruesome and bloody of moments, with just a touch of magical realism thrown in for good measure. This is the kind of ambitious filmmaking one would wish people would do more of, as opposed to settling for something more mainstream, less "arty," something for everyone. Movies like that get made all the time, but something like "The Revenant" is special just for merely existing.