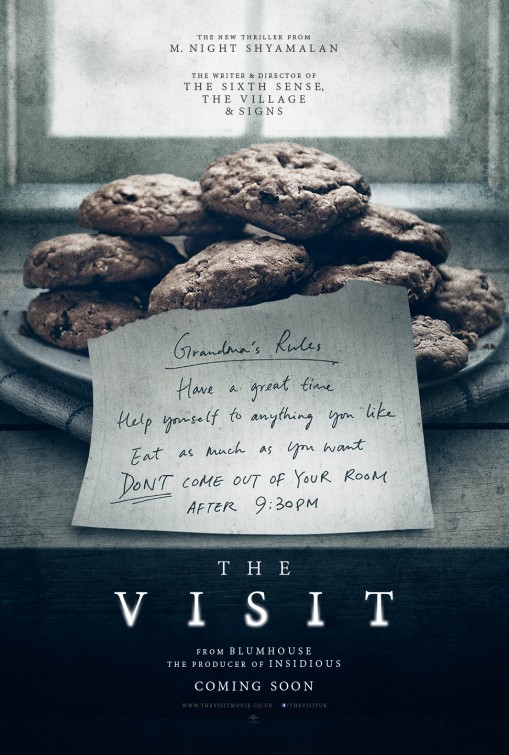 From the writer/director of "The Village" and the producer of "Paranormal Activity" should tell you everything you need to know about M. Night Shyamalan's "The Visit." Sort of a "found footage" horror movie (elaboration on that qualification to come), here we have Mr. Shyamalan's foray into this particular brand of low budget horror film making, working in a genre that has inherent low expectations both critically and commercially. Once known as the guy who might be "the next Spielberg," now we'd just like to see if he can make something better than "The Gallows" or "As Above, So Below."
In "The Visit," teenager Becca (Oliva DeJonge) and her younger brother Tyler (Ed Oxenbould) are sent to spend a week with their grandparents at their remote farmhouse, and this particular visit is a little weird for them because they never met their grandparents before, as their mother (Kathryn Hahn) hasn't spoken to them since before she had the kids. Meanwhile, Becca wants to be a filmmaker, so she brings two cameras and her lap top and makes a documentary out of the whole thing. And after they arrive at the farmhouse, they soon realize that not everything is at it seems with their Nana (Deanna Dunagan) and Pop Pop (Peter McRobbie), and for a week they are stuck documenting and trying to figure out if everything is okay or not.
Unlike other Blumhouse Productions like "Insidious" and "Sinister," the horror of "The Visit" is not relentless and overly dark. Instead it has more in common with the tension and atmosphere of movies like "Signs" and "The Sixth Sense," as Shyamalan has always been good at establishing weird, creepy moments and sequences without having to go the route of constant dread; the "scary" moments are separated by scenes that have both humor and character development, and it is all balanced well so one doesn't undercut the other. And the way the story unfolds kind of feels like classic Shyamalan, like an extended episode of "The Twilight Zone" and in a good way. This one definitely came out better than his last few bigger budgeted studio films.
And it does help that the standard for "found footage" movies is pretty low. "The Blair Witch Project" popularized the format in the late 90s, and "Paranormal Activity" took that style to even more commercial heights, and since then we've seen a wide range of movies from the perspective of someone holding a camcorder. And whether it's a monster movie ("Cloverfield"), a superhero movie ("Chronicle"), set in outer space ("Apollo 18"), searching for Bigfoot ("Willow Creek"), cops on patrol ("End of Watch"), an environmental disaster ("The Bay") or any number of movies about killers, ghosts, killer ghosts and ghost killers, they all have the same look and feel; handheld cameras with lots of shaky camerawork which occasionally straightens out to get some weirdly professional looking shots, people talking directly into the camera or at the camera operator, and a cinema vérité feel that involves a lack of music on the soundtrack and stretches of time in which nothing happens in order to obtain a sense of verisimilitude (for example, these movies always, and I mean always, feature shots of characters traveling from inside of cars or trains or whatever, and the story isn't advancing in any way other to show how characters are moving from one physical space to another). Many of these movies outright stink, with the actual good ones being few and far in between, so it is not that hard for "The Visit" to be ranked over many of them.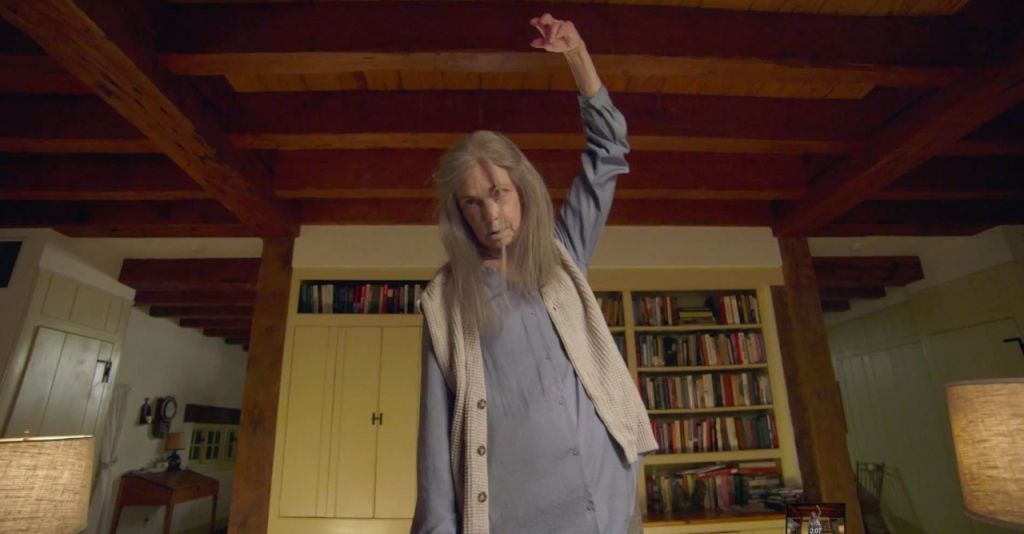 But that doesn't mean "The Visit" doesn't share some of the same problems as these movies. The idea behind this genre is that people filmed something, and then something happens to the people and the footage on their cameras are "found" and presented "as is." Sometimes a movie is labeled as "found footage" when it really isn't, or when that conceit couldn't be possible. For example, if some footage is "found," then how was it all edited together? And in some movies, why did this mysterious editor go around getting security camera footage and other cameras to splice in with the rest of the "found" footage? Some movies are consistent with this trope and some are wildly uneven with it; with "The Visit," Shyamalan sets up that Becca is filming everything and she gave a second camera to her brother to film more stuff. As we watch the movie, it cuts between these two cameras. We also get full on title cards for the title of the movie and labeling each day of the week as it passes, and there are also some ironic edits as well as interviews of people being played over shots of them doing other stuff, so this isn't really a "found" footage movie because the footage was never lost, and as a matter of fact, it all got edited together quite nicely. Which then brings up this problem – so if the footage we are watching has been edited, that means one of two things – the people creating the footage survived to release it the way they originally intended to, or the people died and this footage was somehow "found" and then made into a movie. One is obvious and one is creepy and it kind of takes a way from the suspense a little bit because some logical thinking will tell you what is going to happen based on this evidence.
But still, for a found footage type of movie, it looks very good, much better than your typical installment of this kind of film, and Shyamalan took much more care and time in creating his characters and this situation, so that the movie ends with actual emotional catharsis for several characters which was surprising because stuff like that is usually absent from these things. Usually it is just a matter of setting up the bare bones characters, introducing the "bad guy" and then following the horror until it reaches a peak and then almost always everything just STOPS, but here we get a resolution informed by the characters, who they are and what their problems are, and it actually works pretty well.
It also helps that Deanna Dunagan is great as Nana, as she alternates between sweet and disturbing, and she really went all out for this performance and it was worth it.
Not a bad movie at all, "The Visit" is not exactly a "return to form" for the once lauded M. Night Shyamalan, but it is a step in the right direction, back toward the crafty movies he made back in the day, and maybe his next movie will bring him even closer still.