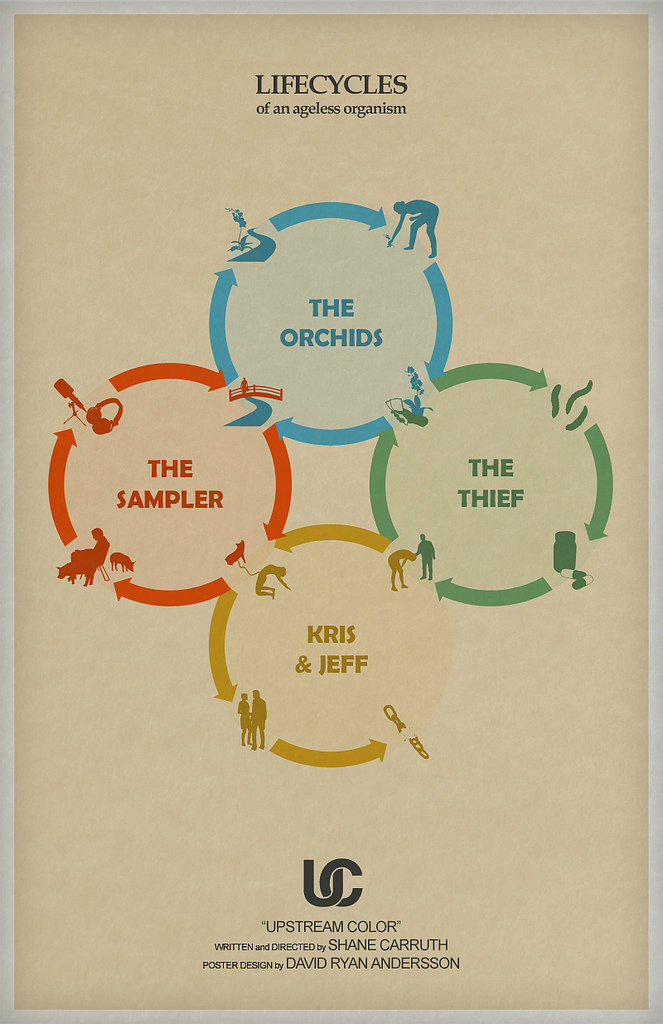 This is going to be a rough ride, peoples. After several viewings of "Upstream Color," I feel I have a grasp on the ins and outs of the story itself, but I'll be honest and tell you that I am struggling with what this thing is actually about, know what I mean? So in the spirit of this film, which is a just a little experimental, I am going to try something new with this particular entry; we're going to figure this thing out together.
First off, I'm going to need you to see "Upstream Color" for this to work. We need to be on the same wavelength. If you need a quick "review" before checking it out, I offer you this:
"Upstream Color" will surprise you. It will confuse you, and if you are paying attention and also allow it to wash over you, it will also reward you. To simply summarize the story and plot here before you see it would be a disservice, so instead I will say that this movie is about a woman meeting a man and together they help each other understand the world they live in and the forces effecting them, all subconsciously of course, and it all boils down to basic, simple human interaction, wordless even, thoughts conveyed through expressions, emotions reverberated and amplified with a look, all the things we know in our own lives, reflected in this movie that quite simply defies basic classification. Is it a romance? Science fiction? Horror? A mystery? An art film? A tone poem? A thriller?
Yes. Yes it is.
Bookmark this review and watch "Upstream Color" if you haven't already, just use the Netflix Watch Instant service, or any other number of streaming video services, or find it on DVD or Blu-Ray, because I heard a rumor they still make those things, and watch this beautiful movie. And then watch it again. And then come back here. We'll all be waiting for you, ready to figure this out together.
It should go without saying, yet it shall be said, that from this point forward we will be getting into specifics and things that could be considered spoilers and what not.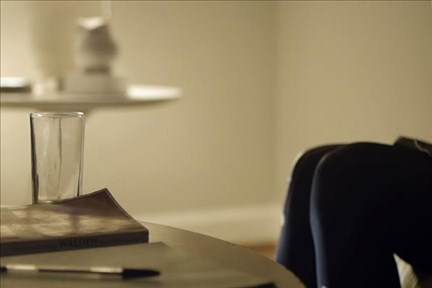 Okay, so let's get the basic story shit out of the way first. What the hell was that thing about? Because the first time I saw it, I was honestly quite lost. But I think I got it now after a few viewings, and actually when it's all boiled down, it's kind of simple. Weird and delightfully odd and very original, yet still simple (so why did it seem so difficult? More on that later): the movie starts with that Botanist Creep and those kids. He's called Thief in the credits, but I'll stick with Botanist Creep. He's seen harvesting worms from blue orchids, digging them out of the roots and collecting them in jars.
Those worms are cray yo! A couple of kids pour some soda over a worm through a sieve, and they drink it and it somehow gives them a psychic connection, allowing them to synchronize their movements. This is actually shown twice in the beginning, both times with the kids drinking something that was just poured over the worm, and then pulling off some sort of psychic connection thing.
Right after the kids and the worms, Botanist Creep takes whole live worms and stuffs them into pill cases and tries to pass them off as party drugs to people on the street, which is EXTRA creepy. And then when that doesn't pay off right away, he actually straight up kidnaps someone and forces worms down this person's throat.
This person happens to be Kris (Amy Seimetz, who is exceptionally great in this), who is a normal person working a normal job, with normal problems, everything is everything in her world, until Botanist Creep comes along and in something straight out of a Lynchian nightmare she is abducted and set upon by this dude. And when he gets the worms inside of her, she seems to fall under some sort of trance immediately, and the worms somehow make her susceptible to some good old hypnotism, at which our homeboy seems to be quite good.
So he keeps her in this trance for what seems to be a couple of days, forcing her to sign over her assets and money to him all "Pain & Gain" style, and while he slept he kept her busy by giving her inane and tedious tasks, like copying Henry David Thoreau's "Walden" and various arts & crafts and counting chips over and over. When he's done with her, he just leaves her in the house with the worms still inside her, which she then decides she needs to cut out of herself, which was gross.
Cut to the Pig Doctor!
Okay, first off, he's not billed as the "Pig Doctor" in the movie, he's actually called the Sampler, but I'm going with Pig Doctor. And for some reason, Pig Doctor already knows that if he lays some speakers on the ground outside of his pig farm, and blasts a weird, throbbing bass sound, certain people will show up at his farm. Namely, people with these worms inside of them. So Pig Doctor sets down the speakers, and patiently waits, and sure enough here comes Kris, drawn by the sound, asking for help, and still in a trance-like state.
They do show worms writhing and coming up out of the ground during this scene, so we can reason that the worms inside her felt the vibrations and helped guide her to the Pig Doctor's sweet pig farm.
Pig Doctor then does his thing, and if you thought the movie was weird before this point, this is actually where it starts to really take a turn. Because Pig Doctor sets up a pig on a cot and Kris on another cot, and he cuts the worms out of her, puts them in the pig, gives them both some sort of blood transfusion, and ta-daaaah! Kris and the little pig are now linked! Like a wi-fi connection for the soul, for now on during the rest of the movie, whatever happens to the pig is felt by Kris, and vice versa.
Kris then wakes up in her car on the side of road, out of her trance, and she freaks out because she is all cut up and confused and obviously has no idea what happened. She runs home, grabs her phone and starts to dial 911, but before she calls the police, she takes a look around her house and at the mess left by her trance-like state and she obviously decides against calling the police because she doesn't even know what to report. So she just cleans up the mess and goes into work, hoping that she can talk her way out of being fired due to no-showing for several days. And of course she can't.
She then discovers she has no money, and Botanist Creep was so good at what he did that she didn't have any way to prove that she anything was actually stolen. She's given photos from the bank showing her taking money out of her own account, which she has no way of explaining, because she doesn't remember doing it.
Cut to a little over a year later, and Kris meets Jeff (writer/director/producer/editor/composer/cinematographer Shane Carruth) on a train when he feels compelled to practically force his way into her life. After a couple of initial awkward encounters, they have their first "date," on which Kris reveals to Jeff that she was "diagnosed about a year ago," putting two bottles of pills on the table, in an effort to save time and probably just drive Jeff away.
So obviously because she didn't know what happened to her during that time period and couldn't explain anything to anyone, she was misdiagnosed with some sort of psychotic condition that requires serious medication, and who knows what those drugs were doing to that poor girl who didn't deserve that shit. But hey, that's Big Pharma for ya.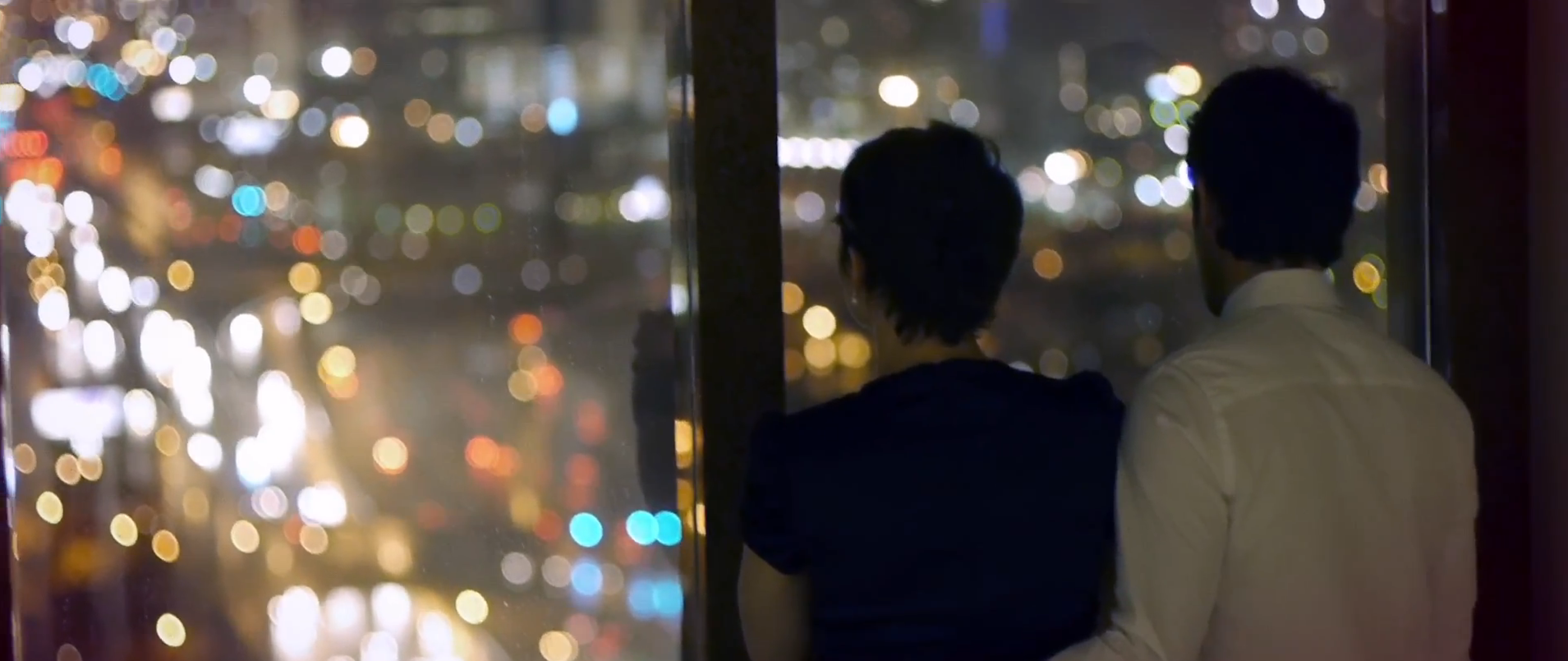 With their first encounter not going well, ending with Jeff revealing that he was divorced, they go their separate ways, and we see that they have something in common. First we see Kris swimming in a pool and methodically gathering rocks at the bottom of the pool, placing them on the side in a pile, and we see Jeff taking pieces of paper and making little links out of them, in a manner extremely similar to what Kris was forced to do in her worm-induced trance. So we see a connection between them, although the characters don't know it yet. This is out first clue that Jeff went through a similar ordeal as Kris.
Cut back to Pig Doctor! He uses a recorder to capture sounds in nature, and created sounds by dropping bricks and whatnot, and then distorts these sounds until he can turn them into musical notes. As he samples sounds from nature to make his horrible New Age-y music, we get to see Kris and Jeff in their own "natural" environments, i.e. their workplaces, the air filled with the sounds of the machines, juxtaposed with the Pig Doctor's stupid nature sounds. The connection between these three people is deeper than we initially realize.
Pig Doctor also realizes his music is complete shit and he takes his sheet music and walks to a bridge and dramatically throws the paper into the river below (foreshadowing!). He then goes back to his pig farm, and here the movie kicks into its next gear of awesome weirdness: Pig Doctor walks up to different pigs in his farm and as he gets close, he can use them to "see" other people. These are all people that have had the worm-procedure done to them, and as Pig Doctor goes from pig to pig, we get to see the different people that he's encountered, and he can pretty much step into their lives and see whatever they are doing at that moment in time.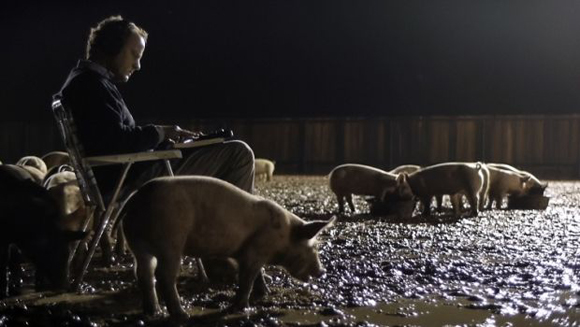 And he hops from person to person, like a creepy psychic peeping tom, until he finds a person who seems to be in the midst of some drama and strife. A particular hairy young man has come home to find an ambulance at his house, and his wife being loaded up. Pig Doctor sticks with this guy as he sits at his wife's side in a hospital room, and he looks very depressed, and then we get a montage of this young man's memories from earlier that afternoon, his memories of the argument that he had with his wife when he was on his way out the door, the hurtful things he said to her while she was trying to be nice, and as this sad guy replays this in his head over and over, the Pig Doctor watches on, silently, absorbing it all, and he uses all this private and personal pain and heartache to sample from, and he makes music with this stuff instead, seemingly happy with the results.
Back to Jeff and Kris, who are going out again, and Jeff slowly wears her down and sure enough she gives in. It helps that he reveals to Kris that his previous marriage failed because of an addiction problem, so she sees another wounded person on the mend and this helps lower her defenses and accept him into her world.
Which means sex. They have sex.
Cut back to the pigs! As Jeff and Kris lay in bed together in the afterglow of their first sexual liaison together, we see them lying on a blanket in the middle of the pig farm, furthering the connections between everything. Kris and Jeff have sex, so Kris' pig has sex with what we can now safely assume is Jeff's pig, as it is now evident that they've been through the same horrible ordeal. This is really brought home when we see both of their ankles together, and they have similar scars from the worm extraction procedure thing.
Really quick note here: after they have sex for the first time at Kris' place, she's making breakfast in the kitchen, and she's scrambling some eggs in a pan. Is this some foreshadowing as well?
We also get another reveal into what happened to Jeff and how it reflects what happened to Kris. Jeff finally confesses to Kris that he got busted for embezzling millions of dollars from a company he worked for, and he doesn't make any excuses or claim foul play, but it can be reasoned from the evidence presented in this movie that Jeff got hooked in by the Botanist Creep probably because he bought a random pill off the dude one night (since Jeff revealed he had an addiction problem) and the pill put him in a trance and Botanist Creep got him to embezzle millions from his company and hand it all over, and of course Jeff doesn't remember Botanist Creep and just chalked it all up to his addiction problem, hence ruining his marriage, his career, his life, etc. So obviously Kris and Jeff have very much in common, much more than they could even suspect.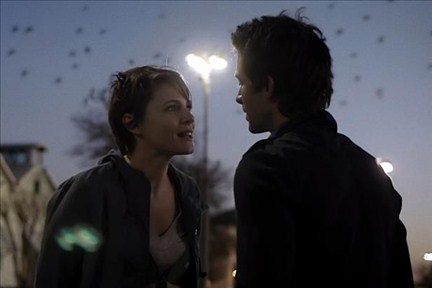 Also, this whole reveal for Kris is shown to us backwards – it starts with Jeff apologizing, as if he just finished the reveal, and then while he tells his story to Kris, we get the scene played out visually in reverse order. First he is apologizing, then they are in a hotel room, then they are at a coffee shop, and then walking away from the work event they were going to, and it all ends with Kris first arriving and Jeff leading her away so he can confess his sordid past. What's the point of showing this all backwards?
And as a polar opposite to what happened when they first met, when Kris revealed her past immediately to Jeff and he just worked past it, in this instance Jeff waited to tell Kris the whole truth, and in the end she said it was smart of him to do so.
Meanwhile we get the first of their shared memories and the potential problems this causes. As Jeff recounts a story from his childhood, Kris realizes that she has the same memory. And at first this doesn't cause much of a problem, but later on they get into a much bigger argument, and it is obviously scaring them a bit that they have trouble separating their individual memories from their childhoods, and this is obviously for the same reason everything else is happening, the connection between them thanks to these crazy psychotropic worms and their shared experiences.
Back to the pigs!
Pig Doctor sees that these two pigs are acting a little strangely and extra aggressive, and he sees that Kris' pig is pregnant. At the same time, Kris thinks she is pregnant. But she goes to a doctor and they confirm that she is NOT pregnant, and then they started asking questions about her having invasive surgical procedures in the past and she denies this, because she doesn't even know that the Pig Doctor was cutting into her, and who knows what he did during this surgery. The doctors find out that Kris has cancer, and they perform a surgery to remove it, which they manage to do, but then they have bad news for Kris – the cancer and the possible surgery that she doesn't even know about damaged her body, making it impossible for her to have kids.
Scrambled eggs, remember?
Immediately following this moment, two things happen – Jeff announces he is going to marry Kris, and she doesn't say no, so he takes that as a yes. And Kris makes Jeff go with her out to the countryside, where she "feels" her way around, having déjà vu like memories of the area, not knowing that she is on the road to the pig farm, not knowing that she was there previously. And so their journey to find out what happened to them has started, again without them really even realizing it.
Kris and Jeff get married, they move in together, they argue about their shared memories, and they are just living their lives together now, trying to help each other get by.
And then Kris' pig has a litter of cute little piglets, which causes a problem for Pig Doctor. For some reason, he does not want to keep the offspring from the pigs he experiments on, so he separates the parents and gathers up the piglets, stuffing them all into a sack and then throwing them into the river. While this happens, Jeff and Kris feel oppressive forces coming down on them, and they lash out in anger and rage, not knowing why they feel this way, but still feeling it nonetheless. Jeff beats up an intern, Kris punches a couple of panes of glass, and then they get together, run home, gather up a bunch of supplies, and hide out in the tub in their bathroom, deathly afraid of something coming for them.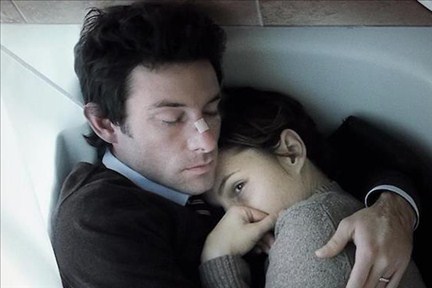 Meanwhile, the piglets are drowned in the river, and the bag of little piggy corpses comes to rest underneath a big tree. Overtime, these pig corpses deteriorate and decompose and eventually release a blue gas underwater that seeps into the tree above them.
The tree above them has white orchids, but with the piggy corpse gas infiltrating the orchids, they become blue. A couple of ladies come along, they dig up the blue orchids, and they take them back to their shop so they can sell them. This is the cycle that has apparently been going on for who knows how long, and really who knows how it started? It is a chicken or the egg sort of scenario. The Botanist Creep gets the worms from the blue orchids, uses the worms on people, these people go to the Pig Doctor for help, the Pig Doctor puts the worms in the pigs, the pigs have piglets, the Pig Doctor throws the piglets into the river, the piglet corpses gather under the tree, decompose, and create blue orchids, which then get gathered and sold to the Botanist Creep. It just keeps on going.
And to continue the connection between the pigs and the humans, as the piggy corpses decompose and release gases into the environment, Kris hears a whistling sound in their new home that weirds her out, and which Jeff can't find the source of, much to the chagrin of them both.
Now for the homestretch (FINALLY!) – Jeff goes looking for Kris and discovers that she has a little routine that she performs, namely that she does her "gathering rocks at the bottom of a swimming pool" thing, all the while reciting Henry David Thoreau's "Walden" from start to finish. Jeff helps Kris realize she is even doing this, as she seemed to go into a trance each time she performed this task, an obvious residual effect of her hypnosis.
Slowly through this revelation, memories start breaking through for both of them, and without realizing it, they start retracing the steps of Pig Doctor, coming across his mailbox for "Quinoa Valley Recordings." They go buy some "Quinoa Valley" albums, and they listen to the music therein, and without us hearing it, it is apparent that Jeff and Kris are recognizing their own lives and influences within this music. They know that they have been tapped somehow, and so they figure this must all be the result of whomever is behind Quinoa Valley Recordings.
That would be the Pig Doctor, who happens to "check in" to Jeff's life via psychic pig connection, only to be blindsided by a gun-packing Kris, who exacts righteous revenge by killing the Pig Doctor.
Jeff and Kris then go through his things and find the records of both their visits to the pig farm, as well as records of all the other people who went through the same thing. They send out packages to all of these people to let them know what happened, and then they all gather together at the pig farm, which they mend and paint, taking care of the pigs there.
The movie ends with the disappearance of the blue orchids, to the dismay of the flower ladies as well as the Botanist Creep, and with Kris cradling a little piglet, the cycle broken once and for all.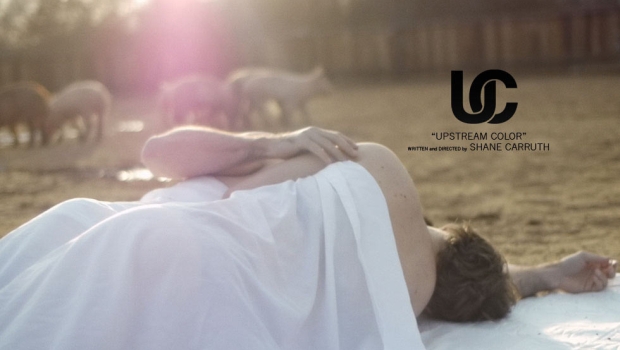 Okay, that took a HELL of a lot longer than I thought it would. But there you go, that's the actual story of "Upstream Color" as far as I understand it, which I think it actually pretty well.
But what does it all MEAN?!?
I guess we can start with the characters. We follow Kris the most, she's our way into this story, and she's the one we see inflicted with the worm procedure. She just gets caught in this horrible cycle, picked out by the Botanist Creep simply because she was by herself while waiting for a bathroom to become available, so she totally just becomes a victim of circumstance and fate. There was really nothing she could have done to see this coming or prevent it. The only thing she could control was her reaction afterwards.
And we know that Jeff had a similar ordeal, although he most likely put himself in that situation due to his drug addiction, which likely led to an intense feeling of guilt for what he did, as he thinks he knows what happened to him and why (though he really doesn't). And together, Jeff and Kris deal with the mess of their lives, and while they try to put everything back together, they come together and give each other the support system to be able to get past their traumatic events.
These themes tie into Thoreau's "Walden," which relates to transcendentalism, which itself is the philosophy of the individual rising above social structures and becoming self-reliant, which would then in turn lead to stronger communities (this is obviously a dumbed-down, simplified explanation, as one can easily devote a lifetime to this philosophical ideal, but for our purposes, we'll stick with the simplest explanations). So Jeff and Kris are both broken down by a system already set in place and which they don't even know about, and they have to build themselves back up in the aftermath of their ordeals, and getting together helps them strengthen their own resolves and they become stronger individuals, all the while also becoming a stronger couple.
Really I guess the whole movie is about being stuck within a larger structure, a life cycle that we don't even realize we are a part of, unseen forces buffeting us and forcing us in certain directions, compelling us to do things that we don't even realize we are doing.
Also in line with "Walden," which is about Thoreau living outside of town for a couple of years and communing with nature, there is a tangible connection between people and nature, and in this specific case, we see this connection between humans and pigs and even humans and humans, both brought to fruition by the use of these worms, which came from orchids, which changed due to decomposing pig bodies in the river. This is a natural cycle, death creating life and life leading to death, and Jeff and Kris are entrenched in this cycle without their knowledge or even consent. It just it the way it is.
Sounds a lot like life itself, doesn't it? We're all in this world, thrust in here without asking for it, and being forced to adhere to social structures and institutions that we never opted into to, but instead have all been co-opted into thanks to societal and familial expectations, and we are all expected to just deal.
But Jeff and Kris eventually break this cycle they are in, whether they even realize it or not, so what happens after that? What fills the void left by the absence of this system? A new system, a new cycle of life and death? The movie does end with Kris snuggling with a piglet like it is her new baby (and by golly isn't that little pig just the cutest thing in the world?), and with the piglet obviously not being thrown into the river to be killed. A new life-death cycle has taken its place. The universe seemingly loathes a void, and it gets filled immediately.
And what about the old cycle? At the end of the movie, the Botanist Creep is seen in his little garden area, checking the plants for evidence of the existence of more worms, and finding none, he looks off into the distance, looking worried, and he seems to know that his ride with the worms is over. And what about the Pig Doctor? Well, he's dead, thanks to Kris shooting him down in cold blood at his farm.
But did he really deserve to be killed? He didn't put the worms inside Kris or Jeff, and instead actually helped get these worms out. All he did was use these worms and his pigs to peek into the lives of these people without them even knowing. So it's not like he's doing some negative to these folks, he's simply using their lives for his musical inspiration. Is this ethical? Or moral? That's one thing entirely, but this does not result in culpability to the destruction of Kris and Jeff's lives, that was all the result of the actions of the Botanist Creep, which makes him the one who needs to be "brought to justice" so to speak. So while we still get that moment of violent catharsis when Kris shoots the Pig Doctor, a little bit of thinking about the situation reveals that maybe the Pig Doctor didn't deserve to die at the hands of Kris. But he, like Jeff, unwittingly put himself into this cycle, and he has to deal with the consequences, just like Jeff and his pill problem. Are these consequences way too deep and intense for Jeff and the Pig Doctor did? Maybe. Probably. But who says karmic and natural justice is fair and balanced?
And when it comes to the movie itself, why does this story seem so difficult the first time around? Because when you break down the story, and especially when you realize that the pigs and humans are connected, the plot actually snaps into focus quite sharply. But this all doesn't become evident immediately upon viewing and I think the reason for this is actually very simple: this movie is completely missing exposition. Think of just about every other movie you have ever seen, and think of how all of these movies continuously do the same thing, which is they explain what is happening so the audience can keep up. This is called exposition. Exposition can be delivered in several ways, with the most popular being voiceover or characters just talking to each other and explaining the events of the movie to each other. This often includes people summarizing the story for each other, or explaining their thought processes or what they want/need to happen next.
There is absolutely NONE of this in "Upstream Color." The story just plays out, going from scene to scene, and we see the actions and then the consequences, but it is not made clear that these actions and consequences are linked, we actually have to put this together through evidence presented in the movie (hence the very long plot breakdown earlier). And as consumers of media in both cinemas and television, we have all grown so accustomed to being spoon-fed our stories that the absence of exposition somehow throws everything off for us, and we're left scratching our heads and wondering what we just saw.
Which then leads us to make a decision: we can either let the initial viewing of this movie go, chalk it up to "it's weird, I didn't get it," and then move on to the next comic book superhero movie, or we can try to break down what we saw and make sense of it and figure out why this story was told to us, and in the manner it was told to us. So now "Upstream Color" becomes a reflection of who we are as consumers of art and media, meaning we are either willingly or unwillingly trapped in our own system and cycle of art consumption, and once we see the seams and we realize we are within this structure, we can choose to try to break free of these constraints and we can allow our system to change, even if it is with something as seemingly small and simple as the excising of exposition.
Obviously this is not an advocation of ridding all media and stories of exposition, because we don't need THIS to become the new normal, but we do need to be willing to change the way we consume art and media and try something new. Not only is "Upstream Color" an original story, but it is also told in an original way, and this is exactly the kind of movie that people need to at least give a chance, or else be happy with your mainstream pablum, sequels, prequels and remakes that everyone complains about yet no one does anything to change.
Is that the overall theme of the movie? Did we just stumble on this thing together? Is Shane Carruth simply advocating the tearing down of our current cinematic and artistic structures? This would fall right in line with this decision to self-distribute this movie, forgoing the myriad of resources available through the Hollywood movie system already in place, and instead going the much more difficult yet more independent route of putting this movie out there totally on his own. At least this would be a case of an artist putting his money where his mouth is, which is impressive and admirable. Don't look to Shane Carruth to direct the next "Green Lantern" movie or anything along those lines apparently.
A movie like this is very open to interpretation, and despite all the time spent into spilling these thousands and thousands of words, I feel like we still only scratched the surface of what this movie has to offer. Have your own thoughts and ideas about what "Upstream Color" is about and what it means? Use the comments section below and we can continue this dialogue about this incredible movie, because in the end I do believe that was the ultimate goal, to make a compelling and interesting piece of art that can foster such discussions.