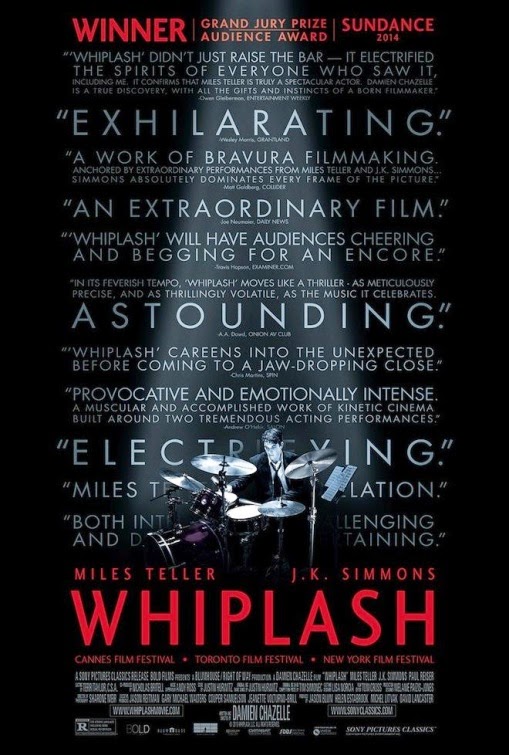 How far would you go to be the best at something? That question is at the center of "Whiplash," a drama about a music school student and the adversarial relationship he develops with the school's top instructor whose techniques are more akin to a military boot camp than they are band camp. And for being a movie about the student-teacher relationship in the world of jazz drumming, "Whiplash" is surprisingly tense and in your face, filled with danger and menace and tragedy, done in double time.
Andrew (Miles Teller) is a freshman at music conservatory in New York City, a place considered to be the top music school in the country, and roaming the halls of this school is a bald, intense, wound up knot of a man named Fletcher (J.K. Simmons), who apparently has a reputation demands people pay him the utmost respect. It probably has something to do with how he picks the best students for his ensemble and trains them for competitions that could lead to promising careers so people are desperate to get his approval because his opinion matters so much. When Andrew finds himself somehow in the same room with this guy and with the chance to earn a spot in his band, he does everything he can to make that happen.
And that's not enough because almost immediately Fletcher is on Andrew's ass, pushing him harder than Andrew's ever been pushed before, breaking him down emotionally from the very beginning so that Andrew could possibly reach deep down inside and somehow work even harder to be a better drummer. So rest assured, this movie features drums covered literally in blood and sweat, and we can easily assume that tears hit the drum kit at some point as well, so there can be no doubt whatsoever that this Andrew guy is truly giving it his all. But is it enough? And what could happen if it isn't?
Andrew pushes himself to the edge to achieve his dream, and while his character specifically wants to be a great jazz drummer, this can obviously apply to anyone with ambitions and desires to be the best at something. Sometimes you have to do things that are detrimental to yourself and your life and these things will be tolerated because they get the desired results. Andrew thinks, for instance, that he wants to date a pretty girl that he sees often, but then he thinks a relationship could get in the way of him being the great drummer he wants to be. He doesn't allow himself to have any sort of life whatsoever because he wants to be the best, and when that's not good enough for Fletcher, it's enough to drive Andrew a little crazy.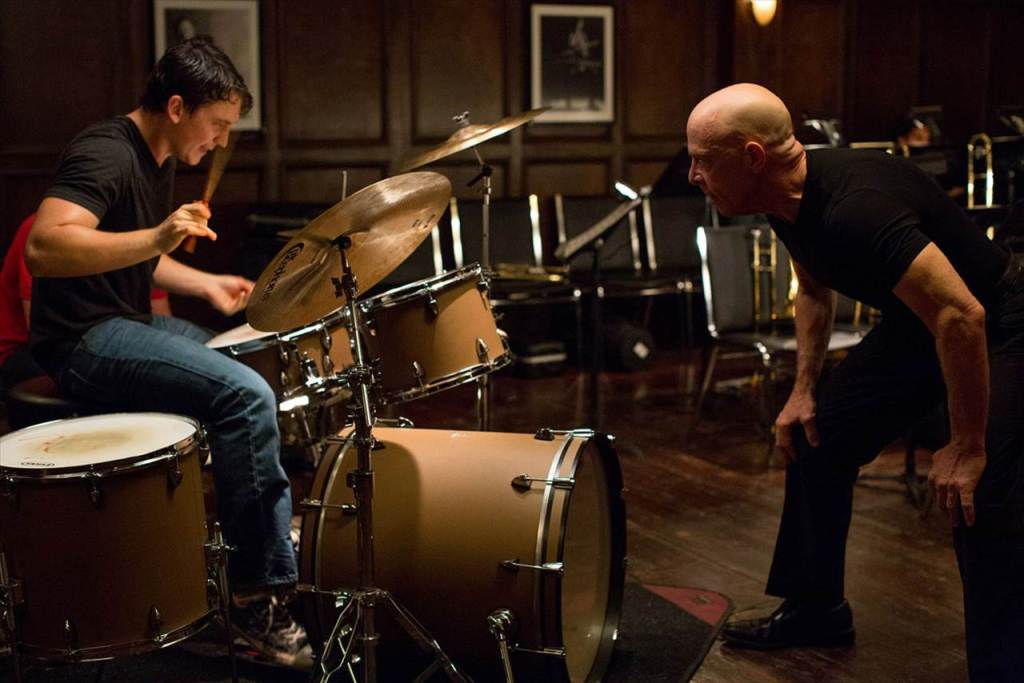 It is incredible how the tension of this movie increases as the story progresses, and Fletcher feels like the kind of character that is really unpredictable, like he could explode at any second and possibly do something violent as a reaction to what he perceives to be poor playing in some way, shape or form. He's like a force of a nature, a looming tornado, a hurricane right off shore, ready to bring destruction to anyone and anything he sees fit. He pushes the students to the point where he comes across as the worst person ever, and then he'll pull someone aside and act nice and offer some encouraging words, and then he'll turn around again and he'll be a raving lunatic, and it just becomes impossible to figure out where this guy is coming from. And towards the end of the movie, when it seems he's played his hand and we may finally get him, he flips, and we don't get him, we see we were tricked, but then something happens and we have to wonder if we were tricked by him or maybe we never really knew this guy at all or maybe he we did know him and he was right all along. It is a complex, tough character, fully realized and fascinating to behold.
"Whiplash" is great and it just has to be seen. It has a unique voice in the form of an original story told from an interesting perspective, and an infectious energy that propels the story forward. Miles Teller and J.K. Simmons are both just about as good as it gets, and fortunately their incredible work is featured in a movie worthy of their top notch performances.