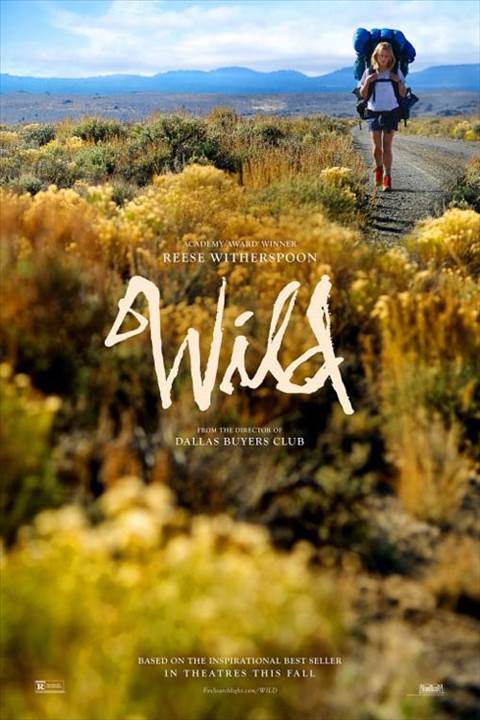 "Wild" is an adaptation of a memoir by a woman who took a 1,000+ mile hike up the U.S. Pacific Coast without any experience or know-how, as a direct response to her life falling apart all around her, a desperate bid to find her center and to reconnect with the person she felt she once was and would like to be again. It's a story of mistakes, bad luck, worse decisions, redemption, forgiveness…you know, all the stuff that makes us human.
Cheryl Strayed (Reese Witherspoon) starts her journey in Southern California and the first leg of her journey is a 100-mile trek through the Mojave Desert. And it doesn't get much easier from there on out. She hits the trail and struggles mightily but keeps on pushing on and trying to make it, with a sense of stubborn determination that can only be admired. And as she walks by herself, her mind wanders and certain things trigger memories which then inform us as to who she is and why she is on this trip, why she felt so compelled to do something so drastic in order to shake up her life and the way she was living. Having suffered heavy personal losses, she was going down a very dark path, and she had to get out somehow, and throughout the movie we get to see her simultaneously get into trouble via flashbacks while she also hikes in the present one day at a time to personal redemption.
Being in pretty much every single scene (actually I can't think of a single scene in which she does not appear), this is obviously the Reese Witherspoon Show, and she pretty much nails it. She had to run through a good array of emotional states throughout this movie and always pulled it off. I totally bought the hardship of the journey as well as her personal desire for a better path and a way to forgive herself, and this may actually be one of her better roles and performances. It also helps that the movie is directed well, with smart use of the varied geography Cheryl came across on her trip, as well as appropriating the free association memoir approach of the source material to tell the story, which keeps things energetic and interesting throughout.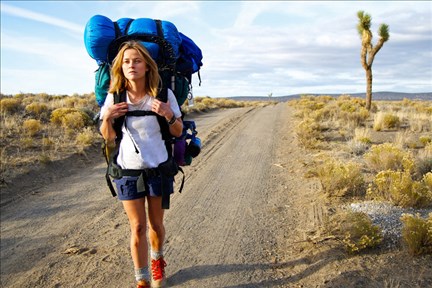 The best part of "Wild" is how it really is a kind of warts and all look at a person's life, as it very openly asks questions about how our mistakes and errors got us to our present state and whether or not that's a good thing or even an inevitable thing to have happen. A lot of people would be scared to make a movie about a person who is not a saint and who has real problems and flaws and who even makes really boneheaded decisions that are near impossible to excuse and then have the audacity to try to get the audience to care about this person and even want to see them succeed. And that's a mistake because we all like seeing reflections of ourselves in movies, whether we realize it or not, and we all have more in common with someone like Cheryl Strayed than we do with comic book super heroes and whatnot. She made real mistakes and even if we didn't make the same mistakes, we can all identify with the feelings of regret, shame, whatever emotions come up in us when we realize we messed up somehow. And when we see someone like Cheryl make those mistakes and then pick herself up and dust herself off and move forward, we can get inspiration from that.
"Wild" is a good movie, as it is centered on a very strong and interesting person, played very well by Reese Witherspoon, and paints a full and colorful portrait of a person in flux, which then acts as a reflection of who we all are, whether we like to admit it or not. If only we all had the same determination and grit of Cheryl Strayed, this world could surely become a better place.