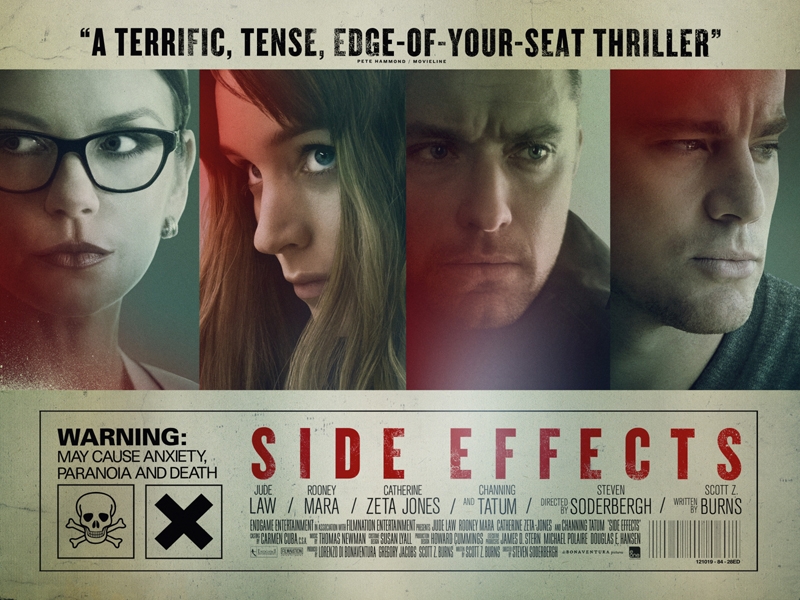 Steven Soderbergh's final theatrical release before he takes an indefinite leave of absence from the director's chair, "Side Effects" is a pretty fine way to go out, a showcase of solid, sure handed direction and across the board great acting, all in the service of telling a very good story.
Set in the pharmacological world and trafficking where the roads of medicine and big profits meet, this movie starts out as a small character drama about clinical depression before gradually turning into something of a throwback to the 1970s paranoia thrillers, in which the well meaning protagonist gets caught up in a dirty world and eventually finds out he was more of a pawn then he could have ever imagined.
"Side Effects" starts out with Emily Taylor (Rooney Mara, The Girl With the Dragon Tattoo) welcoming home her husband Martin (Channing Tatum, Magic Mike) from prison after a four-year stint for insider trading. The stress of the imprisonment and having her life completely upended sunk her into a depression and makes her suicidal, which brings her into contact with Dr. Jonathan Banks (Jude Law, Contagion), who takes her on as a patient.
Dr. Banks' is pretty liberal with his application of prescription medicines, and with a little help from Emily's previous therapist Dr. Victoria Siebert (Catherine Zeta-Jones, Broken City) eventually puts Emily on a new anti-depressant drug gaining traction with the market. But when some of the side effects of this drug rear their ugly heads, Dr. Banks' life starts to fall apart around him while he tries to figure out what is going on in the bigger scheme and how he fits into the whole thing.
The movie starts with a bit of a slow burn, establishing Emily and what kind of life she has been living and her struggles with her depression. She can't stop from breaking down in public and accidentally causing a scene, and often retreats into the arms of her husband, and for awhile the movie is just about the two of them and Dr. Banks and how they are experimenting with a few different pharmaceutical cocktails to try to get her to a proper state of mind, one that is not consumed by sadness, allowing her to live her life.
But then the movie takes a turn when one of the drug's side effects causes a major problem, and the movie takes another gear, more of a mystery thriller as Banks becomes obsessed with this issue, long after everyone else let it go, and the deeper he goes the worse it gets. It is really compelling to watch this story unfold and it is all quite satisfying, both in how it builds up and how it gets resolved.
It is a shame that this is the final Soderbergh movie to hit theaters for awhile. Between this, "Magic Mike" and "Haywire," he has been on a real nice run, but he has been saying for awhile now that he feels like he has hit a wall with theatrical storytelling and he is ready to move on to other things. He was going to make his Liberace biopic as a theatrical film, but he couldn't find a studio to make it, so it's now being made for HBO. And his Cleopatra musical biopic is turning into a stage production, so that's it for now from Mr. Soderbergh. and as a fan of film that makes me sad. But still, he feels he needs to move on, he is looking for artistic reinvigoration, so hopefully he'll get it wherever he looks.
In the meantime, he has left behind this very tight thriller, one that people should definitely be checking out and enjoying while it is available because who knows if we will ever get another Soderbergh movie ever again, and maybe we'll be looking back on the wonderful time period when a master filmmaker like him was cranking out so many very different, very well made movies.