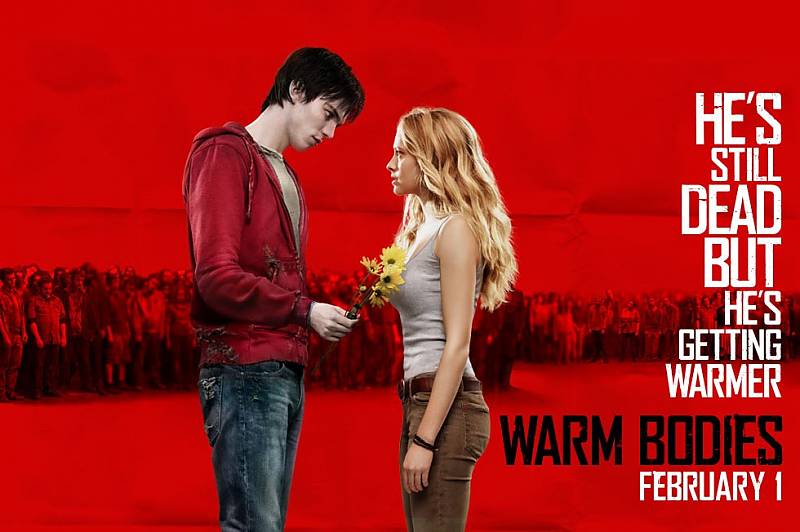 When can we put this zombie thing to bed, at least for a little while? Looks, I was super into zombies like everyone there for a hot minute, and then I was done with them, and that is when "The Walking Dead" aired on the television and this zombie thing somehow got even more popular. But you can all feel it, right? The end? Because when we're down to movies about zombies who re-learn how to live and fall in love, I am pretty sure we're scraping the bottom.
In "Warm Bodies," the story centers on one particular teenage zombie eventually named R (Nicholas Hoult, X-Men: First Class, A Single Man), who wanders around an airport filled with zombies, after an unexplained zombie apocalypse left civilization in ruins. And right from the start, though R is just doing the undead-shuffle around the airport, we are treated to a voiceover from R, as if his inner most brain is working just fine, and we get to hear his musings and thoughts on being a zombie. He even admits he has a "best friend" zombie (Rob Corddry, Cedar Rapids), with whom he sits down and grunts, making some sort of conversation, which ends with them deciding together somehow that they needed to walk to the city to get some people to eat. Meanwhile, in the city, part of which is walled off and inhabited by survivors, a small group of people leave the compound to scavenge for supplies, and of course they meet up with R and his hungry zombie friends, and badda bing badda boom one thing leads to another and all of a sudden R is walking back to the airport with his zombie buds and Julie (Teresa Palmer, I Am Number Four). Don't ask me to explain how or why this happens because it is pretty stupid and not worth going over. Let's just say it happens, okay?
So R and Julie hole up on R's airplane (because R has already claimed the plane as his own and fixed up the inside and stocked it with a bunch of random crap, like a zombie Wall-E) and R convinces her to stick around for a few days because it ain't safe to go out there. Really what he's doing is falling in love with this chick and trying to impress her and get her to like him. So as you can see, it's about an awkward guy on a first date with a cute girl and trying not to come across as creepy or weird…or undead. And slowly he starts acting a little more human, a little more alive, and this somehow starts spreading to the other zombies, and there becomes a possibility that the zombies will become normal people again.
Oh, did I mention the Bonies? Those are the zombies who have devolved (or evolved, depending on your viewpoint) into all CGI skeletal creatures that just hiss and howl and apparently will eat anything with a heartbeat. Including zombies whose hearts start up again.
There's also king bony himself, John Malkovich, who plays Julie's dad and the leader of the group of survivors and who pretty much phones it in, though it's not like he's given that much to do in a very limited role.
It's a silly movie, and not terribly made by any means, but it's pretty much what it seems like from afar – a soft, practically family friendly, PG-13 zombie romantic comedy, and not a necessarily good one like "Shaun of the Dead." It's all kind of cute but there isn't much that is particularly memorable about the film. They don't really flip any zombie conventions in any clever ways, and instead just seem to violate some traditional zombie laws in order to tell their story of talking, horny, hopeful undead persons. This is a zombie movie for teenage girls, girls who don't really like zombie movies. Otherwise, there really isn't much to chew on here.
(Get it? See what I did there? Chew on? Ahhhh…so clever).