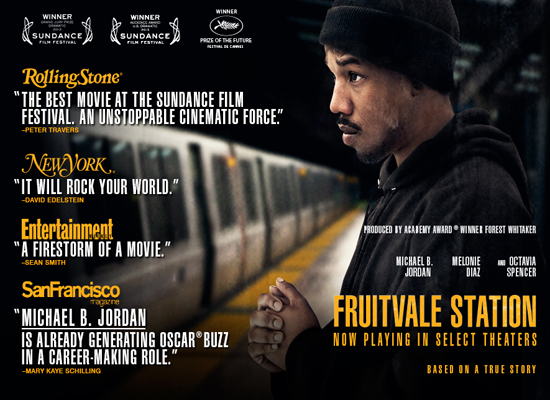 Do you know the story of Oscar Grant? If not, you may want to read up on this particular instance of police violence against an unarmed citizen (which you can do here) or if you don't need your facts to be 100% correct and don't mind some embellishments for the sake of emphasizing an artistic point, then you need to watch the expertly made, powerful and emotional film "Fruitvale Station."
Future World's Biggest Movie Star Michael B. Jordan plays Oscar Grant during the last day of his life, a time in which he was at a crossroads, determined to leave behind his life of petty crime and actually turn it all around and make something positive of himself. He had plans. He had a future. And it was all taken away from him in a very heated exchange with transit police, a moment captured on grainy cell phone video and recreated here in a way that will really drive home the craziness of this action and the insanity of the society we live in today in which this kind of stuff happens. And now with the Black Lives Matter movement in full swing and a whole new civil rights movements under way in this country, this is a perfect time to watch a movie like that which really gets to the heart of the matter. When I saw this in a packed movie theater, its power could not be denied, not according to the sounds of sniffling and crying at the film's outcome, a room full of people brought to their knees emotionally by a stark and raw portrayal of a harrowing story, a story that has been retold in this country way too many times with different characters. This is an excellent film and definitely one worth watching.
Check out "Fruitvale Station" here on the Netflix Instant and prepare yourself for a case of the feels.