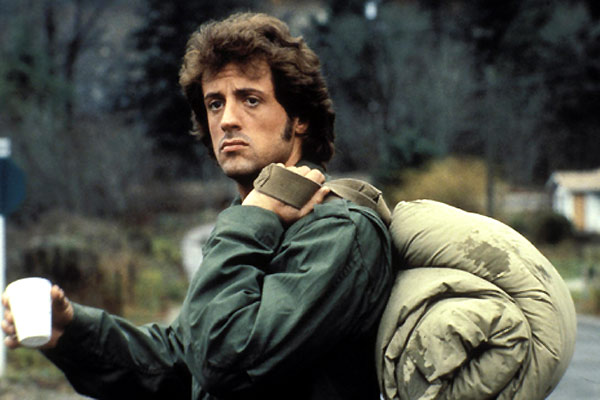 When people think of Sylvester Stallone's John Rambo, they usually think of the cartoonish version of the character, all glistening muscles and sneering and shooting machine guns at people who are all different races than he is, this is the Rambo we all know, so it might surprise a few people out there to find out that Rambo started out as a much more low-key and nuanced character, much more real and grounded in the post Vietnam reality that was known as the late 70's and early 80's, and in the movie "First Blood" we have a Rambo who is just tired of being pushed around in a country he fought for and watched friends die for, a man who wants to live a normal life. But how can one live a "normal" life when they learn that they are at their best when they are hunting and killing other people?
Sure there is still a bunch of action in "First Blood," as John Rambo gets unfairly treated by some small town police and he retaliates in the only way he knows how, which results in him running away into the woods, hiding from the police who are trying to hunt him down, unaware of the fact that they are chasing after a government trained military man and walking weapon, and sure enough he destroys these guys when they are in his turf and these scenes are all shot with great suspense and a sense of action, but when the movie is all over, it is the character of John Rambo who makes the whole thing work, not just these action scenes. There was still a lot of frustration and left over tension from the Vietnam War by this point, it was all distilled into this one person who just wants to live his life after giving all he had and finding out that wasn't enough. And if anyone ever doubts whether or not Stallone can act, let this movie prove that he always had the chops, it just requires the right role to bring it out.
You can also check out my break down of the book to film adaptation of "First Blood" right here.
Watch "First Blood" here on the Netflix Instant.