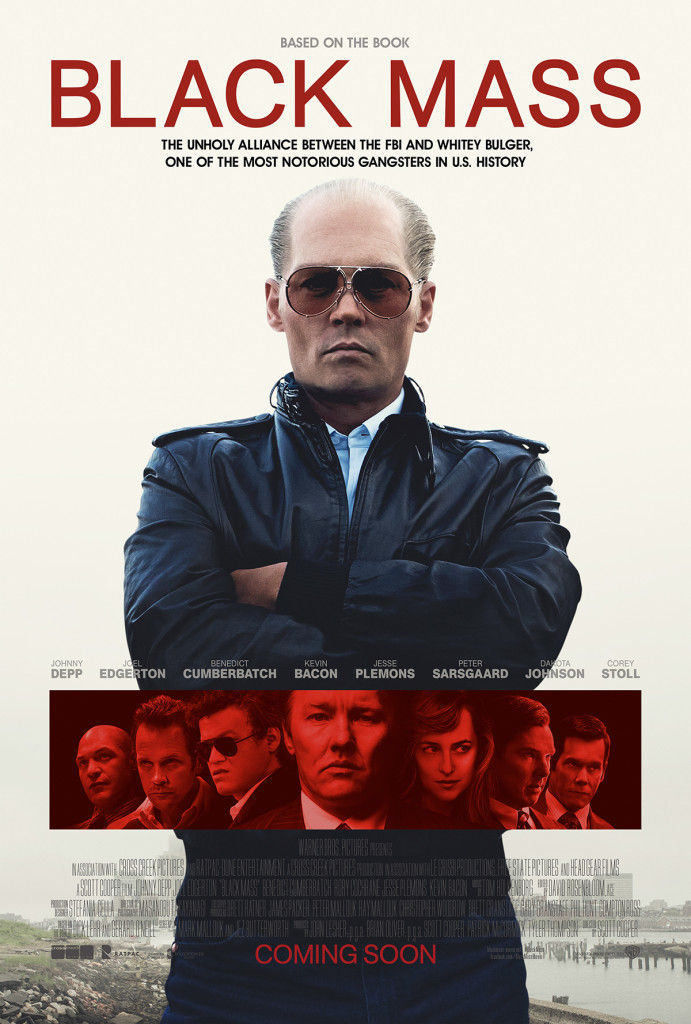 "Black Mass" is the story of James "Whitey" Bulger, a small time Irish mobster in South Boston who used an unlikely connection through the FBI to become the biggest crime lord in the whole city. But really this movie is about how crime can be perpetuated from either side of the law and sometimes these supposedly opposite factions team up and cause some real damage. And of course it is always a matter of time before one's sins catch up to them, but when they do, is it already too late?
Whitey Bulger (Johnny Depp) was just doing some small time stuff with his modestly sized crew when a friend from the old neighborhood got in touch with him. This friend was John Connolly (Joel Edgerton) and he just happened to be a special agent with the FBI, and having been assigned to Boston to stop the organized crime problem, he decides that he can enter into a mutually beneficial relationship with Whitey, convincing him to help find ways to ensnare Whitey's Italian mafia rivals. Pretty much telling himself and his crew that the enemy of their enemy is their friend, this alliance starts some really bad stuff for everyone else around them.
For instance, there's Whitey's own family, a wife and kid, whom he feels he needs to protect and provide for (hence making him not a TOTAL monster), but when that is shattered to pieces in front of him, he takes an extra turn that didn't seem possible, and he gets meaner and angrier and more violent. So he treats the people around him worse, but they stick with him out of loyalty and likely also out of fear, and he takes advantage of that. And as for Connolly, he gets closer and closer to Whitey and even starts to act like him a little and this does not sit well with his wife, as it should not. And his partner at the FBI gets sucked into his spiral of crime-enabling and pretty much anyone within 10 feet of either of these guys don't have bright futures.
This is a pretty low key crime movie, especially considering some of the murders and crazy shit that goes down, but the way it is paced and the overall quiet tone of the film lends itself to more introspection than a crime movie like this normally would. A lot of filmmakers would really try to get the most bang for their bucks out of the violent scenes but here we the violence is usually (usually) pretty quick and while often bloody, there isn't much lingering or glamorizing of this stuff. And instead of going for bombast, we get a lot of quiet moments with Whitey and the people he knows, which is almost more terrifying because we know this guy is an animal and capable of really going off on people, so when he is at dinner it is like he is a monster in repose, and we're just waiting for that one thing that pushes him over the edge.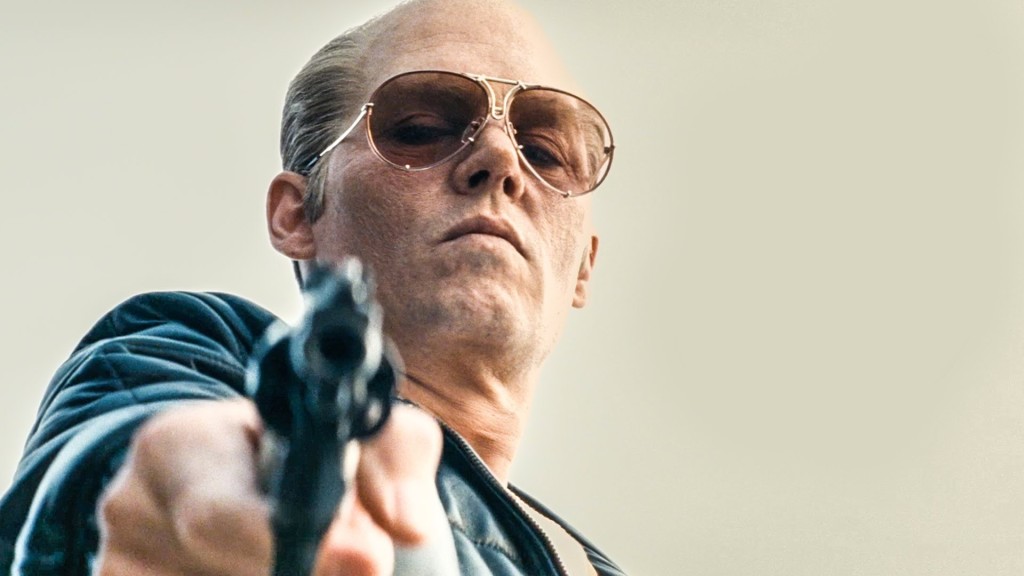 Of course much of this menace comes from the performance from Johnny Depp, who really went "all in" with this role, doing the whole transformative thing and embodying a physicality of suppressed rage, constantly vibrating with the aura of a murderer, and it's pretty fantastic to watch. Even under obvious make up he gets lost in the character and very shortly after we first see him, Johnny Depp disappears and Whitey Bulger emerges, and he is a scary dude. And as this movie takes the time to tell us about his personal tragedies, not so as to make excuses for his aberrant behavior but instead just to provide context so that we can attempt to know this person better, we get a pretty rounded and interesting person, played as well as anyone could do it by an actor who already has a handful of amazing performances under his belt. On a mantel featuring Edward Scissorhand's blade fingers and Hunter S. Thompson's cigarette holder and Captain Jack Sparrow's eye liner could perfectly fit Whitey Bulger's black leather jacket.
It helps that this fascinating to watch character was involved in an interesting true crime story, because it really doesn't get better than when the cops and robbers work together, and this is what happens here, a true testament to the depravity and lack of moral ethics among those of us in a place to exploit such a disposition. He even has a Senator for a brother, so the irony there is a little too rich. His brother Billy, played by Benedict Cumberbatch, definitely feels included only because it adds that level of irony to the story, how one mother could produce an evil bastard like Whitey but also a good straight and narrow person like Billy, because as it pertains to the plot and overall story of Whitey, the only thing he did was help reconnect Whitey with Connolly, and outside of that, he never helps Whitey, never asks him for help, he just looks the other way and keeps his nose clean and as such, his few scenes in the movie don't have much going for them because he doesn't do anything.
Also, Kevin Bacon is in this, and he's awesome. Have you seen "Cop Car?"
"Black Mass" still feels like it falls short of being great, and honestly at this moment with only one viewing it is hard to tell what it is missing that would have made it better, a real modern classic. Maybe because outside of Whitey and to a lesser degree Connolly, we never really get to know any one of the characters? We learn who his henchmen are and what their roles are, but their never rise above skin deep characteristics (one is mopey, one is fat and gross, one is young and dumb), and Connolly's partner at the FBI ends up having a lot to do at the end but we don't know a single thing about this guy other than the fact that he went along with Connolly for some reason, we don't even know why. Was he in on the whole tit for tat deal they had? Did he genuinely think the arrangement was working? How naive was this guy? And what's up with the women in this movie? There are five females in this whole thing, three of them are wives, one of them is a mother and the last is a prostitute, and none of them rise above these descriptors. Is this a reflection of Whitey's world? Or is this a reflection of our white men first cinema? I definitely feel like I could use another viewing of this movie just to see if it all sits better with me or if I can pin point what is really throwing me off.
And I wish this movie was great, but instead I would just call it pretty good. At times pretty damn good, and of course Depp is great, but "Black Mass" still feels like it somehow could have been much more.