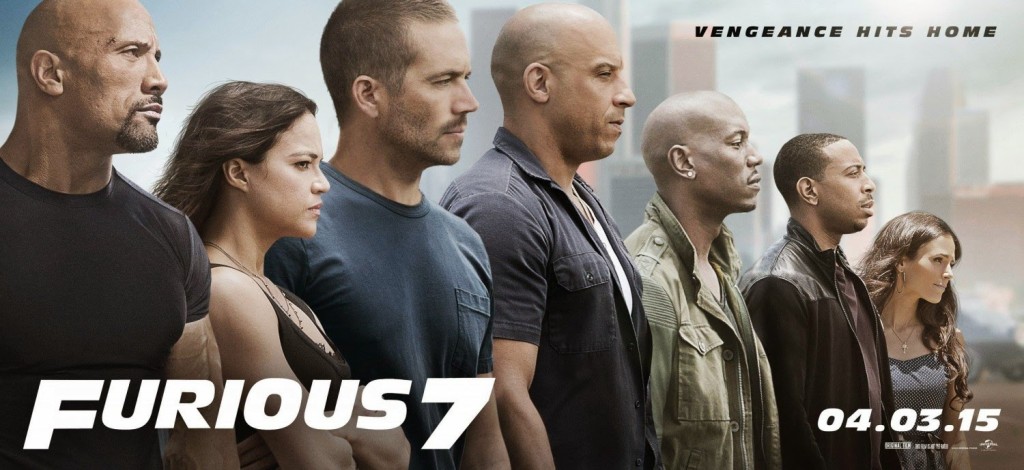 Seven movies into this franchise, we have all now come to expect a certain mood and tone for our increasingly over-the-top sequels to that little "Point Break" rip off from all those years ago, "The Fast and the Furious." After safely driving cars off of cliffs in "Fast Five" and battling military tanks and planes in "Furious Six" (subsequently renamed "Fast & Furious 6"), the most extreme things that could be done with this new movie not only include dropping cars from planes and car chases down the side of mountains, but also adding the one and only Jason Statham as an iconic villain, something these movies have not had yet. And because "The Fast and The Furious Vs. The Transporter: Dawn of Justice" would have involved too many copyright issues, here we are with the simply titled "Furious 7."
In case you've been living under a rock (or The Rock), this is the sequel to the now hugely popular series of action movies that feature fast cars and the people that drive them, initially in attempts to rob banks but now as some sort of unofficial elite task force that can do anything and everything, as long as a car is involved somewhere in the plan. And also in case you've been walking around with your fingers in your ears while yelling "I can't hear you!" over and over for the last, oh I don't know, 18 months, one of the main actors in this unlikely franchise passed away with only 50% of his role finished, and much had to be done to bring his character to fruition in this movie. Much has been written already about how this was actually achieved, and here is just one of many articles summarizing these techniques, so you won't have to re-read about any of that here.
But I will go over how they handled the character, in that it is obvious half the movie was rewritten after the death of Paul Walker in order to change what they were going to do with the character of Brian, the ex-FBI agent who decided he was happier with thieves and car junkies known as the Fast and Furious Family (that's not what they are called but the group DOES need a name of some sort). His story arc is pretty much about how he has a family now and he needs to settle down and be domesticated, although he does admit that he "misses the bullets" (a dumb thing to miss, but hey, to each his own). So he goes back and forth between taking part in the action and having a good time, to talking to his wife (Jordana Brewster) and being guilted into settling down and sitting out on future Fast and Furious forays so he can live to raise his kid and have more kids. And since this is his storyline and he is pretty much the main character outside of Fast and Furious Family Father Figure Dom (Vin Diesel), you would think that this would be a bigger part of the movie, but outside of maybe three scenes total dealing with this issue (not counting the very final scene of the movie), this is definitely NOT what the movie is about.
As a matter of fact, the main plot of this movie stems directly from the last one, when Dom's Fast and Furious Family and Friends plan ended up taking out ex-military bad ass Owen Shaw (Luke Evans). This movie starts with Shaw in the hospital and his bad ass older brother Deckard (Statham) swearing to get revenge against Dom and his "team," which means sending them bombs (as seen in the trailers and commercials) and killing one of their buddies in Tokyo (as seen in "Fast and Furious: Tokyo Drift" and "Furious 6"). The rest of the movie is sort of a cat and mouse game between Deckard Shaw and Dom's group, though even when the Fast and Furious Family tries to hunt down Shaw, they are actually being hunted by him the whole time. Deckard Shaw is an awesome character in that he shows up at all times, no matter where in the world, what the situation is, how secure the situation is, none of that matters because right when the team doesn't need any extra shit to deal with, here comes Shaw with huge guns, a sneer on his mug and an all-encompassing desire to kill.
Now nevermind the fact that a huge part of the plot of this movie involves doing a bunch of shit to try to steal the components needs to operate some sort of "The Dark Knight" style surveillance device on behalf of some shadowy government entity run by shadowy government agent Mr. Nobody (Kurt Russell), a device that the team needs to find Deckard Shaw, you know, that guy that KEEPS SHOWING UP WHEREVER THEY ARE, as plotting and story structure are pretty much the LAST things that anyone comes to these movies for. Just like the extended sequence in "Fast Five" in which the team tries to figure out how they are going to drive past police station security cameras with their cars until Dom finally has the idea to just easily and safely steal cop cars and use those instead, much of this movie's action is unnecessary and pointless when really boiled down to it, but then again this entire series of films is ultimately unnecessary and pointless, yet we keep showing up and enjoying the ride because those rides are so much fun, even when they involve such ridiculous and stupid detours, because even these detours offer something ridiculous to get all wrapped up on.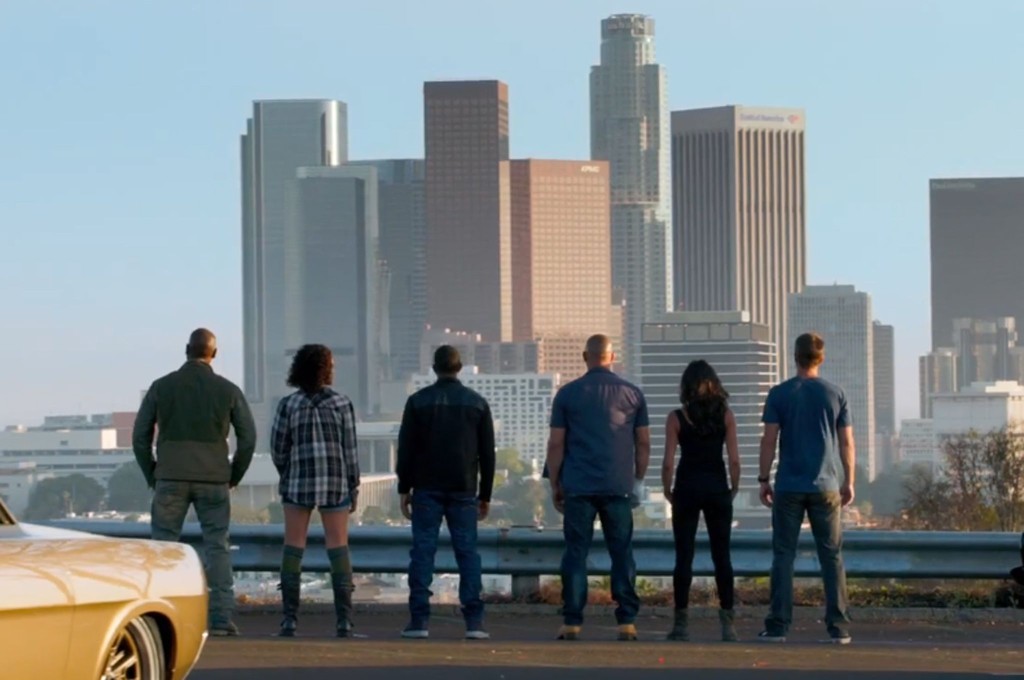 And these action scenes are now what really drives these movies (see what I did there?) and after the bar got set quite high with the previous installments, "Furious Seven" does not disappoint.  Extended and involved car chase scenes that take place on the side of a mountain and on the streets of Los Angeles and inside buildings in Abu Dhabi, the vehicular carnage meter is set to high for sure. Ambulances get used as weapons, games of chicken end in spectacular head on collisions, helicopters and predator drones become part of the action, even a normal looking bus gets outfitted with intense weaponry, and it all makes for loud and crazy action. And some of the hand to hand stuff is really entertaining as well, especially the fight scene that happens all the way in the beginning between Deckard Shaw and the awesome character of Hobbs, played by Dwayne Johnson, and if you think watching The Rock and Chev Chelios duke it out in an office that seems to be comprised of 90% glass desks, tables and walls would be awesome, then you are 100% correct, as they have a super human brawl that is just all sorts of great. Actually this fight is so great that the climactic fight between Statham and Vin Diesel set on the top of a parking garage pales in comparison and actually feels light and boring compared to that. Also making this final fight between these two characters seem kind of weak is the involvement of the GREAT Tony Jaa as a random henchman who gets two fights with Paul Walker's Brian (or at least Paul Walker's brothers and body doubles), and after their first fight in the bus didn't give Jaa much room to do the things that made him famous, I was a little worried he would be under utilized in this thing, but that second fight involved him doing a bunch of awesome moves so America gets to see just how bad ass this guy really is and maybe just might bother to look him up and then check out "Ong Bak" and "The Protector."
Also Rhonda Rousey shows up as a dude's bodyguard and gets into a fight with Michelle Rodriguez, which if I remember correctly actually ended in some sort of draw after they both went over a balcony and crash landed on a DJ booth at a party, and the only really weird thing about this fight is how Rousey is just a bodyguard doing her job and justifiably so because the person she was hired to protect isn't established to be any sort of bad guy, and actually the worst thing he does in the eyes of the Fast and Furious Family members is that he buys a super fast, incredibly rare sports car and keeps it locked up in a vault in a high rise building, so then when Michelle Rodriguez' character gets in a fight with her, there aren't any emotional stakes or any real involvement with this fight because the Furious Folks really were stealing from this guy, he wasn't a bad guy, so Rousey was just doing her job, and then after this scene we never see her again because there is no need to. A by-product of this franchise's penchant for unnecessary subplots and tangents, to be sure.
Random thoughts while watching "Furious 7:"
That kid from "Fast and Furious: Tokyo Drift" is in one scene with Vin Diesel, and while it is supposed to take place within days of the end of the Tokyo Drift film, he has notably aged a full decade. Was it really that important to bring him back to tie that off shoot movie into the rest of this series?
I saw Gal Gadot in the credits and for a second thought that we'd get to see the return of Wonder Woman to this franchise in some way, but we literally just see a picture of her in one scene and then a flashback to a shot from "Fast Five" towards the end.
Actually in reference to that shot, they replayed Dom talking to his "team" at the end of the movie and he says something like "all the family we need is in this room" and it is a circular shot that shows everyone, and no one seemed to think it would be weird to show Dom addressing his "family" when two of the characters are dead, two more haven't been seen since "Fast Five" and one of them is no longer going to be with the team because "he's going off to raise a family," though we all know it's really because Paul Walker is dead.
Outside of two scenes in which Tyrese gets to be a loud mouth, he does nothing in this movie.
Outside of maybe two scenes in which Ludacris gets to bang away at a computer keyboard, he does nothing in this movie.
Dwayne Johnson's Hobbs character is actually sidelined for a HUGE portion of this film, which is a bummer because he's the best character, the world's sweatiest special agent.
This movie made me realize something I never knew I wanted, which is to have more movie funerals lead DIRECTLY into car chases.
The trailers for these "Fast and Furious" movies regularly show WAY TOO MUCH, and I for one hereby place my vote to have minimalist trailers for the next few F&F movies (because they are DEFINITELY making more of these) because these things are going to keep making money, the people don't need convincing to go see them at this point, just leave us with a couple of surprises, please, we beg you.
More Kurt Russell, please.
This paragraph is a rant reserved for the final scene of the movie, so if you have not seen the film and don't want the Paul Walker farewell stuff spoiled for you, skip ahead to the next paragraph. Thou hast been warned! So when the movie ends, the Furious Fellas are sitting on the beach, watching Brian play by the water with his special lady friend and their offspring, and Dom and the crew are all misty eyed and talk to each other about how "Brian is home" and this is his life now, and then Dom leaves to go driving and to have a voiceover monologue about saying goodbye to his friend, and we all know why this scene is here, it is because Paul Walker is dead and everyone is saying their goodbyes so that we can have an official send off for the character and wrap that whole business up. BUT this scene only makes sense if you already know that Paul Walker is dead, because in a vacuum, on its own, this ending makes absolutely NO SENSE whatsoever. Why are they saying goodbye to Brian? Just because he's going to raise a family, with Dom's SISTER nonetheless, no one is going to speak to him or see him ever again? They didn't even offer an explanation for this in the movie, like some quick throwaway line of dialogue about they were going to have to split up for good so that nothing bad ever happens to his family, it is never established that by staying friends they would be endangering him and his family, so why the cut off? As a plot point and as a story, it is worth nothing that this is pure NONSENSE and does not add up at all. I'm not going to Monday Morning Quarterback this shit and offer up different ideas for what could have been done with the character that actually would have fit with what came before, and as a send off for Paul Walker it is emotional and perfectly fine, but as a story beat, it just drives me a little crazy. Then again, we are talking about the seventh installment of a movie series that did not make its name by crafting great stories that make sense, so take this little rant with a huge grain of salt.
"Furious 7" is a fun, ridiculous movie that doesn't quite reach the euphoric highs of series standout "Fast Five," but it keeps entirely in line with the franchise's newly found aesthetic of amped up action and outsized set pieces populated with larger than life characters, and the table is set for "Fast and Furious 8" (reportedly to be set in New York City) as well as an eventual Hobbs spin off movie, and I will be there opening weekend for both of those flicks.