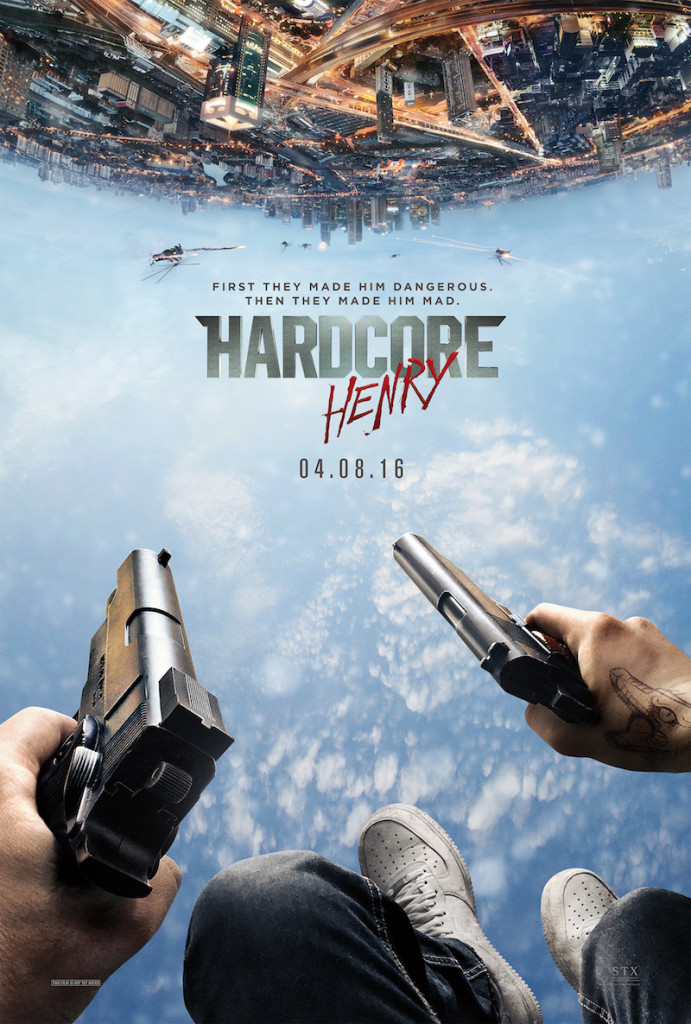 It was only a matter of time before we got our first ever first-person point of view action movie, and now that it is here in the form of "Hardcore Henry," we have another example of all the gimmicks and stunts in the world not being able to make up for a complete lack of interesting story or characters. Not to say "Hardcore Henry" is a total waste of time, as it is an impressive technical feat of a movie, but when it is all said and done, it is also surprisingly boring.
Since the movie's perspective is 100% from that of the main character, we learn about the other characters in the movie as the story progresses. Well "story" is a loose term used to describe the series of objectives given to Henry so he can move from scene to scene, all in an attempt to rescue his wife and also his inventor Estelle (J-Law lookalike Haley Bennett) from the clutches of some white-haired weirdo named Akan (Danila Kozlovsky) who has telekinetic powers that I am pretty sure are never explained at any point. When the movie starts, Henry "wakes up" in a lab and sees Estelle putting him together and she tries to explain to him what is going on, but before he gets the full story, they are attacked by this Akan fella and his goons, she is eventually kidnapped, and Henry finds himself meeting up with a guy named Jimmy (Sharlto Copley) who tries to help Henry along the way.
That's it. That's the story. Very simple. And really there's no reason why a simple plot couldn't sustain this whole movie. But the characters within that plot are as thinly sketched as possible. Estelle is merely an object of desire, a goal to be reached by Henry, and Akan is merely evil and sadistic and we are never given a good reason why other than "I enjoy being an evil genius!" And Henry is the least developed of them all. He's a half robot and he's bothered by a single memory from childhood of being bullied by some kids, as if that is enough to be motivation for him to be some sort of super soldier fighting back against legions of well funded bad guys. The only character who ever gets to rise above these boring excuses for characterizations is Copley's Jimmy, who we do get to learn about and who has an actual goal whose motivation we understand, as thank god for this character because otherwise this would have been the equivalent of watching someone else play a video game.
And thanks to the first-person POV gimmick, this "video game" comparison is inevitable, as "Hardcore Henry" specifically uses the visual language of video games to let us know what's going on. We see Henry's hands pop up in front of him wielding guns and knifes and grenades and detonators, and it looks very specifically like a game. There's even a moment when Jimmy looks right at Henry and tells him "we have to keep this character safe as we navigate through this building" and it couldn't SCREAM video game louder if it tried. Is this something people actually want? Because I can watch someone play Fallout or Far Cry or whatever for hours on end if I really wanted this kind of experience, and the truth of the matter is, I don't want this experience. I don't want to watch something that someone else controls and I don't want to watch cut scenes from a video game and "Hardcore Henry" does nothing to transcend this feeling. As a matter of fact, how come there isn't a Hardcore Henry video game already developed and released? Cause I would play this game for sure. I just don't want to watch it.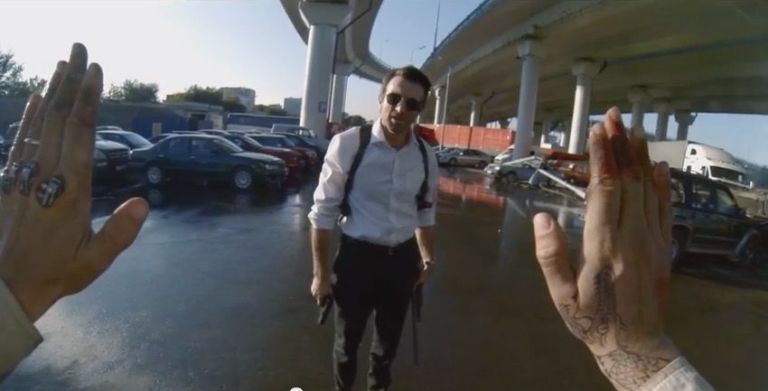 Because when watching "Hardcore Henry," there are all of these great stunts and action sequences which are rendered pretty difficult to follow because of the constant POV perspective and shakiness inherent with going with this route. The hand to hand fights suffer the most because this requires characters to be close to each other and move very fast, which just gets annoying to watch. Shoot outs and car chases work okay enough, but the rest is a mess. There were multiple stunts which would have been awesome to watch if the film was shot in a more traditional style because then we could see the motorcycle drive through the van of bad guys and come out the other side, or we can see Henry climb a rope of an ascending helicopter and then fall off and crash to the ground far below. Instead we see his hands a lot, and then glimpses of what is happening around him. It is like they constructed these big action scenes and then decided to try to hide as much of it as possible by limiting what we could see.
On the other hand, it seems as if this is the best version of this kind of movie stylistically, as it really can't be improved upon in terms of getting across visual information to the audience. There are just natural limitations to this kind of POV movie and they did their best with this idea, which makes "Hardcore Henry" an interesting movie for people to check out if they are interested in seeing how something like this could indeed be realized in feature length form. So it is not a complete waste of time, but it is doubtful there will be very many people clamoring for more movies like this.
Actually, just watch the trailer. Then you'll get it.