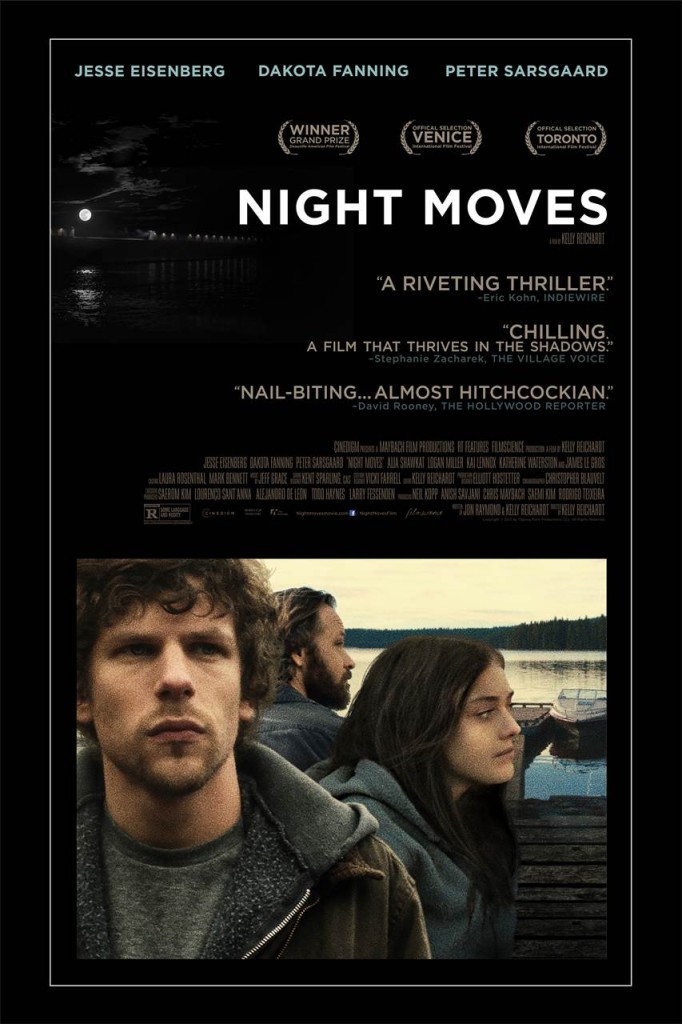 Not to be confused with the 1975 Gene Hackman-starring murder mystery of the same name, "Night Moves" is the story of three idealistic environmentalists who decide that they need to make a grand statement to the world by destroying a hydroelectric dam, hence really sticking it to The Man through an act of eco-terrorism. But of course the story is about much more than just that one act, or even the particular reasons for committing said act. Instead this is a story about the characters who perpetuate this act, and what it means to them in a more existential way, as well as what the act does to them in a physical, worldly consequences kind of manner.
Josh (Jesse Eisenberg) and Dena (Dakota Fanning) are young hippie-ish folks living in the Pacific Northwest, Oregon specifically, and they seem to really care about the environment and the world they live in. They even go to private screenings of what appear to be homemade documentaries about how the Mother Earth is being destroyed by humans, projected on a poorly hung white sheet and watched by a group of dirty stoners who react to the movie with cynicism and cries of "what are we expected to do?" But while Dena sits front row and seems to take in the message of the documentary, Josh hangs back and rolls his eyes at the lack of answers and obstinate nature of the crowd. He's obviously over these get togethers and the rhetoric. He desires action.
So Josh and Dena quietly yet assuredly gather the few items they need, which includes a sweet boat, and they take this out to the wilderness where they meet up with Josh's friend Harmon (Peter Sarsgaard), and the three of them turn the boat into a bomb and carry out their plan to blow up a dam. For what exact purpose? Not said. Obviously they feel that striking a blow against mankind by destroying one of their attempts to wrangle nature is a noble pursuit, a worthy action in the cause for nature, an angry statement against the fact that there are over two dozen golf courses in a piece of land considered to be a desert, a hopeful wake up call for people to get angrier, to decide to do something for themselves? Hell, even AFTER that action is taken, the intended results are still muddled and ambiguous, becoming even more so when their actions turn out to have unintended consequences that rattles them.
Suffice to say there are more than a few things going on in this movie, which stylistically goes in the opposite direction, with very simplistic, clean, beautiful shots and sequences, often worked out in silence and with a mastery of visual communication; one feels that writer/director Kelly Reichardt (Meek's Cutoff) would rather do away with dialogue all together and just make a silent movie, and that wouldn't be a bad thing considering how good she is at telling us what a character is thinking or feeling with just visuals. We don't need Josh to express his internal turmoil and anger when a simple shot of his trembling hands does all the work. And obviously it helps to have an actor as good as Eisenberg, and Fanning and Sarsgaard are both great as well, giving us real performances of rounded out characters, which helps makes all the drama and suspense that much more intense.
And while the main themes definitely circle around the trio of characters pulling off this action and what it all means in the grand scheme, either to them as individuals or as a group, there is also more going on, what with Josh's insistence on staying off grid as much as possible, but while also finding himself in occasional desperate need of a computer with an internet connection (thank you, libraries!), and also the fact that more and more places are being monitored, with more cameras being placed around the country, capturing our images wherever we go, recording our movements, making it harder and harder to "get lost," especially when one finds himself with the NEED to get lost.
And there is definitely suspense and drama in this thing, whether it is during the planning and execution stages of their bombing, all shot and presented like a backwoods version of a heist movie, or in the aftermath of their act, especially as the story really then focuses on Josh and his increasing paranoia. Actually at this point we find out that he lives at a family farm, one of these sustainable communities that's all about growing clean food and living off the land as much as possible, and it seems like it would be such a peaceful, fun, loving place to live, if only he wasn't personally so weighed down by his doubt of his partners' abilities to stay quiet and stick to their plans along with his increasing sense of a net coming down on him, as he freaks out internally whenever he hears a car pull up to the farm or drive by, convinced that THIS is it, here comes the hammer.
This is definitely the kind of movie that movie critics and cinephiles appreciate more than your average movie consumer, as can be seen here by the disparate scores on Rotten Tomatoes, because while it is a suspenseful thriller, almost Hitchcockian at times, it also takes its time and is reluctant to provide nice, clean answers. Hell, when the movie ended, I knew immediately that the final scene and especially the final shot of the movie, which is poetic and ambiguous and frightening in its own way, would be received pretty badly by many people who see it, especially those folks who only see a few movies in theaters each year anyway, people who don't care so much about artistic ambiguity and instead just want to be "entertained."
"Night Moves" is great because it is familiar yet different, a small yet smart story told very well by a director who knows her style and how she likes to tell her stories, and damn it all if it isn't pleasurable to watch.