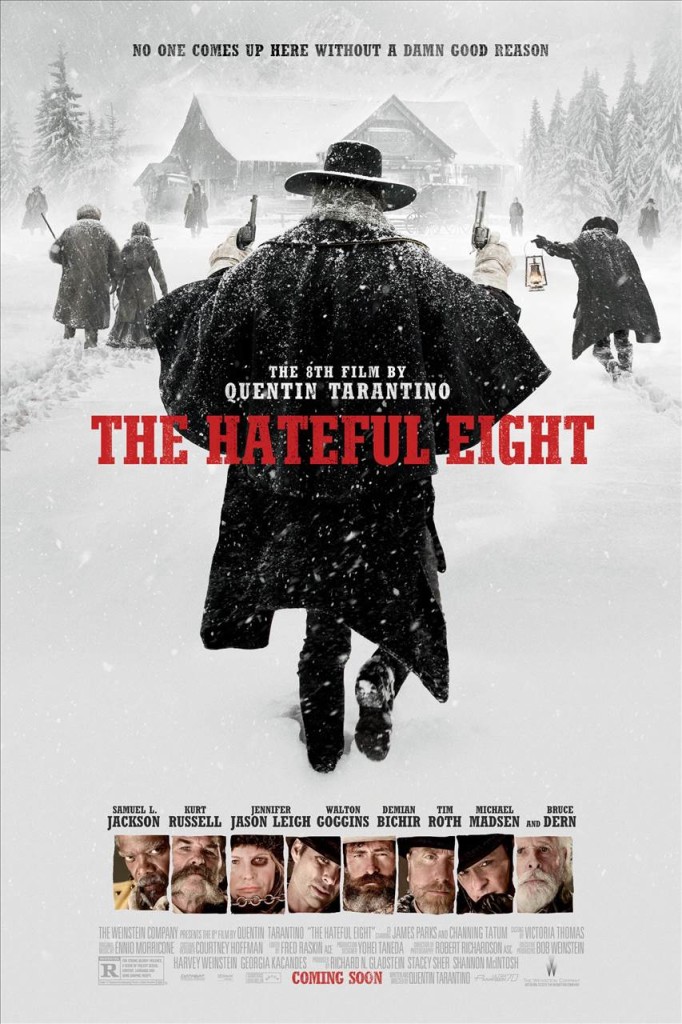 It seems that Quentin Tarantino, now with his eighth film, no longer seems to want to make purely escapist entertainment, he longer wants to give you a fun movie with a dance number and some action and a bunch of witty banter about pop culture. Instead, for a few years now, Tarantino has been making movies that have also set out to push buttons, and his films have made people engage in conversations about a wide array of topics, including racism in American history as well in American cinema, the use of violence as a way to resolve conflict, the power of the medium of movies and how it can be used as a weapon, the value or lack thereof of revenge fantasies. And now "The Hateful Eight" joins that list as a movie that has people talking.
Let's add to the noise, shall we?
On the surface, "The Hateful Eight" is a Western, a mixture of Sam Peckinpah, Walter Hill, and both Sergios (Leone and Corbucci), in which a group of disparate people find themselves snowed in by a blizzard in one location, and from this crops up a mystery, a "whodunit" plot, and that's it really. Bounty hunter John Ruth (Kurt Russell) is transporting a $10,000 bounty in the form of accused murderer Daisy Domergue (Jennifer Jason Leigh), and he is highly paranoid of everyone he comes across, certain that they will want to either stop him or take his bounty away for themselves. This is not good for him when he gets holed up with people he doesn't know, or even with people he does know. This prisoner transport is what drives the plot and the paranoia, but there is other stuff going on as well.
Like how Major Warren (Samuel L. Jackson), a Union soldier from the Civil War – remember that thing? –  is stuck in the same place as a notorious general of the Confederacy (Bruce Dern), as well as the proud son of a Confederate veteran and a member of a post-Civil War gang of Southern marauders (Walton Goggins), and to say that there is some racial tension between these characters is an understatement. The Western genre was hugely popular in this country for decades before peaking out in the late 1960s and despite hundreds and hundreds of Western movies and television shows being produced and stories being told, almost every single one of these movies managed to pretend that race or racial issues did not exist at all. Even with so many of these movies involving members of the Union and Confederate armies, both during and after the Civil War, the issues of slavery, emancipation and civil rights are thoroughly and completely ignored. Even something like "The Outlaw Josey Wales" has our hero, played by Clint Eastwood, as a former Confederate soldier, tracking down the marauding Union soldiers who killed his family and left him for dead, and they never get into the "politics" of the time, like, oh I don't know, the very reason why there was a Civil War in the first place.
"The Hateful Eight," however, goes in the complete other direction, as very early on in the story the Civil War and the "politics" behind it all are referenced directly and used to describe our characters and flesh them out. Goggins' Chris Mannix character, on his way to being sworn in as a Sheriff before getting snowed in, gets pretty open about his feelings for the Union and for Black Americans, and has no problem with using racial epithets to let people know how he really feels. As a matter of fact, no one in this movie has a problem with using slurs, namely the "n-word," which to this day still has the power to invoke real hatred, and which a very large portion of our society refuses to use in any context. Which leads to many people questioning Tarantino on his use of this word in his movies and more importantly the frequency of this word.
And this should be questioned because, as an artist, what is his goal with this? His earlier movies, both ones he has directed as well as merely written, used this particular word, and in ways that could be deemed offensive to people. In something like "Reservoir Dogs," in which a white character tells other white characters that they need to stop acting like a bunch of "n-words," the character's racism doesn't really add to the story or to our understanding of this particular person, other than now we can add "he's racist" to his description. And then there is "Pulp Fiction," in which Tarantino himself play a character who uses that word casually while in conversation with Samuel L. Jackson's Jules character, and he never catches any flak or gets called out for it at all in the movie. It is even revealed that this character is married to a black woman named Bonnie, and one can easily extrapolate from this a parallel to Tarantino's mentality to the use of the word: he probably thought "well this character obviously LOVES black people because he married a black lady so he can't POSSIBLY be racist," like he married into the club and now he gets a pass, a pass that he is more than happy to exploit. Through his own real love of black culture, as he grew up on blaxploitation films like "Shaft" and "Dolemite," and does have a genuine appreciation for the black artists he sees himself as "part of the club." And THAT is some misguided shit right there.
But with "The Hateful Eight" (as well as his pre-Civil War antebellum Western "Django Unchained"), his use of the n-word in his movies skyrocketed, causing many people to wonder what's the point there. Mere provocation? Pure recklessness? To which I respond that for the first time this kind of language is unfortunately not only appropriate but actually essential to the stories he has chosen to tell. Both movies deal with race in this country very overtly, and whether they be slave owners or Confederate soldiers, we are talking about very racist people who see their horrible and bigoted views as completely normal, which shouldn't be a surprise because their racist viewpoints were totally mainstream at that time, to the point where even the more "enlightened" Northerners and pro-Union anti-abolitionists were also massively racist, just slightly less so than their pro-slavery contemporaries. Hell, our own country's constitution specifically stated that a single black person, for purposes of government, could only be considered 3/5ths of a human. This was officially called a "compromise." How noble of our country's oft lauded and revered founders. How the hell does that even make any sense, in a moral or even logical level? Yet that is how people operated for over half a century in this country before the end of the Civil War forced the government to make some sweeping changes to the constitution (changes done mostly for political gain, mind you, but nonetheless, good changes). If Tarantino made these movies about Northern and Southern Civil War soldiers in the years immediately after said war and his characters were NOT openly racist and horrible, then he would have just been adding to the very long list of American made movies literally white-washing our disgusting and disgraceful past. Sure there are many people who don't like hearing this language for many different reasons, but to pretend it didn't exist is truly more offensive.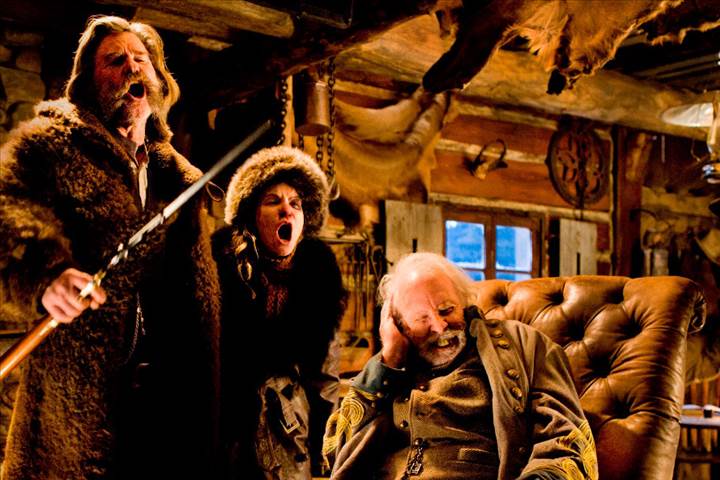 The apparent misogyny in "The Hateful Eight" is a different matter, especially since this might be the first time this has been brought up in a Tarantino movie, as he is the person who gave Pam Grier a starring role in "Jackie Brown," and gave us the uber-bad ass character Beatrix Kiddo in "Kill Bill," and made his own version of a slasher movie mixed with a 70s car movie all wrapped up in Girl Power bravado in "Death Proof," and mistreatment of women is not something he is typically accused of with his art. And yet here we are, watching the main female character of this particular movie get bashed about the head and face so often she seems to have come over from a "Three Stooges" short. The character of Daisy, while in chains practically the whole movie, gets beaten bloody, with other horrible things happening to her, and it is tough to watch. At least until she opens her mouth and starts talking and we see that she is an absolutely terrible person, perhaps moreso than anyone else in this movie.
An accused murderer with a very large bounty on her head for a reason, Daisy is thoroughly a villain, and we are never meant to side with her or feel sympathetic about her, so is there a reason why her gender makes this hard to watch? If Daisy was "Danny" and played by a man, getting beat up the whole movie would just be par for the course for a movie like this. But make the same character a woman and it becomes off-putting, which is a fascinating aspect of the art and media we take in as a society, how we have been conditioned and trained to see violence as being totally acceptable in one way but morally reprehensible in others. At what point does a person's cruelty and hatred encompass the totality of who they are, race and gender aside? And why are we fine with watching this kind of violence in the first place? Is it merely cathartic? And for whom? When Stuntman Mike meets a brutal end in "Death Proof," and when Adolf Hitler gets his face machine gunned off in "Inglourious Basterds," and when Django leaves Stephen to get blown up at the end of "Django Unchained," these are all supposed to be things akin to squeezing a stress ball – a bullet riddled, bloody, destroyed stress ball, to squeeze out our some sort of cultural or emotional angst.
But Daisy does in many ways get it worse than any of those characters because of how prolonged it is. Tarantino has had characters gets beaten, shot, bullied, abused physically and verbally, he's done it all in each and every one of his previous seven films, but he has never done it for such an extended period of time. We first meet Daisy already in chains and with a black eye and it goes downhill for her from there, with the end in sight being the hang man to whom John Ruth is so determined to get her, so in addition to the violence she endures, she is constantly reminded that the goal others have for her is to die. And it's not like this particular character is given any redeeming traits at all. The most human thing she does is play a guitar in one scene, and outside of that, she's pretty despicable, casually racist, most likely a sociopath…just all around a bad person. The cruelty of the character is matched by the on screen punishment she endures, and it isn't easy to watch to begin with; making the character a woman doesn't help matters. And when everyone starts referring to Daisy as a "bitch" over and over feels more mean than shocking. So that also doesn't come off well. But she truly IS a irredeemable, terrible person, a character we aren't meant to side with, lest we be monsters ourselves.
And this overall character trait, what makes these eight particular people so "hateful," makes this a tough bit of movie making. When so many of the main characters are terrible people just to different degrees, and there isn't a stand out "hero" in the bunch, who does the audience member than side with at all? And how is the audience member meant to feel when the patented Tarantino level of violence does start popping off, where is this catharsis? It's not that kind of violence in this movie, there is no grand revenge, no righteous cause to get behind. Instead this is a potboiler, all different sorts of people put in one place and made to stew in their own juices until things get crazy. The paranoia is palpable, the air inside the room hangs with dread, and as the events unfold, the relief comes from the other shoe finally dropping, the knowledge that nothing else terrible could possibly happen because it is finally over.
That's not to classify this movie as totally dark and devoid of hope or substance. Sure there are geysers of blood pouring out of fundamentally flawed and mostly just bad people, but without going in to details or spoilers, the movie ends with a literal plea for peace and an open and honest hope for a more idyllic future for all of us. After spending so much time with these god forsaken people, the movie still has hope for humanity, which is fascinating.
It is obvious there is a lot going on with this movie, and this is currently coming from one viewing so let's say we give this one some time to marinate, we can all do some ruminating, and we'll meet back here in the future to see how this stands up and what it seems to be really getting at.