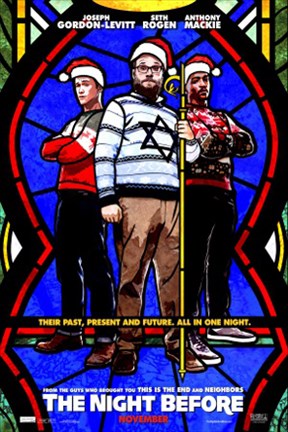 "The Night Before" is a Christmas carol type of movie for youngsters in their 20s and 30s who appreciate a good dick joke, but also appreciate the movie's genuine appreciation for the holiday spirit. Like a mash up of "A Christmas Carol" and Martin Scorsese's "After Hours," this is a story that takes place all in one night but deals with our main characters' pasts and futures, all the while Christmas Eve shenanigans go on all around them.
Sure this is a ridiculous comedy with plenty of drug references and R-rated jokes and, depending on your point of view, a bit of blasphemy, but at the center of it all is an honest little story of three men in their early 30s who find themselves at a transitional point in all of their lives, a point that could be causing them to drift further away from each other. Whether it be careers or growing families or just growing old, things can't stay the same way forever and growth is needed, which is hard to do when one person struggles with the growth part.
Ethan (Joseph Gordon-Levitt) lost his parents in a car accident in 2001, leaving him all alone. To help him out, his best friends Isaac (Seth Rogen) and Chris (Anthony Mackie) hang out with him on Christmas Eve, coming up with an impromptu plan to hit up a few spots and basically have a great night being together. This worked so well that they agreed to make a tradition of it, and here they are over ten years later doing the same things. But Isaac has a pregnant wife and Chris is a pro football player who is just starting to blow up, and they see Ethan as a guy stuck in the past, unwilling to grow and change, just trying to keep things the way they are. So the three of them agree that this will be their last time hanging out in this manner of Christmas Eve, and Ethan goes along with it, though we know that he is sad to see it all end.
The reason this movie works as a comedy is because many of the jokes stem from this set up, how the three of them are going out on the town despite the fact that they are now JUST starting to become a little too old to be hanging out like they did when they were twenty. Isaac is dealing with his own insecurities in becoming a new father, Chris is so career-minded that he can't see how he is starting to change for the worse, and Ethan is just lonely, unwilling to admit that he screwed up in his latest relationship and why it went bad in the first place.  The movie never drops this throughline but also doesn't stop the humor from coming to just deal with story. There is a solid balance of comedy and story development to make it so that these characters have a little bit of depth to them and seem more real than they might otherwise possibly appear.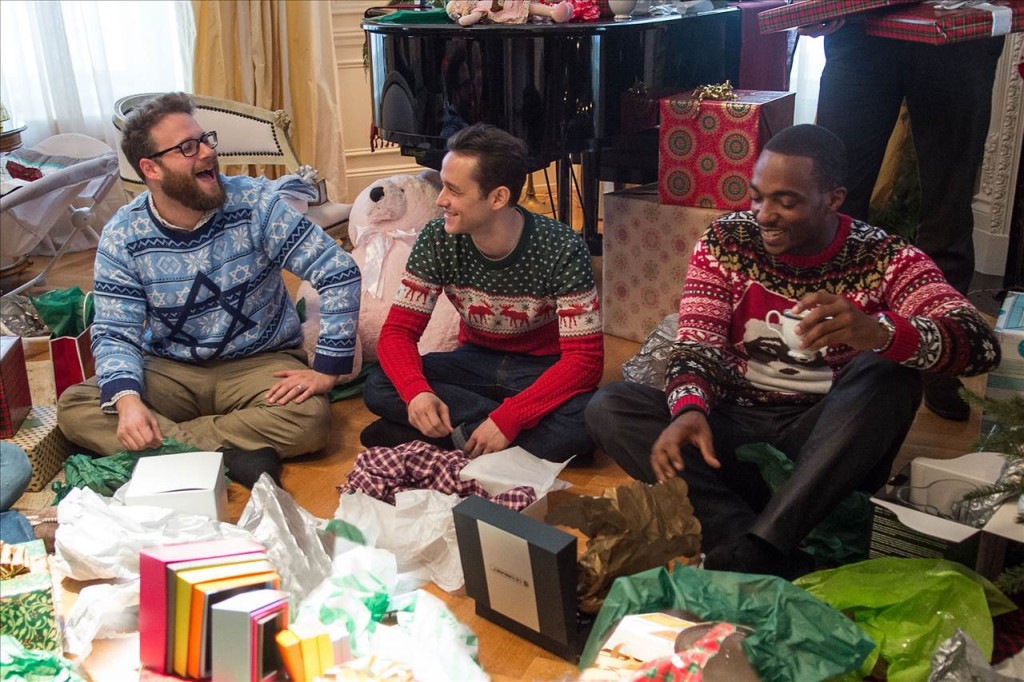 This isn't to say that the movie doesn't get ridiculous, because at times it totally does. They play up the storybook quality of this story right at the very beginning, as the title card of the movie name is shown as the first page of a book and we get an opening narration in classic rhyming form that immediately calls to mind "'Twas the Night Before Christmas." As a result, this allows the story to go into some more magical realism type of directions, with allusions to the Ghosts of Christmas' Past, Present and Future from "A Christmas Carol," and with ridiculous coincidences being chalked up to "the magic of the season." The raunchiness of the movie is juxtaposed with a sincere appreciation of the holiday and this type of storytelling, and it works pretty great.
Jonathan Levine actually seems to have a way with comedies like this, having previously done movies with solid, emotional stories mixed with ridiculous comedy like "50/50" and "The Wackness," and "The Night Before" is just as well done as those movies. It is sweet and raunchy, absurd and believable, and totally enjoyable as a new holiday movie to watch every December. Or maybe every other December. Either way, its good stuff.