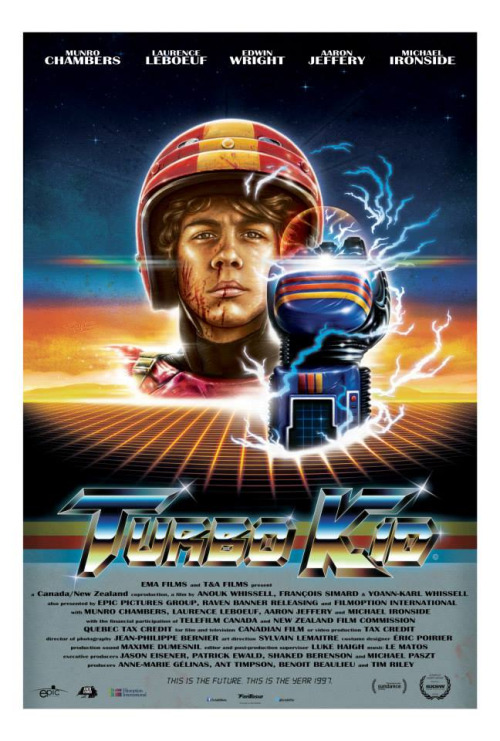 "Turbo Kid" is one of those throwback movies, an homage to a certain style of movie, in this case the post apocalyptic films of the 1980s, and the 1980s in general, done with the fervor of a child's imagination set loose with gallons of fake blood, a fever dream of a movie about a "Mad Max" style wasteland ruled by a one-eyed tyrant and his insane and blood thirsty right hand man, in which a young kid all on his own tries to survive one day at a time.
The Kid (Munro Chambers) spends his days scavenging through the post-apocalyptic wasteland of 1997 (oh yeah, this movie takes place explicitly in the future…of 1997) looking for stuff to trade in for potable water. And every now and then he gets his hands on a comic book of a guy called Turbo Rider, who dispatched justice viciously with some sort of wrist-mounted laser beam. He then meets a girl named Apple (Laurence Leboeuf) who at first seems insane and dangerous but they of course become friends because it's the apocalypse, what ya gonna do, turn away a smiling face?
The problem is that this guy Zeus (Michael Ironside) controls all the water and he's a total d-bag. And he keeps people in line with his ruthless gang, which is led by this fella in a crazy metal mask who never speaks and shoots circular saws at people and sometimes through them and apparently this guy is named Skeletron (Edwin Wright), at least according to IMDB and Wikipedia and whatnot. So this Skeletron guy doesn't say anything, just moves with overly exaggerated mannerisms and stares crazily at people from behind his mask. And he rides a BMX bicycle. Actually, everyone rides BMX bicycles in this future. Probably because there's no fuel. They barely even have water. What a real shithole.
There's also some cowboy guy who is a champion arm wrestler and a Canadian Hank Azaria as the local barter guy. A strange cast of characters, to say the least.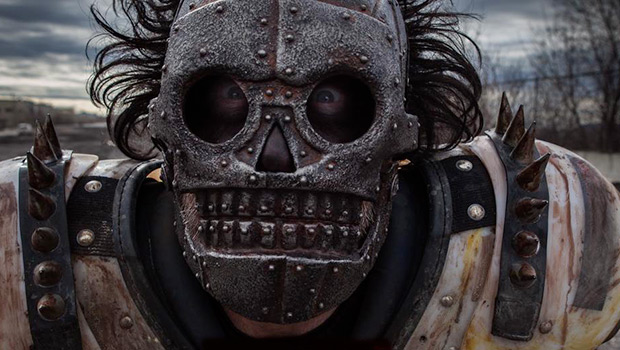 Though The Kid really isn't strange, he's the most normal one of them all. He's alone, misses his parents, but he's doing his best, being forced to grow up faster than he should have to because of his circumstances. There is a moment in which he has to burn VHS tapes to get a fire going to stay warm and this is like his having to grow up by burning his childish things, but also kind of says something about the death of video and physical media in general in our current day, as this movie is very much about a bygone era. "Turbo Kid" is really all about The Kid moving past the tragedy that befell his family and becoming a man, one who is ready to travel through the wasteland on his own just to see what's out there.
Being such an obviously low budget movie, it is really cool seeing how much they were able to do with what they had. This thing gets pretty damn violent throughout, and there are a lot of effects of people getting cut up and blood just SPRAYING everywhere, and there are even a few people cut down to nothing but stumps, with absurd amounts of blood geysering out of them. There's more than a touch of "Riki Oh: The Story of Ricky" in some of the over the top ways people get dispatched, which is all quite absurd and glorious in its insanity. There is also some CG effects work which unfortunately isn't as fun to watch as the practical stuff, but they were going for some pretty big things here and there so I get it.
"Turbo Kid" isn't all blood and guts and 80s homages, though, because there is a sweet little story of The Kid and Apple and how they become friends, and this helps balance out the more violent, crazy aspects of the movie because even in this horrible wasteland there is still some sweetness, even if it is a little weird.
This is a very fun film, especially if you were the type of person to walk through VHS stores back in the day and stare the box art of low budget gems and wonder what the hell was going on inside those tapes. Well made and a high energy blast, "Turbo Kid" is going to have one hell of a cult following for years. Be prepared for Skeletron, Turbo Kid and Apple Halloween costumes.