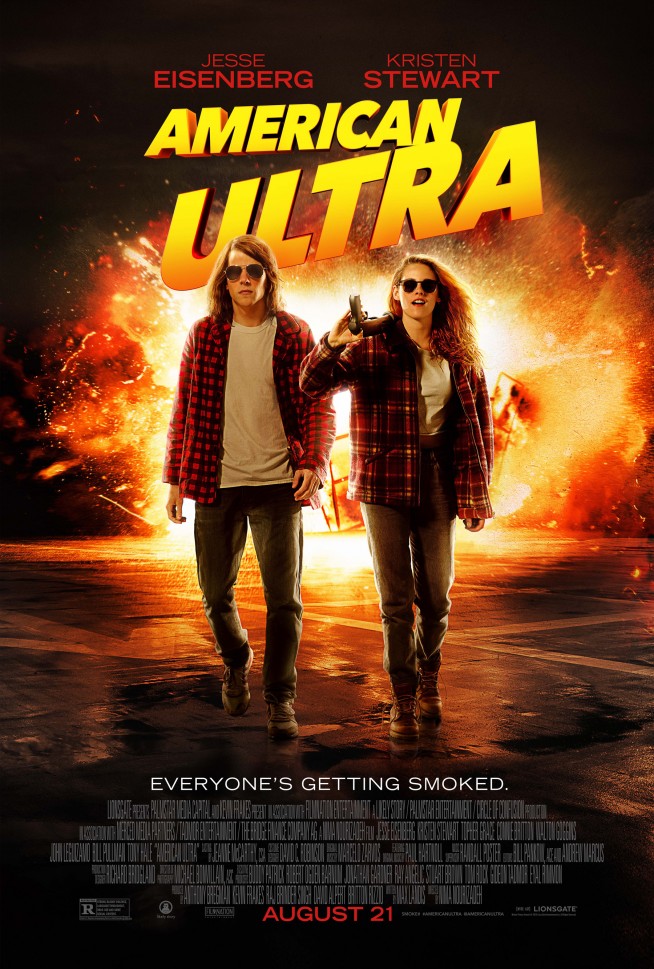 "American Ultra" is "Cheech & Chong's The Bourne Identity," a mash up of genres and genre tropes, slammed together in a way that feels like an early draft of a screenplay that ultimately needs to be expanded and finished. It seems as if the filmmakers behind this thing thought that simply taking the "sleeper agent" government-trained killer storyline that we've seen a lot and adding a bit of marijuana use to the proceedings would somehow magically result in a movie worth watching, and while "American Ultra" isn't bad, it never rises to the heights promised by the marketing and the concept.
Mike (Jesse Eisenberg) is a heavy marijuana user, often derisively referred to as a "stoner," and he lives a simple, fairly shitty life in a small Virginia town where he gets harassed by the police and seems to be the only employee at an incredibly shitty convenience store. The only thing making his life bearable (besides the weed) is his live-in girlfriend Phoebe (Kristen Stewart) and he is planning to propose to her, except that his can't really get his shit together long enough to do so. Meanwhile, over at CIA headquarters not too far away, an agent (Connie Britton) finds out that her government trained super killer in hiding is about to be killed by a rival agent's (Topher Grace) own super killer program, so she goes to Mike and "activates" him with a pass code. From that point forward, whenever someone tries to do anything to Mike, he knows how to get out of the problem and also knows how to kill people with whatever is on hand. The rest of the movie is the CIA trying to kill Mike and Mike trying to survive with Phoebe.
It is a simple set up and they follow through on it all, but they also don't take it all very far. We see in the trailers (like the one below) that when confronted by trained operatives, Mike's own training kicks in and he kills one guy with the spoon he happens to be holding, and then later in the trailer they show him running around  supermarket and throwing cans of food at people, and there is one great bit in which he throws a cast-iron skillet into the air and shoots it, causing the bullet to ricochet and kill someone attacking him. With promises of this kind of inventive action in the marketing, it became disappointing to find out that these moments are it, there are no other fun little action bits or inventive pieces of filmmaking or anything like that. When the movie is over and they actually recount the crazy shit that went down, we realize that all of these things were shown to us already in the marketing, and that is a bummer. It definitely comes across as a bit of laziness, like they thought simply mashing up a stoner comedy with an action movie would be enough of a twist for the movie to work, and while the movie isn't bad at all, it isn't great, and it definitely seems like this movie could have been great.
As it stands, the only thing that really makes the movie work is not the stoner comedy elements or the action but instead it is the love story between Mike and Phoebe. They have good chemistry and their relationship is interesting in that Mike is a lovable loser who obviously needs someone to constantly look after him and cook for him and whatnot, and that we can tell Phoebe wants more but is also resigned to sticking with Mike, and when the shit hits the fan, we understand why they stick together and why she tries to help him and how he tries to protect her, and without getting into spoilers (for a "twist" that is telegraphed from the first ten minutes of the film), they have an interesting character dynamic that is the only remotely unique thing going on in the story. If this movie was just Mike running around like Jason Bourne trying to right some wrongs, it would be dull as fuck, but as he has an emotional arc and a goal of getting Phoebe to marry him, we actually have something to hang our hat on as we watch the competent but ultimately boring action.
Seriously though, in a post "John Wick" world, in a society in which we can pull up "The Raid" and "The Raid 2" on demand to watch at any time, in a universe in which classic Jackie Chan movies of the 1970s, 1980s and 1990s are available at the click of a button, you really need to step up your game if you are going to make an action movie, and there was none of that here. Opportunity lost.
Also this is the kind of "stoner" movie in which we are constantly told about how our lead characters are potheads, but once we get twenty minutes into the movie, this whole thing just gets dropped as we never see them indulge and it doesn't become part of the story or what happens in any meaningful way at all. While I am not saying this movie NEEDED more marijuana usage or that this is something I wanted to see in this movie, it would have been nice if they just stuck with their premise. Because take away the marijuana and we just have a Jason Bourne knock off movie.
Now I do think that this movie would work better for the viewer if none of the marketing is seen (again, like the below trailer) because it both makes promises that it can't keep and gives away all the best and biggest moments, so that watching the movie after seeing the commercials and trailers becomes an exercise in connecting the dots, watching the filler scenes that connect these action beats and jokes that we've already seen. I am a big fan of seeing a movie while having the barest amount of information ahead of time, which then would have made this movie much more enjoyable. I seriously envy the person who happens to sit down to watch this and fifteen minutes in to the movie gets surprised when this stone rom-com turns into some sort of spy action movie. That is a delightful turnaround. But when it comes the main hook of the marketing and everyone knows what is coming, then what is left to delight us?
Again, I feel like this movie could have been great and instead it is merely good. Nothing special, not really worth recommending, not even really worth revisiting because there is nothing that stands out as memorable. And thanks to the possibilities inherent with this set up, the predominant feeling I had when the movie finished was disappointment, and that sucks.
Oh and Bill Pullman shows up for two scenes, and only speaks about five lines of dialogue in one of those two scenes. Just thought I'd point out the one thing they didn't put in the trailer because, again, it is a part and a role that feels underwritten, as if they were hoping simply having Bill Pullman in the part would elevate the material, and as well all know, that is simply not possible.
Oh well.