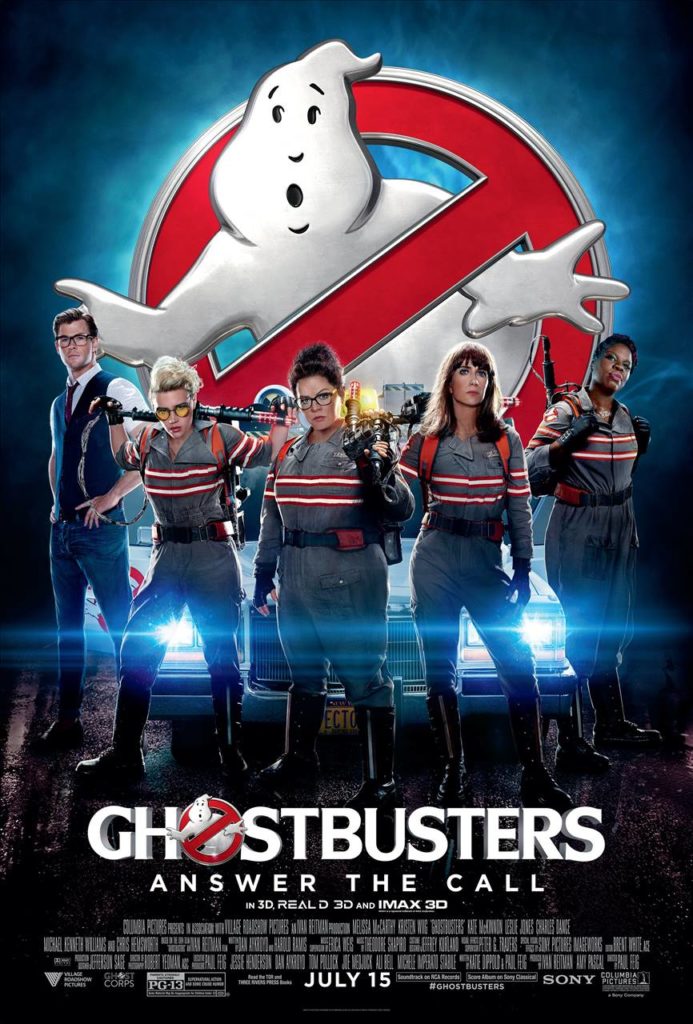 "Ghostbusters" is the story of a trio of scientists with expertise in the paranormal and how they opened a company in New York City in order to investigate a series of ghost sightings and supernatural activities. As they develop their tech and grow closer as a group, they find themselves at odds with the city and federal government who want them to stay out of public view and not cause a panic, which becomes difficult for this new team as they find themselves facing bigger and bigger threats, until finally it all comes to a head when they have to engage in a very public battle against a gigantic, building-sized foe determined to destroy the city and everyone in it.
Yup, that's the plot for both the original 1984 movie and this new "Ghostbusters." The details, however, all the little things that connect these big plot points are all very different. These are different characters with their own sets of problems, and the way these ghosts are summoned and the nature of these ghosts and what they do is all very different, and even the bickering between the city officials and the team takes on a different tenor, as this NYC mayor and his employees are much more media savvy. It is completely the same but also totally different and in a good way, making for an experience that is alternately classic and surprising. That doesn't mean this movie couldn't have been better, but it also works on its own terms in a pretty endearing way.
Erin (Kristen Wiig) and Abby (Melissa McCarthy) are scientists who previously co-wrote a book about ghosts but have since had a falling out. When Abby re-publishes their book, Erin sees this as a roadblock to her getting tenure at her university, so she confronts Abby about it, bringing the two back together. This leads to them investigating a ghost sighting along with Abby's tech-nerd extraordinaire Jillian Holtzmann (Kate McKinnon), and ultimately to the three of them teaming up to form a group of paranormal investigators and exterminators, and all they need is a name, what could that be, what could that beeeeeeee? Hmmmm…
They set up shop and quickly hire Kevin (Chris Hemsoworth), an incredibly ditzy receptionist hired because he's such a hunk (and quite frankly hysterical to keep around), and Patty (Leslie Jones), an MTA worker who quits her job when she sees an apparition and joins the team to help them out and get in a decent career change. The whole time this overly creepy dude named Rowan (Neil Casey) is obviously planning something which has a direct link to the uptick in ghostly activity in New York, and he makes for the team's first real adversary, giving them an opportunity to prove their worth as a unit to the world as well as to themselves.
With comedy being so subjective, it is pretty impossible to say who finds what funny, but I thought this "Ghostbusters" was often funny and in some surprising ways, twisting around little expectations here and there to bring something new to the table, which is something Paul Feig et. al. having been doing well since "Bridesmaids." And being a ghost movie, they for sure borrowed some elements from horror movies, at times feeling like a decent mix between Sam Raimi and James Wan, and there was definitely an opportunity for them to REALLY push the horror and make this more of a "horror comedy," but outside of only a few moments this movie never really lets itself go fully down the path of an outright horror movie, usually deflating tension with humor or quick cutaways so as not to dwell on the scarier parts, which is fine if you consider this to be a family movie (and at PG-13, that is definitely debatable). It DOES have a pretty intense opening scene, a very admirable way to open this up, and there's also another solid sequence of the team going through the backstage area of a theater looking for a demon-ghost that has some strong moments, so they definitely embraced the "ghost" part of the movie while making this, but in the end overall it feels closer to "action comedy" than it does "horror comedy," with an emphasis on the comedy.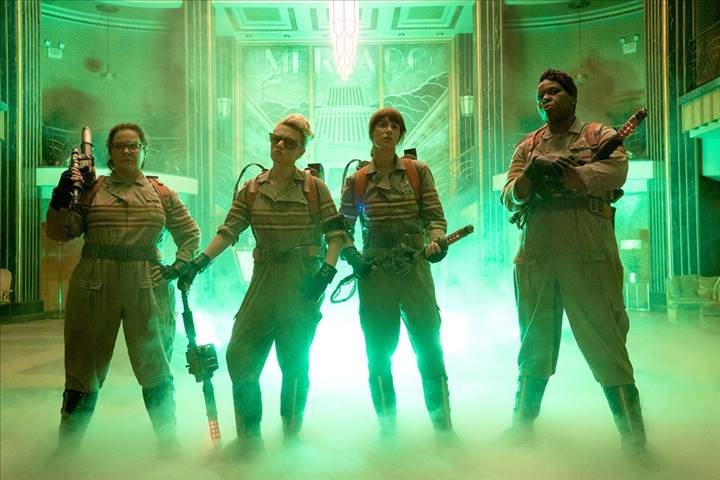 Which makes the prevailing tone of this "Ghostbusters" actually one of general fun. While McCarthy and Wiig are known for going pretty big with their past characters, those jobs go to McKinnon and Jones, who both get to throw in a lot of jokes and one-liners while the other characters spout out the exposition that keeps the plot humming along. Hemsworth, meanwhile, has been asked to play stupid characters before, but none of this insane level of dumbness – I actually don't see how it's possible for a character THIS dumb to ever get by on a day to day basis, let alone dress well and be able to navigate around a city. And quite frankly almost everything he does in this movie is quite funny.
Though this is indeed a fun and funny movie, perfectly fine summer movie entertainment when it is all said and done, it still could have been better. "Ghostbusters" starts with a rift between Abby and Erin, but after they see their first ghost (the payoff of this encounter used in every piece of shitty marketing they threw out there for this movie), they just start working together again, everything is hunky dory, and there is no more drama between them. It is almost like an episode of "The Simpsons" in which the first few minutes don't matter and only tangentially get the story rolling, that's what their relationship is in this movie. Meanwhile Rowan is kind of a boring character, just a weird dude who somehow knows to pull off some evil scheme so he can "cleanse the world" of all the filth, i.e. other people in general, and at no time in this movie is he ever sympathetic or intimidating. If you can't make your audience somehow empathize with a villain, then you should make the audience fear that villain, and Rowan is never either of those things.
If the sequel amps up the tension and scares and delivers on a stronger villain and also some actual character development within the team, than the next "Ghostbusters" movie could be downright great. That potential is there. They hinted at it in this movie but didn't achieve it, which is better than being a piece of shit, which it is not. Definitely one of the better made movies in a lackluster summer of blockbusters.