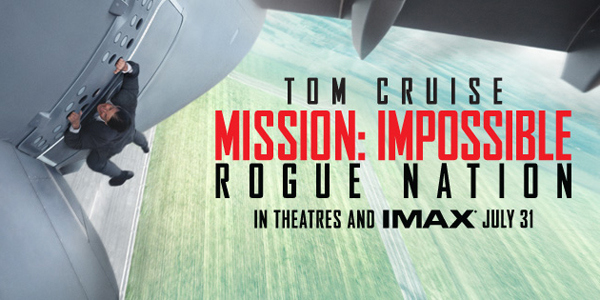 "Mission: Impossible – Rogue Nation" is the fifth in this film series started in the mid-90's and based on a television show from the 60's and 70's, and it is kind of surprising how long this particular piece of spy-based entertainment has stuck around, and by most accounts, continues to age like fine wine. Cool gadgets and effects, great stunts and action scenes, fun stories with interesting outcomes, the M:I movies have come along way since dangling Tom Cruise on a rope in an all white room almost twenty years ago, and have become a reliable source of serialized, big screen entertainment.
In this latest chapter of the continuing adventures of Ethan Hunt (Tom Cruise) and the Impossible Mission Force (this name is the most ridiculous thing in a film series based on ridiculousness), Hunt is on the trail of a terrorist using a network of ex-spies and assassins to disrupt the world economy and geo-politics via a series of large scale disasters and covert murders. And almost immediately Hunt is behind the eight ball, as this group, known only as The Syndicate, gets the drop on him early and he spends the rest of the movie playing catch up. Making things even more difficult for him is the fact that the director of the CIA (Alec Baldwin) successfully lobbies to have the IMF shut down, and Hunt is forced to go into hiding as he tracks the Syndicate on his own (and with a little help from his ever loyal team).
There are two things that make this particular movie work. First there is the lean, mean nature of this screenplay, which has exactly zero fat on it. There are no asides, unnecessary subplots, red herrings, tangents or anything like that. Hunt doesn't spend the middle of the movie recuperating at a farm house in the middle of nowhere, and he doesn't spend time on leads and information that ultimately add nothing to the plot. Every scene leads in to the next one organically and seamlessly, so that the momentum of this film is constantly barreling forward, resulting in a movie that feels brisk and quick even with a run time of two hours and ten minutes. There is no room to get bored in this movie because problems keep arising which lead to solutions which lead to more problems which results in twists and turns and all sorts of plot shenanigans that keeps everything moving. After years and years of so many bloated, overly long, plodding blockbusters, it is always refreshing to see one done like (see: "Mad Max: Fury Road").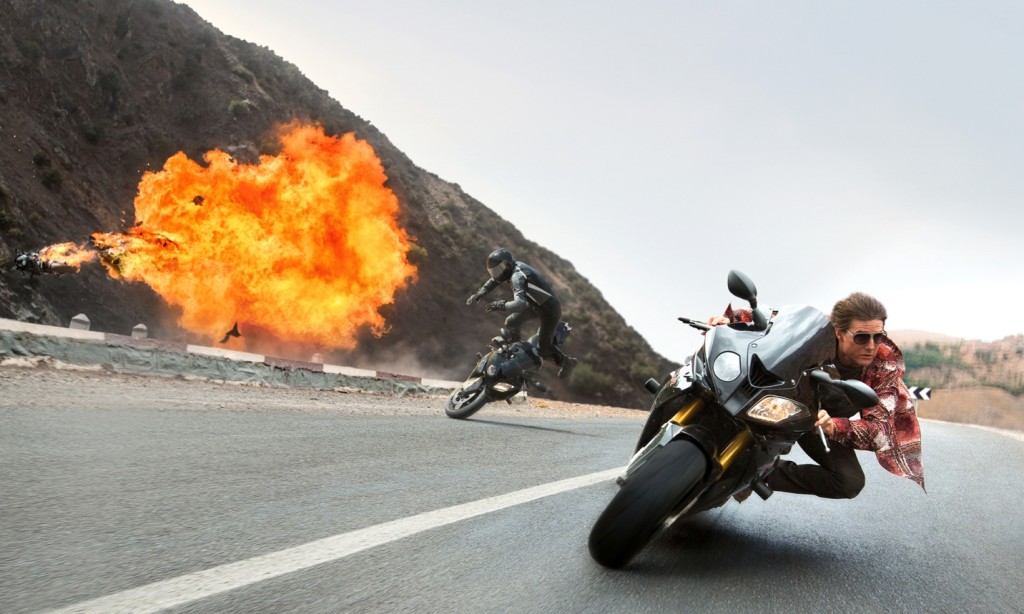 The second thing that really makes this movie pop is the character of Ilsa (Rebecca Ferguson). This is an interesting character because she is established as highly competent very early on, and in her initial scene she is working for the bad guys but then helps Ethan Hunt escape so she's a good guy, but then she explains to the bad guys that she did so to gain his trust so she could use him but then she tells Hunt otherwise and by that point, this character is a total wildcard, and we can't believe a word she says. So then when there are scenes in which she is working with Hunt, we have to wonder what her real intentions are, and it adds a proper sense of mystery and uneasiness to the story. And it also helps that Ilsa is a total bad ass and portrayed very well by Swedish actress Rebecca Ferguson, who more than holds her own in scenes with our current King of Action Mr. Cruise. She is totally believable and fun to watch and I wouldn't mind at all if this Ilsa character pops up again in future M:I movies.
But really, like with all these films, it all comes down to Tom Cruise and his continued efforts to bring us top notch entertainment, often at the risk of his own life and limb. In this movie he learned how to hold his breath for up to six minutes at a time so he perform an underwater stunt, and he strapped himself to the side of an airplane and flew 5,000 feet in the air simply for the opening scene. He does his own car and motorcycle stunt driving. He seemingly has a death wish that can only be sated by either actual death or failing that creating kinetic and exciting art. And we are all the better for it. This has nothing to do with his personal life, what he may have said in the media, what the tabloids say about him, what couches he may have been hopping on, or anything like that. This is all about making a cool, kick ass movie, and he has done this time and again ("Edge of Tomorrow" anyone?) and we are seriously all the better for it. And who is going to take this guy's place when he's finally too old to do this stuff? Jai Courtney? Luke Bracey? Chris Pine? These fellas COMBINED don't equal one Tom Cruise, ya dig?
Of course this movie also has all the other things that we've come to expect from a M:I film, like the cool gadgets and gizmos that enable them to pull off increasingly complex heists and whatnot, and of course what may be my favorite moments in all of these movies, the scene in which it is explained to the IMF team what kind of crazy thing they have to pull off, with a thorough explanation for what makes each particular mission especially impossible. Like when Ethan explains to Luther (Ving Rhames) all the security protocols at CIA headquarters that they have to get through in the first movie, or when Ethan finds out about the computer mainframe housed in an underwater chamber that he has to infiltrate in this movie, it is exciting to see all the crazy shit they have to contend with and then how they decide to do so. They never shy away from this stuff and really embrace what sets this particular series of spy-based stories apart from your James Bond movies and John Le Carré adaptations.
Do you want a fun, well made action movie with suspense and thrills and cool ideas and awesome stunts? Then look no further, we got ya, the answer is right in front of you, right under your nose, just waiting to be enjoyed by you. A man put his life on the line for you, the least you could do is watch the resulting product. And you will most likely not be disappointed.