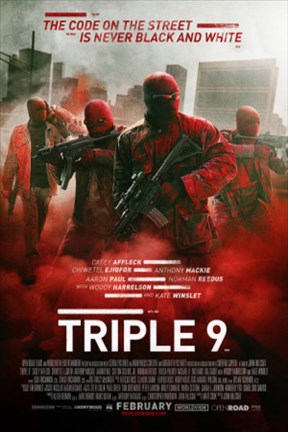 "Triple 9" is like a bacon cheeseburger that looks great but ends up being mediocre; all the right ingredients are there, it looks very well assembled, the patty is big, the cheese is melted, the bacon looks crispy, this thing looks like it should be awesome. But then you eat it and realize the meat has no seasoning, and the ingredients are kind of limp, and despite looking awesome, ends up being bland and forgettable. Its like someone knew how to make a burger, but didn't put any love or care into it. This could have been a great meal, but instead it was just basic and uninspired.
"Triple 9" follows a lot of characters, which is its first problem. There's Mike (Chiwetel Ejiofor), who runs a small crew that does jobs for a Jewish Russian mob family. His Baby Mama (Gal Gadot) is the sister of Irina (Kate Winslet), who runs the family on behalf of her incarcerated husband, so its a little complicated for Mike when it comes to working with these folks. Meanwhile, his crew is made up of a friend (Norman Reedus), his friend's ex-cop turned junkie (Aaron Paul) and two crooked cops (Anthony Mackie and Clifton Collins Jr.), and they are tasked by the Russians to take on a very difficult heist, so they have to come up with an extreme plan to pull it off.
This plan involves a cop who just transferred to their district, Chris (Casey Affleck), a classic ideologue who just wants to do his job and doesn't get along with his partner right away, what a shock, and also he seems to kind of yearn for his days in the military maybe? And his uncle (Woody Harrelson) is a respected vet with the same police department who is your typical cynical older movie cop who means well but still drinks while armed and smokes weed found in a suspect's garbage during a stake out. And if you were to ask me what was the ultimate point of this uncle character, I couldn't say anything beyond his freak outs over whenever he thinks his nephew Chris is in danger. I guess he's what Chris could turn into in twenty or thirty years? I dunno.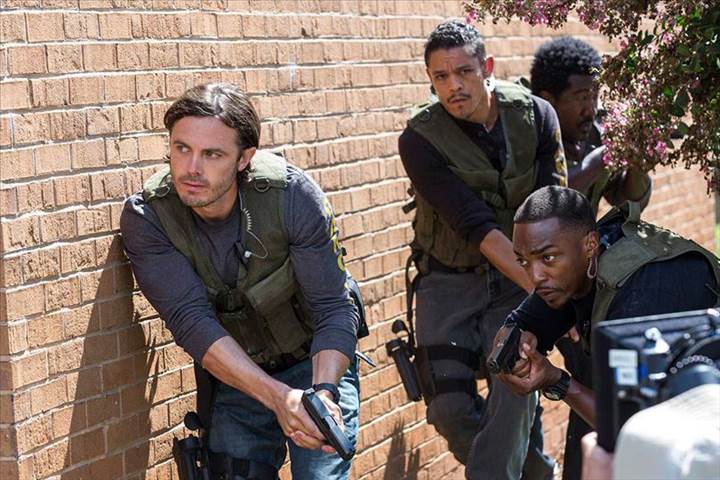 That's the main problem with this movie, there are too many characters and at just under two hours, there isn't enough time to see who these people are and what makes them do what they do. Chris is just a nice guy who means well. His partner Marcus (Mackie) is a dick to him just because he's the new guy. Mike seems like a nice guy, despite the whole being a criminal for hire deal, and he seems like a good dad, though his son is kept from him a lot. Irina is merely cruel, Franco (Collins Jr.) is greasy and Gabe (Paul) is sweaty and guilt-ridden. And all of these characters are thrown into a sort of complex plot that involves betrayals and things going wrong leading and a little bit of mystery, and the movie never takes a moment to really tell us anything about these people. How and why did Mike hook up with the Russian chick and why do they still seem to kind of get along and maybe also still have sex? On the surface it appears to be a very complicated relationship but we never get any reason as to why. And Chris and Marcus don't get along, until suddenly they do after going on a raid together. We get no reasons for anything, things just happen or exist as is because the plot calls for it, which means when it is all over, there is no reason to care about these characters and what happens to any of them because they are just ciphers, never coming across as actual people.
Which is a bummer because John Hillcoat has made some tough, interesting movies like "The Proposition" and "The Road," and his version of a down and dirty cop drama slash heist movie has a lot of potential, as he's become a reliable go to filmmaker for harsh and violent movies that go places that other mainstream movies wouldn't. But in "Triple 9" this level of insanity only comes up a couple of times, and that level of danger and dread is missing from much of the proceedings. This probably also ties in to the lack of characterization because by the end of the movie, the danger doesn't exist because the characters are mostly meaningless. Hell, the movie overall is kind of meaningless because what is even the point of this movie, the main theme? Redemption? Not really, the characters who might need redeeming don't get it and don't even seem to want it. The tagline on that poster is "the code on the street is never black and white," but did we really need another movie in which the cops and the criminals are shown as being so similar? If you're not going to do this better than "Heat," why even try?
Ultimately pretty disappointing because this has potential to be a better movie, "Triple 9" is going to go down as a forgotten mid 2010s cop drama, like the dozens that have come before it and the dozens surely to come after it.