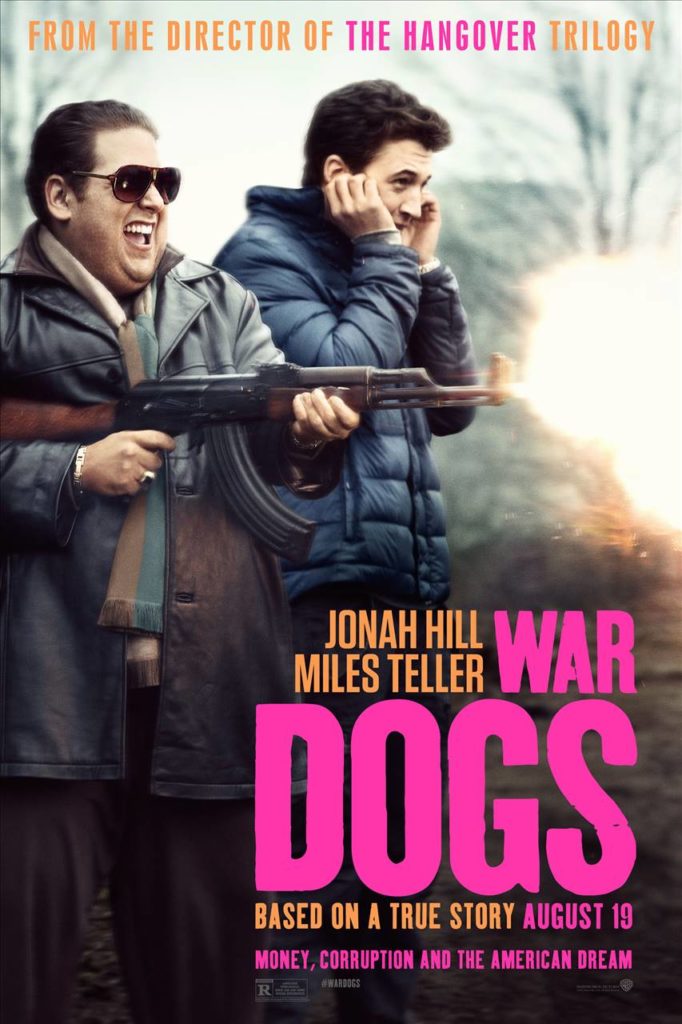 An indictment of the for-profit war machine and sloppy government pandering…from the director of "Road Trip" and "Old School" and "The Hangover" trilogy? It happened, and it is called "War Dogs," a cinematic adaptation of this 2011 Rolling Stones article detailing how two twenty-something dudes from Miami managed to get rich off of fulfilling government contracts for military weapons and supplies. One guy was sociable and worked very hard, and the other was a sociopath with the big vision and gumption to make things happen, and they enabled each other to dream bigger than ever, which as we all know in a story like this, could only lead to ruin. But what a ride on the way there.
David (Miles Teller) is fresh out of dropping out of college and he's trying to make ends meet while living in very expensive South Beach Miami by massaging rich men for $75 an hour and trying to sell bed linen to retirement communities. When his stupidly hot girlfriend (Ana de Armas) lets him know that she is pregnant, he finds added pressure on him to find a way to make money and be a provider to the woman he loves and the baby he is stuck with because come on it's not like they planned that shit yo. And those very one-dimensional descriptions of her character are apt because she only exists in this movie to provide motivation for David and to try to get some sympathy from the audience. She's not a character. She's a plot device with ridiculous eyes.
Enter Efraim (Jonah Hill), a childhood friend of David, back in town after living in California and learning some small time weapons dealing tradecraft from an uncle, and he has a way to make hundreds of thousands and eventually millions of dollars from the country's biggest purchaser of weapons – the United States government. Thanks to some random Bush-Cheney backdoor deal corruption bullshit with some weapons contracts led to an over correction by the now infamously poorly run Bush administration, privatized companies had a chance to place bids of supplying all sorts of government contracts. Efrain set up a bullshit company with a nonsense acronym to place bids on the really small deals that fall through the cracks and he managed to make lots of money for himself in a very short amount of time. And with Efraim being childhood friends with David, he decided to bring him in as a partner to help find these little lucrative deals for things like helmets and night vision goggles and very small orders of guns, with both of them making tons of money along the way.
And soon, two twenty-something stoners with no formal education and no initial connections to the world of international arms dealing found themselves bidding on and winning significant government contracts; for a short while these schmucks were two of the biggest arms dealers in the entire world. But with this growth of their company came an exponential growth of ego for Efraim, who already comes across as a total sociopath and now is a sociopath with money and weapons, which makes him dangerous. And despite David trying to keep things sort of on the up and up, Efraim makes some decisions that are not legal and gets them in some serious shit.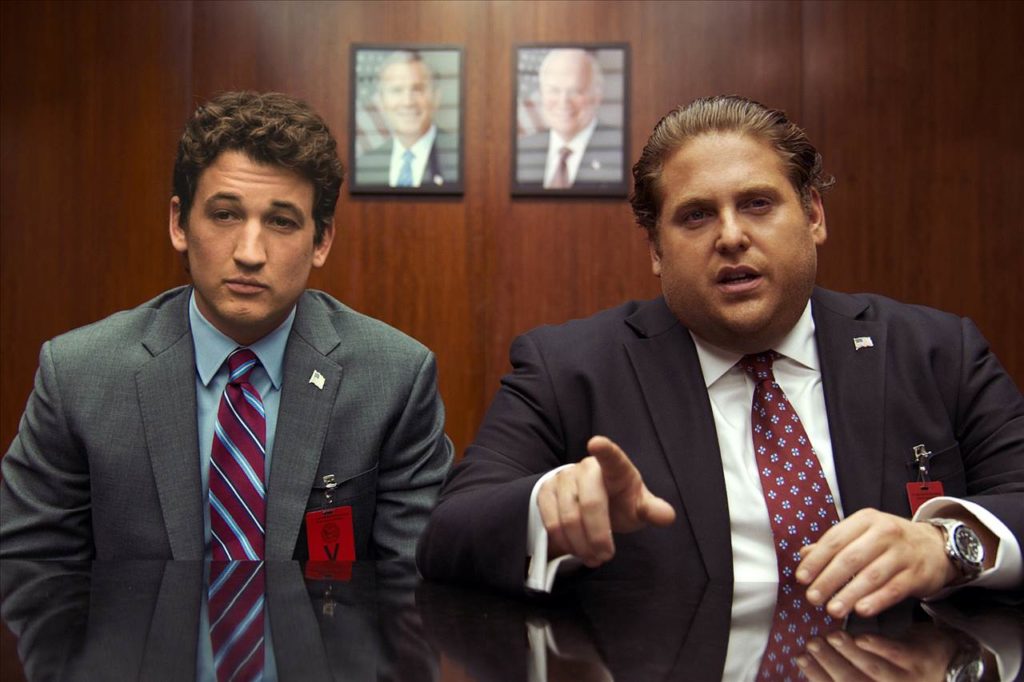 Jonah Hill steals the show with the flashier role of Efraim, a guy who relishes in starting shit with other people while taking absolutely none of it from anyone else, and it is obvious he had fun playing this kind of character. With Efraim, he gets to look overly fake tan and talk down to everyone and shoot guns at all sorts of inopportune times and just really get off on making incredibly bad decisions, and it is the kind of person who is fun to watch in a movie and probably horrible to know in real life. Meanwhile, Miles Teller is good with the more grounded and centered role of David, though without the "I need to impress my hot girlfriend and feed my new baby" part of his story, the character just comes across as a lazy sad sack, with no ambition or dreams. So then money becomes the main reason for him going down the path he does with Efraim, which is fine, we all understand that the love of money is the root of all evil, but the added girlfriend and baby just feel more lazy than effective. The role would have definitely benefited if they found some way to differentiate David from any other general white movie protagonist getting mixed up in a scheme bigger than he realizes.
David's good naturedness and bullshit "family life" are meant to make us root for these guys and understand them and their whole pro-money thing, as they take advantage of this system while we watch them do it. "War Dogs" mostly pulls this off through Teller's performance as a Steve Guttenberg or Bob Saget level 80s charming goofball despite the tacked on family storyline, while Hill's Efraim exists on that same wavelength as Joe Pesci in "Goodfellas" or the whole crew of douches in "Pain and Gain," another movie based on an article about some out-for-themselves Miami guys.
As a director, Todd Phillips has always added a more cinematic flair to his movies than most other comedy directors, favoring different lighting choices and using more widescreen framing than the typical "shoot 'em bright" directors. Because of this, the style switch from comedy to (mostly) drama isn't jarring, as it works out pretty well actually. There are some annoying "on-the-nose" musical choices though, like in the recent "Suicide Squad" (though nowhere near as egregious) – for example, can we please call a moratorium on using "Fortunate Son" in any instance alluding to the US Military? Because they do that here and it is really kind of awful when it happens. Just one example. I won't give others. Why dwell on it?
But overall "War Dogs" is a pretty good movie, though not as epic as it surely could have been. Maybe because we are given nothing about Efraim's personal life, as the movie is told largely from David's perspective, and he has a pretty "normal" living situation, but who the fuck is Efraim? We're told he has problems, but he usually only interacts with David and when Davis is around, we never see him on his own doing his thing, and he exists as kind of an enigma. What does he do in his spare time, just hang out in clubs and try to get laid? (we see him do this twice in this movie so that might be it for recreation for him). We just know Efraim shows up in scenes, is a psycho, does crazy shit without fear of reprisal, and then exits stage right, more like a force of nature than an actual character. And it feels like "War Dogs" lands in the middle of that characterization and doesn't choose a side, and maybe it would have been more memorable or intense if Efraim was either more grounded and relatable like David or if he was an even bigger monster and just became more mythic and legendary in the destruction he leaves in his wake, like an amoral and money hungry godzilla of people-sized proportions.
Good but not great, definitely an interesting story, with great actors who all do their jobs well, but not exactly something that will go down as memorable and loved as the classic it repeatedly references within this story, an inspiration for both Efraim and Todd Phillips, the ultimate Miami hustler turned uncaring monster movie, Brian de Palma's "Scarface."