In "Suicide Squad," a ragtag group of suicide squaders doing some suicide squadding and battle some sort of vague magic, while something close to thirty different songs get briefly played to convey some sort of feeling of I guess "fun." Also Jared Leto is a tattooed Joker and Ben Affleck's Batman shows up for two short scenes, one quick "dream sequence," and a boring mid-credits after-movie scene in which no new information is conveyed beyond what fans of these films already know.
What could have been either a wild romp of a comic book movie or a brilliant anti-hero subversion of what we've already seen dozens of times instead turned into a movie that tried to be both at the same time, and that really just doesn't work. You can't have one character openly pine for his young daughter while another mugs for the camera right next to him. It's one or the other. Serious or light. "The Dark Knight" or "Guardians of the Galaxy." That middle ground is brutal.
Also, just to get this out of the way right now, can we please be done with the tired "energy beam shooting into the sky from a building in the middle of a city" trope? The one the heroes always have to shut down to save the city or world or universe? You know, the one used in "Marvel's The Avengers" and again in "R.I.P.D.?" Also used in the most recent "Fantastic Four" and "The Amazing Spider-Man" and "Ghostbusters" and there are also variations of this trope used in "Man of Steel" and "Avengers: Age of Ultron," just to name a few examples. There's always a big colorful swirling vortex over the city either sucking things in or spitting things out, and terrible things are happening, and then it gets stopped by the good guys and the vortex goes away like it was never even there. We've seen it a lot, and if you see "Suicide Squad," then you are going to see it again.
In this movie, CIA agent Amanda Waller (Viola Davis) gets approval from the government to assemble a team of mercenaries comprised of various supervillains they have under lock and key. So they get a hitman with a daughter and a sort of conscious named Deadshot (Will Smith), the Joker's girlfriend Harley Quinn (Margot Robbie), some guy with boomerangs and an accent (Jai Courtney), a Spanish dude (Jay Hernandez), a crocodile man (Adewale Akinnuoye-Agbaje) and a bunch of other randos, all led by super bland normal guy Rick Flag (Joel Kinnaman). That level of description applies to the whole team, all the way down the line like that. The biggest stars in the group, Smith and Robbie, get the most screen time – hell, they each get TWO introductions before we meet any other member of the squad – and the other members of the group get much smaller parts to play and little to no character development.
One character doesn't even get an introduction like everyone else, he shows up to join the group last, says one line, grunts another, and then dies. And if you've been paying attention to the different trailers, you can see which "member" of the squad is missing from most of the scenes and hence which one I am talking about. Also there's Katana (Karen Fukuhara), a Japanese character who exists only to protect FlalLlwho talks very sadly to her dead husband's soul, which is trapped in her magical sword, which traps the souls of those killed with it inside the blade somehow. And if you think this little detail will then play out somehow in this movie, rest assured that it most certainly does not. And Flag has his group of normal humans whom accompany him and the squad on their mission, and only one of these guys gets any dialogue, and yes, they are all pointless. At one point they literally just walk out of a scene and then I think they just stroll back in later? I can't remember. This movie is already slipping away from me.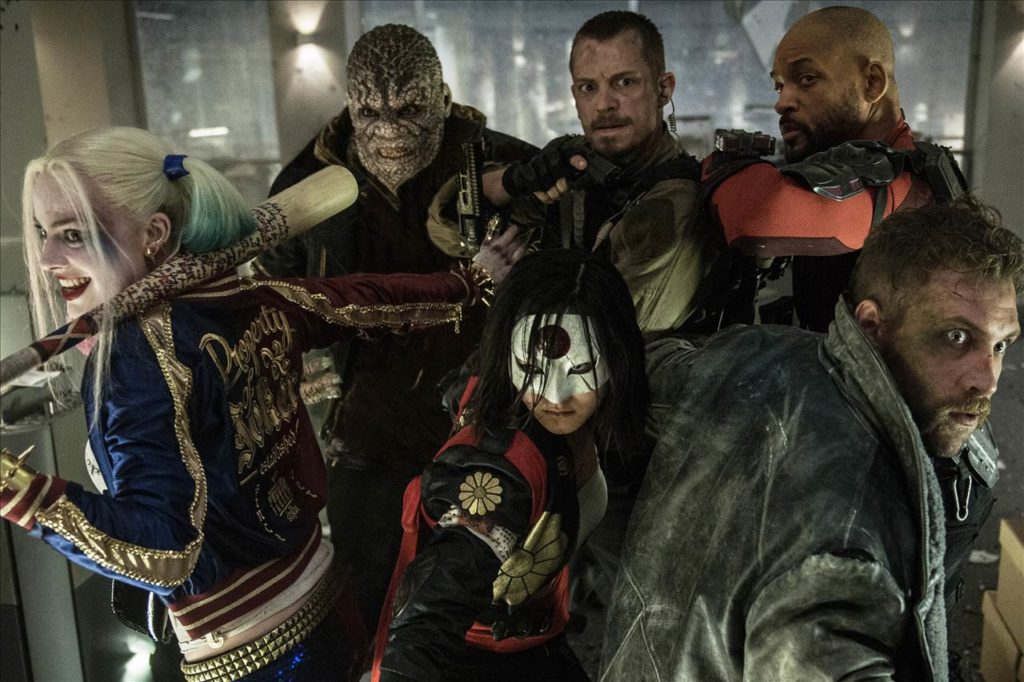 That's because the plot and story are surprisingly dull. Some sort of ancient spirit gets awoken by the world's worst archaeologist or whatever the hell she is, and this ancient spirit wakes up its ancient magical brother and they become CG things and open that previously mentioned energy portal or whatever because they want to take over the world or something, you know, really basic, rote supervillain shit. And what makes this frustrating is that this movie features the Joker, so why they didn't just make the Joker the ultimate bad guy is beyond me. Just have the squad assembled by the government to stop one of his patented "poison a whole city" plans, and then having Harley Quinn forced to join the squads against her will just creates more natural tension and drama. But nope, the Joker is a minor character who pops up on occasion to barely affect the plot, and exists mostly in Harley Quinn's backstory flashbacks. A wasted opportunity.
Or is it? Because Jared Leto's Joker was…interesting. Like Jesse Eisenberg in "Batman V Superman: Dawn of Justice" interesting. We have these references so we might as well use them at this point, but this Joker feels like a mix of the over the top mannerisms of Caesar Romero's Joker and the menace of Heath Ledger's turn in the clown paint, but more forced than either of those two. Also he's kind of a mob boss in this movie, and the Joker has had mob ties in previous movies and comic books so that's nothing new, but he's kind of vague about what he wants or what he does, he seems strangely directionless when he's not trying to reunite with Harley Quinn. And that's on the story and the final edit because no matter how over the top he acts, if his character isn't given anything to do or doesn't have a real reason to be included in the movie, then it is just set dressing, and Jared Leto does not want to be set dressing.
It seems this Joker is quite divisive, some like it, some don't; I personally wasn't sold on it initially but kind of warmed up to it as the movie progressed, though his involvement did diminish quickly throughout the story. And Leto has already said that much of his work had been cut from the film, so who knows what the full extent of the performance was, maybe it would have made more sense in its complete form. There were scenes and moments where it was working great, and others that felt forced, and at least one I can think of that was definitely hurt by the weird hyper editing forced on a lot of the film in order to tone down the obvious darkness and many, many deaths.
I always thought it was a weird and bold decision to give a big budget PG-13 action movie to a director like David Ayer, who is known for making hard movies, always violent and intense, and sure enough, this movie is really intense and crazy and all the pop music in the world ain't gonna cover that up. There's a scene in Harley Quinn's backstory in which she is being held down on a table by some criminals, and it has a VERY rapey vibe to it, and the Joker comes over and starts to torture her, and she seems to be get into it right when they start, which gives the scene a very weird Susan George in "Straw Dogs" vibe that seriously ain't good for the kids that surely show up to see this thing because they see the Joker and Batman in the commercials.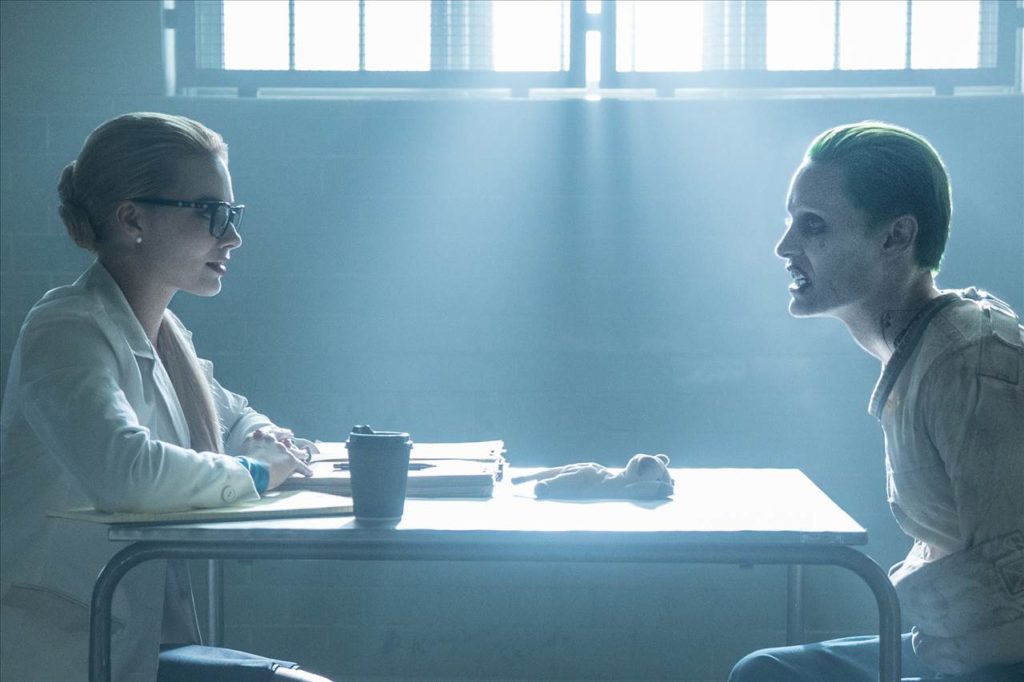 And Ayer loves doing lots of machine gun action in his movies, and this one is no exception, as there are multiple scenes of henchmen showing up in crazy masks (which I liked) and mowing down both people and people that have been turned into weird blobby CG creatures, all of it extremely bloodless, which is exactly the kind of desensitized violence that we for sure need a lot less of because it serves no purpose. A movie featuring this much violence in such a casual way is kind of irresponsible, like so many other big budget PG-13 action movies out there. It's why that one PG-13 "Die Hard" movie was such a betrayal to what made those movies good to begin with. It's why people are starting to take movies like "Man of Steel" to task for the rampant destruction causing unseen deaths by the hundreds if not thousands. Everything from the "Transformers" movies to stuff like the "X-Men" and "Fast & Furious" movies feature scenes in which people for sure die gruesome deaths, like families and stuff, just out for a drive, or int he wrong building at the wrong time, and the consequences for these deaths are always unseen, just collateral damage. At least the Marvel movies have started to work in these civilian deaths into their plots with "Captain America: Civil War" and DC felt the need to course correct and make those deaths in "Man of Steel" a crucial plot point in "Batman v Superman," and that's a step in the right direction. I would for sure show a teenager something like Steven Spielberg's "Munich" over a "GI Joe" movie, for many reasons.
It also must be pointed out that this movie, while having one of the most diverse casts in a comic book movie yet, is still somehow both racist and misogynistic. The only Asian character is a sword wielding stereotype, named after her sword, and the only Hispanic character in the movie is a tattooed up gangbanger with anger issues and a history of domestic violence. Harley is positioned as a strong female character on the surface, as she can handle herself ina fight and insists on doing what she wants whenever possible, but really she's pining for her abusive relationship with her psycho boyfriend who hurts and manipulates her many times over, and at one point it is even revealed that this "feminist hero" really just wants to have a suburban, domesticated life with two kids and a husband who wears a suit to work while she is just a Susie Homemaker.
Also another woman gets punched in the face and it is treated like a punchline. That was weird.
Yes, "Suicide Squad" is a movie about villains and no one wants to see a movie about characters who are perfect and always do the right thing, but this movie is just kind of mean spirited and ugly in all the wrong ways. Jai Courtney plays his role as a bit of a rascal and as such he ends up being one of the more fun characters in the group, and of course Margot Robbie gets to do all sorts of mugging and fun stuff with her role (between scenes of her being used by the Joker and offered up as a sex toy to gangsters and whatnot), but everything else is just blah and strangely lifeless. Like, here is this really rag tag group of people who never worked together before and know each other by reputation, and they all have extreme character traits that should make for weird and interesting interactions between them, but none of that happens. They don't struggle to come together as a group, they just become a group, and it mostly works out just fine for them all because duh.
A big missed opportunity, that's "Suicide Squad," with some inspired bits and moments peppered through an otherwise uninspired story, a string of cliches and contrivances, both under lit and over stylized, an ultimate bummer of a movie.