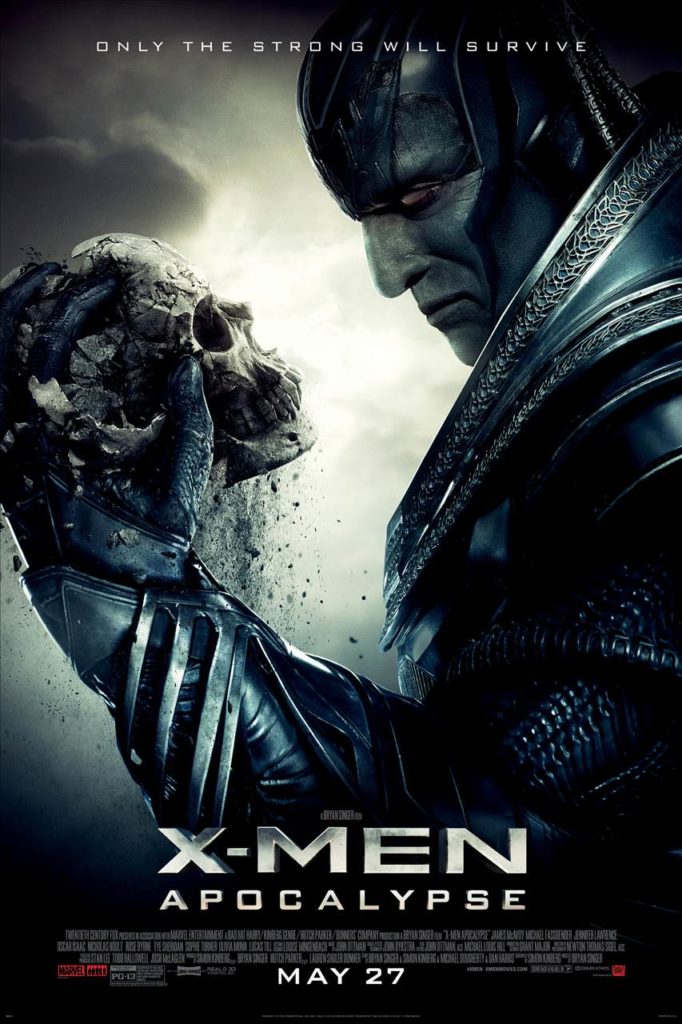 "X-Men: Apocalypse" is the end of the second trilogy of X-Men centric movies, so if you are not onboard this particular train by now, this is not the movie to try to jump on, lest you don't mind watching movies in which most of the character development has already been done in prior installments and references are constantly made to previously told stories. This is a culmination of serialized storytelling, and if you haven't seen any other X-Men movie but watch this one for some reason, that is like just watching the season finale of the second season of a television show you've never seen. Sure lots of stuff happens, and it seems exciting, but does it mean anything without the years of build up?
The weird thing is that this movie is actually doing two things – it both ends this trilogy of movies (started with "X-Men: First Class" in 2011 and followed by "X-Men: Days of Future Past" in 2014), and also introduces new, younger versions of characters who will be the focus of the next X-Men movies. So certain characters (or at least certain actors playing these characters) are having their last hurrah while others are fresh faces and get to do just enough to set them up for whatever comes after this. And rest assured, there will be more of these, because why would 20th Century Fox ever stop making them? It is the only comic book franchise they do even close to right and which makes them any money (just look at how well they did with Fantastic Four and Daredevil). So get ready for high school Cyclops and Game of Thrones Jean Grey and twenty year old Nightcrawler and so on and so forth.
So in this particular episode, an ancient godlike entity considered to be the first mutant awakens from a very, very long and he finds himself in the most horrifying and sinful time in all of human history – the 1980's. This is Apocalypse (Oscar Isaac), though he is never called that, and he finds out that humans have become weak creatures in a society that worships man made idols and power structures, all rampant consumerism and unchecked wars, and seeing himself as the arbiter of the way the world should be, decides to reformat the whole thing. This means having to erase what is there already so he can have a blank slate to work with, which means having to, you guessed it, destroy all of civilization as we know it. You know, standard apocalypse type shit oh man that's crazy now I get why he's called that it all makes sense now.
He finds three random mutants – Storm (Alexandra Shipp), Psylocke (Olivia Munn) and Angel (Ben Hardy) – and then he recruits Magneto (Michael Fassbender), which is possible because while hiding out in Poland as a wanted fugitive and well known mutant and hater of humans (as per the ending of the last movie), an unfortunate series of events leads to the death of his wife and daughter, and Apocalypse taps into this anger to get him to agree to help destroy the whole world. These guys are supposed to be his new Four Horsemen of the Apocalypse, but they rarely do more than stand around him in cool poses and watch as he makes the same declarations about destroying the world over and over. And finally when they do get into the action at the end, it is for one scene and none of them save for Magneto does much of anything, while Magneto floats in the air and holds his hands out and digital swirls of matter fly all around him.
Meanwhile Charles Xavier (James McAvoy) is running his school for mutant kids and teens, which includes the Beast (Nicholas Hoult), the telepath Jean Grey (Sophie Turner) and new student Scott Summers (Tye Sheridan), who most people know as the guy who shoots red lasers from his eyeballs, and Mystique (Jennifer Lawrence) shows up with German teleporting blue demon Nightcrawler (Kodi Smit-McPhee) just in time for them all to somehow get wrapped up in Apocalypse's plans to end the world, which includes kidnapping Professor X. This leads to more debating between Professor X and Magneto about living side by side with humans versus ruling over them as the better and evolved species, but at this point conversations like this feel perfunctory because we know where each character stands because they've had these discussions many times already. Sometimes they work together, sometimes against each other, and really it all comes down to Magneto's mood at the end of the day, does he feel like giving peace a chance or is he pissed because he stubbed his toe that morning and blames shoddy human feng shui for his pain?
Anyway, outside of Magneto's early scenes with his family, showing him happy for a moment so we can then we see it be taken away, there isn't much character drama in "X-Men: Apocalypse." Mystique is living on the downlow, rejecting her status as hero to other mutants, so of course by the end she has to become the leader of this particular grouping of heroes but this has also been a development in the making for three full movies so really all that's happening is the final push over the goal line for this character. Scott and Jean are portrayed as young mutants still afraid of their own powers and how to use them properly, but this is all of maybe four or five scenes of this movie and really isn't explored. They are unsure of how to use their powers in the beginning. And then they just use them in battle in the end. There is something missing in the middle there. But that time is spent with the four horsemen instead – who we established don't do much of anything for much of the movie save for look like the world's most flamboyant yet dangerous posse.
It just feels like a case of too many characters and not enough character development, because most of them exist in this movie as either fan service or plot service, but rarely to help the actual, you know, story. It is like how this movie is set in 1983, which is not a completely random choice. The 2011 X-Men movie was set in the 1960's and the sequel to that took place in both the far future and the 1970's, so it makes logical sense to set this current movie in the subsequent decade, the 1980's. But unlike the previous movies, this one feels absolutely unaffected by this placement in time – this might as well have been set modern day when it comes to style choices and the way everyone looks and acts. A few characters have bad haircuts and Xavier wears a lavender shirt under his sports jacket like he just finished auditioning for "Miami Vice," but otherwise the absence of the internet and cell phones is the only thing making this not a modern setting. It could have tied in to the Cold War somehow, or any number of political or social issues of the time, because the X-Men has always been a way to tell stories about oppressed minorities and opposing ideologies, but this is not the case, the movie is merely set in 1983 so that it can be set in 1983.
All of that being said, enjoyment of "X-Men: Apocalypse" will depend largely on how much you like these films already. It is a lot like the most recent James Bond movie "Spectre," which had the misfortune of being the follow up to the most critically and commercially successful of all the Bond movies in the form of "Skyfall," so while still being okay on a James Bond level, delivering many tropes of the genre and series successfully, it still paled in comparison to what came before it. And "X-Men: Apocalypse" just isn't as good as the two movies that came before it, while still delivering a number of X-Men things that have become expected, like that Xavier-Magneto debate, or at least one good Mystique fake out, and a decent mix of humor and gravitas. They take things seriously but still know when to throw in some jokes to even things out, which isn't a given when it comes to comic book movies, which can go in either direction too hard.
Not the most memorable of the bunch, "X-Men: Apocalypse" for the most part accomplished what it set out to do, but did they try to do enough with this? There is definitely a lot of potential that got left on the table, which is unfortunate because they had a chance to make something really impressive, and instead seemed to settle for just another edition of this ongoing tale of mutants trying to live among humans.