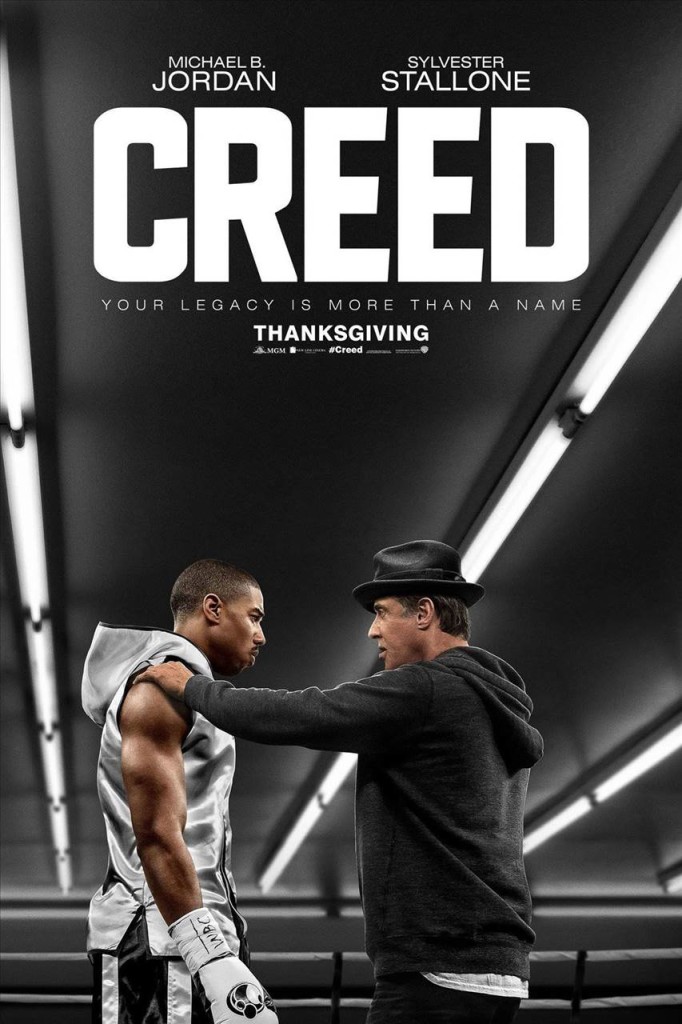 "Creed" is an amazing movie, if only because it is the seventh installment in a series of films that people thought should have ended over twenty years ago, and really this should have been a crappy movie, with a story thrown together by some hacks, put together all in the name of making a few extra bucks and exploiting the good will amassed by decades of previously successful movies. No one could be blamed for being cynical about this endeavor – even Sylvester Stallone was reportedly reluctant to agree to this movie because of how hard it was to make "Rocky Balboa," a movie which itself works as a nice send off and closure to a film character and series that has been with us in pop culture since the mid 1970s. But Stallone eventually saw the potential, and he agreed, and now here we are with a sort of sequel spin off movie, featuring the son of a character that was never the main character of these stories and who died four movies in, and lo and behold, against all odds, this is not the cynical cash grab people initially feared but instead is a heartfelt, genuine, character-first drama, the kind of movie that made the original "Rocky" so popular to begin with, the kind of story that puts its characters ahead of the plotting and which gives us actual people to root for and identify with, and in the end, just flat out works.
Adonis Johnson (Michael B. Jordan) lived his whole life without knowing his father Apollo, who died in the boxing ring before Adonis was born to Apollo's mistress. With no father and a mother who eventually died, Adonis was taken in by Apollo's wife Mary Anne (Phylicia Rashad) and raised in an environment that would hopefully give Adonis a leg up, giving him a life that wouldn't have to involve getting punched in the head for a living. But Adonis is his father's son, and he can't stop himself from fighting, and against Mary Anne's wishes, he sets out to become a professional boxer. And when no one in Los Angeles would agree to train him, he travels across country to Philadelphia, finds Rocky Balboa (Stallone…duh), and wears him down until he agrees to work with Adonis as his trainer. With Rocky in his corner, Adonis learns that he still has a lot to learn, not only in the boxing ring but in life in general. And of course, Adonis comes into Rocky's life at a time when Rocky needs someone to lean on, whether he knows it or not.
Not to repeat myself, but quite simply, "Creed" works. Over the course of six movies, we already have a fully realized character in Rocky Balboa, a person from the get go who was always defined by the duality of his self-doubt and his knowledge of his own worth, which other people always underestimated. So when we pick up with Rocky Balboa again in this story, almost a full decade since we last saw him make his one-shot comeback, we know where's he's been, we know what he's been through, and we know that this lovable bum is on the outs, both physically and emotionally. Having him visit the grave of not only his wife Adrian but also his brother-in-law and best friend Paulie speaks volumes about where he is in his life. This is a person looking down the barrel of mortality, and worse yet, he is a person who knows this is inevitable, as he feels like the last one to survive. Rocky went from underdog to champion and back to underdog from movie one to movie six, and now he is beyond that, no longer thinking in those terms, but instead thinking in terms of life and death. Everyone is gone, his son has moved far away and rarely calls, and Balboa is alone with his legacy and his memories.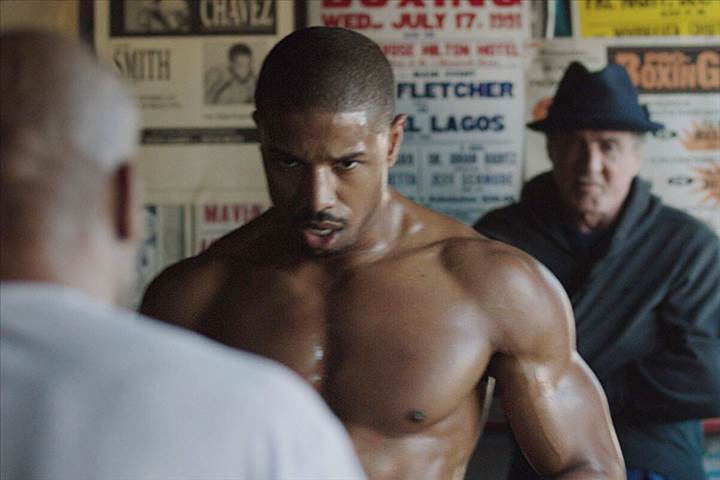 So when Adonis walks into his life, announces who he is, and says he wants Balboa to train him, to get him back into the boxing game, we can see why Balboa would be so hesitant to do so – this is going to bring up old memories, painful ones, and he seems to be in a place where he is ready to kind of give up on life, as he just waits for death to finally come and reunite him with those he has loved and watched leave him. Little does he know he has some life left in him, and Adonis comes around just in time, ready to wake this up from inside him, ready to show him that he doesn't have to be alone in this world anymore. And of course this movie is called "Creed" so he is our main character, not Rocky, and he ends up being just as fully formed and lived in and real as Rocky felt all those years ago. Adonis is in the shadow of a man he never met and wants desperately to break out and build his own legacy, but can a person really do that without embracing their past and accepting it? He insists that his long dead father has nothing to do with him, but we all know this is a lie, his father has everything to do with Adonis and who he is as a person. And when Adonis sets out to achieve his dreams, he runs into roadblocks everywhere he turns, forced to train himself for years, driving to Mexico on the weekends to box nobodies in dive bars, and though he is inching toward his goals, he is also going forward very slowly and without encouragement, which is tough. When Rocky agrees to work with him, he provides Adonis something which he never had before in relation to his goals – a support system. Someone there to help him, tell him when he's doing well, show him what he's doing wrong, and push him to be a better boxer and a better person. Showing the trainer-boxer relationship in this way and emphasizing how it can be like a father-son relationship goes a very long way in this movie, as these two characters both need a lot in order to get by, and they find what they need in each other.
This is about more than just Rocky and Adonis helping each other out, as it is also about Adonis figuring out his way through his life. Outside of wanting to be a boxer, he is kind of purpose-less, and he struggles mightily with his sense of identity. Just who is he? What would have happened to him if he stayed in the foster care system and never made it to Mary Anne Creed's home? Why does he have this deep rooted desire to punch everything in his way right in the face? He is a young man driven by his anger, like so many young men before him, and it is up to him to determine where this anger would lead him, and whether or not he would even let it lead him.  And of course this is all fully realized in such an amazing way by Michael B. Jordan that it just feels real, very truthful in his portrayal of a man beset by his doubts of his own self worth, struggling against the tide of denial of others, taking the huge risk of walking away from a life made for him and instead forging his own path, as scary as that path may seem. Jordan nails all of this, as he is emerging as one of our best young actors working today (and hopefully for a very long time).
None of this exists in a vacuum, however, and it should be noted that this is the first Rocky Balboa movie not written by Stallone, but instead by young writer/director Ryan Coogler, who shook up the indie film world with his excellent debut film "Fruitvale Station," and who avoided the sophmore slump by just hitting this one so far out of the park that it has to be seen to be believed. Coogler showed he has directorial skills with the smartly made "Fruitvale Station," but that movie did not prepare anyone for some of the bravura filmmaking on display here in "Creed." Not only does he nail the sequences that are expected from a movie like this, like the two rousing and entertaining training montage sequences that are the hallmarks of the "Rocky" series, but he also brings some new things to the table; there's one boxing match that plays out entirely in one take and is amazing to watch the whole time, and the final boxing match feels like the best mix of the storytelling aspects of the matches from all the "Rocky" movies with the intense immediacy of Michael Mann's "Ali" and the "in your face" viscera of Martin Scorsese's "Raging Bull." Even the introduction of the boxers as they walk to the ring is impressive, with the camera following behind Adonis in one steady shot, mirroring his focus and intensity, which is then immediately juxtaposed with the introduction of his opponent, a huge entrance, blustery and intimidating, a seasoned warrior heading to the field of battle one more time with the war drums pounding directly behind him, it is just all so incredibly done it is kind of ridiculous. To the point where Coogler now joins the short list of young directors whom I will go see whatever they do, no matter the story of genre, because I am excited to see what this person does next.
At this time I really can't rave about "Creed" enough. When we get a studio drama that is this well made, we have to celebrate just a little, because incredibly well made mainstream entertainment like this does not come around often, and when it does we need to jump on it and appreciate it while it is here. So good.
RIP Paulie Pennino