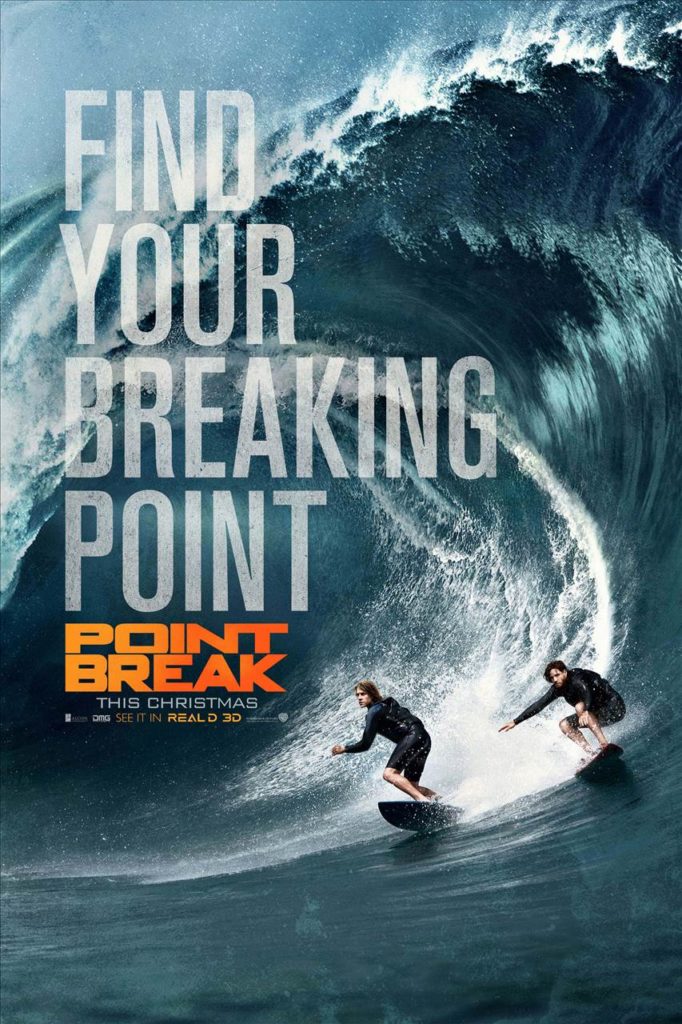 "Point Break" is a weird movie about a straight out of the 1990's "extreme athlete" dude bro turned FBI Agent-in-Training who uses his extreme athlete knowledge to track down and infiltrate a group of daredevil eco-terrorists. Fortunately for him these guys are also a bunch of dude bros, and they even have a pretentious faux hippie chick to round out their general awfulness as people, so he fits right in. Soon enough his allegiances are called into question and he has to decide whether or not to help his new friends or do his duty for the FBI om my god who are we kidding of course he keeps working for the FBI and tries to bring down these bad guys because they are a bunch of a mantra spouting, Earth loving, offering giving, douche bag bad guys.
The movie starts with super dope extreme athlete Johnny Utah (Luke Bracey) and one of his best bros riding dirt bikes on some perilous looking cliffs, and Johnny is all like "It's okay, bro, follow my line" and they embrace and we've all seen movies before so we know right away that this bro is gonna be dead and yup there he goes off the edge of a cliff.
SMASH CUT TO many years later and Mr. Utah is at an FBI training facility (run by Delroy Lindo so this movie isn't a total loss) where he is trying to become an agent for some reason, I guess to alleviate his guilt for goading his broheim to follow him on that dangerous stunt, and much later in the movie Johnny Utah does almost exactly the same thing, leading to someone else's death, and he feels bad about that obviously, and then really that's it. This opening scene and this weird half-hearted running thread of "following my line" doesn't play out in any real meaningful way, and doesn't explain why he wants to work for the government to catch bad guys.
By the time Utah gets his eyes on this case (as an agent-in-training, no less!), this mysterious band of merry men have pulled off impressive heists in multiple locations around the world, and Utah uses his knowledge of hypocritical, self-righteous douches to deduce that these robbers are simultaneously attempting to pull off some mumbo-jumbo called the Ozaki 8, which consists of eight unimaginatively named tasks that involve proficiency in various disciplines such as skydiving, wing suit flying, rock climbing, snow boarding, and of course, surfing. Hopefully in the sequel they can add some parkour and maybe some frisbee golf. And the third move could center on Utah infiltrating an underground hackey sack tournament.
Anyway, Johnny Utah convinces Delroy Lindo to send him into the field to find these guys, even though two scenes prior Lindo was yelling at Utah about how he didn't think he was FBI material. So he hooks up with some out of shape old guy named Pappas (Ray Winstone) and he stumbles ass backward into the cadre of thieves, led by some guy called Bodhi (Edgar Ramirez), and they look into each other's eyes and it isn't necessarily love at FIRST sight, but Bodhi brings him under his wing and recruits him into his gang, which is exactly what Utah wants. He gets close, gets involved, and then gets in too deep. Well, just a little deep. Not too deep really. Actually, he wasn't in any danger really and after 12 days the FBI is all like "we are bringing you in!" and he's like "I need a little more time!" and I'm like "what's the hurry, FBI? He's got this." Which he does. Because it's a movie.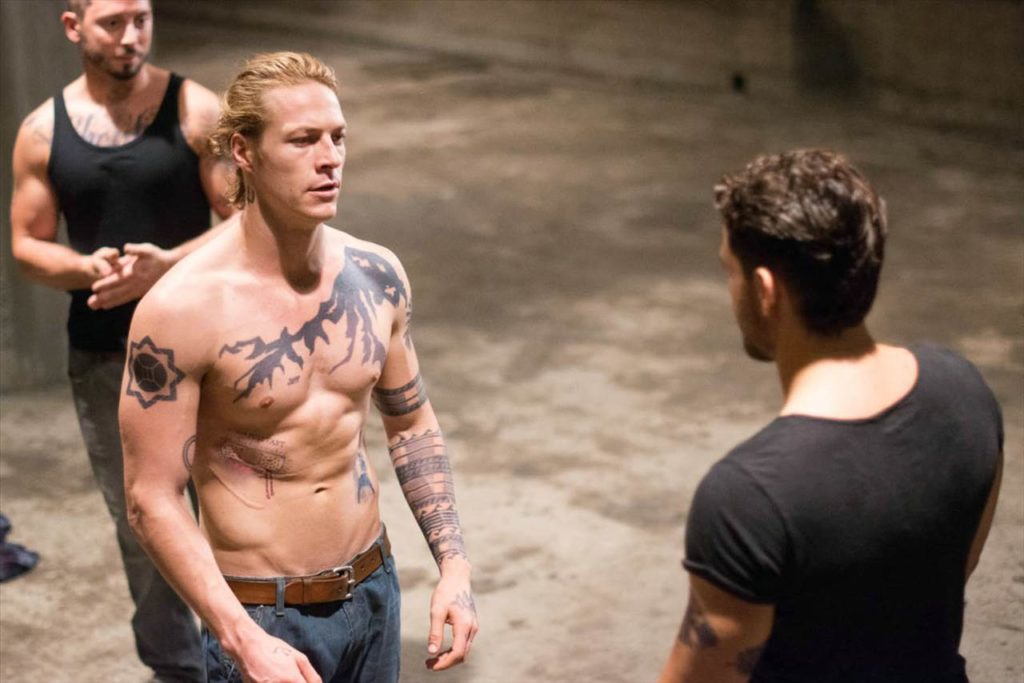 The characters in this movie from the top on down are all as dull as it gets, with little reason given for us to care about a single one of them. There's a lot of assumed empathy going on in this thing, probably due to the filmmakers et. al. banking on a dose of nostalgia is carry it all over. Because when you break it down, these characters are all a bunch of nothing. Bodhi is a bit of a Robin Hood but when he starts talking about giving back to the Earth it all sounds so preachy and phony. This Utah is as bland as it gets, with that bit of guilt thrown in from that initial scene and that's it, maybe he's having a bit of an identity issue, "Am I a hip extreme athlete and super cool or am I some government stooge" type of deal, but there's not enough there to hang a movie on. Bodhi's gang are as interchangeable as ever, with the exception of the lady of the group, the preposterously named Samsara (Teresa Palmer), who immediately hooks up with Utah solely because the screenplay called for it to happen. Pappas is a nothing character who just shows up to yell at Utah every now and then before fucking off, effecting the plot at no point in any way, shape or form. Good for Ray Winstone on collecting that paycheck though. You guys see "Sexy Beast?" See that shit.
The only reason to see this movie is seemingly the only thing they put any REAL effort into, which is the stunt work and extreme sports stuff, like snowboarding down the side of a very steep mountain, or surfing 60-80 foot waves in the middle of the ocean, or 100 mile per hour wingsuit flying through ravines, at times coming inches, INCHES I SAY, off the ground, and it is all done practically without any CG enhancements (save for the scene featuring the production's two movie stars climbing the side of the world's tallest unbroken waterfall without any ropes or hooks or nothing). These sequences are pretty cool to watch, in the same way surf videos are cool to watch. That is if you like your surfing footage split up by boring scenes of inert drama that all add up to a big old bag of nada.
Did anyone expect "Point Break" to be good? Probably not. But it could have been better than boring, which it is for the most part. The stunt work is inspired, and by all accounts they went through a lot to get the footage at much risk of bodily harm to many people, but they could have saved money and just made a documentary about awesome athletic feats and left the dumb eco-terror plot and FBI agent in training turned mole thing on the waste bin.