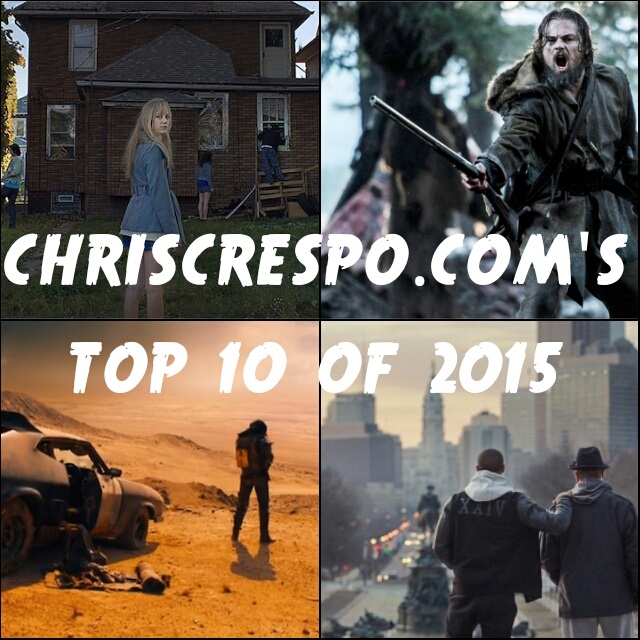 2015 was an interesting year for movies, running the gamut from luscious period pieces, romantic dramas and comedies to over the top science fiction, post apocalyptic action and westerns involving Kurt Russell (which SHOULD be its own genre). It was a good year for raunchy comedies with sweet, emotional centers thanks to "Trainwreck," "The Night Before" and "Grandma." There's been a few solid documentaries like "The Wolfpack" and "Red Army" and "Best of Enemies," and a handful of really well made "real life" movies like "Bridge of Spies" and "Joy."
There were a number of other big budget mainstream movies that were really fun and well made, like "Furious 7" and "Ant-Man" and I even enjoyed the latest James Bond "Spectre" quite a bit. Conversely, there were quite a few excellent low budget and indie films in 2015, ranging from the contemporary housing crash drama "99 Homes" to the Sundance breakout hit "Dope" to the "Mad Max Meets BMX" Canadian hit "Turbo Kid." There was a fantastic vampire mockumentary that more people should see called "What We Do In The Shadows." And for some reason 2015 was the year of the spy action movie, with three of these movies being downright great – the British James Bond send up "Kingsman: The Secret Service," the Melissa McCarthy comedy "Spy" and the supremely entertaining "Mission: Impossible – Rogue Nation."
There was also that "Star Wars" movie which turned out surprisingly well.
But now let us dive into my own personal top ten movies of 2015, my favorites of the year, the movies that I have already revisited multiple times and plan on continuing to do so for years to come.
You can click on the titles to read my original reviews.
10. The Big Short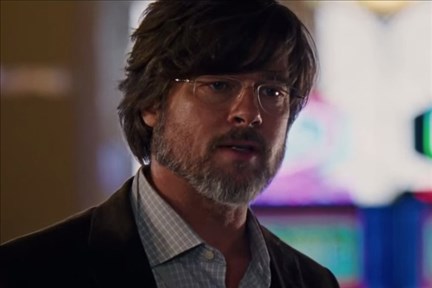 A drama about the housing and credit market crash of 2007 which led to the global economic meltdown of 2008 through 2010, "The Big Short" is a surprisingly entertaining movie about collateralized debt obligations, toxic loans and the day traders and hedge fund managers who saw this collapse coming from miles away and took advantage of it. Seething with anger, this is a movie that everyone should see if only because it will help everyone to understand why we are in the position we are to begin with, who is really responsible for this massive fraud perpetuated against the American people, and how little was done in the aftermath to hold these sub-human greed-mongers responsible.
9. It Follows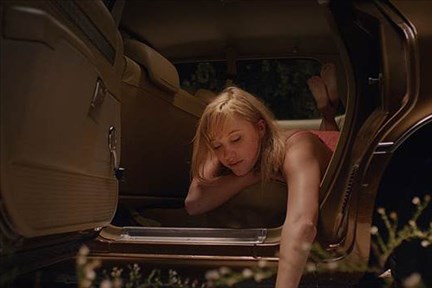 My favorite horror movie of the year, "It Follows" also belongs to a genre that could be called "we love the 80s" or "John Carpenter Homage movies." Pop culture reduced the central conceit of this movie to "a haunted STD" but "It Follows" is really a horror film about the one thing that affects us all, the one thing that so many of us spend so much time trying to avoid or deny or postpone, the one thing that comes for us all regardless of our station in our life, and that is the grim reaper himself (or herself), the emotionless visage of death, simply doing its job by taking us out. Haunting and tense, this is my kind of horror movie, one that consists of atmospheric dread and inescapable loathing, more concerned with meta-horrors than some sort of stalking slasher…though the titular "it" does consistently come across as an imposing force just as dangerous as any movie monster.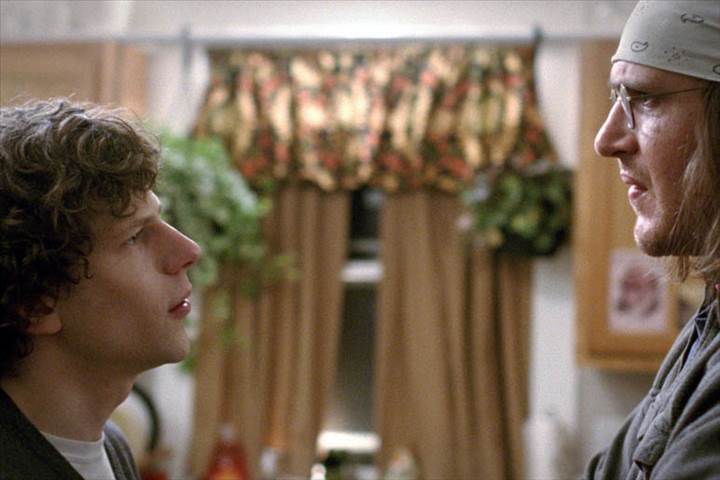 "The End of the Tour" is a movie about a couple of guys having wide ranging conversations about life and death, masturbation, pop culture, writing, and everything in between, all taking place in such dynamic locations as cars, airports and diners. Sounds boring as hell, right? On the contrary, these conversations are fascinating, as a struggling writer working for Rolling Stone magazine gets to interview a hugely successful writer, and the striking similarities and differences between the two of them revealed through their conversations open up whole worlds of universal truths, touching on the neuroses, fears, dreams, aspirations, confusion, admiration and resentment that we all feel from time to time. While these are specific people relating their nuanced views to each other, we get to pull out the things that speak to us all, and after almost two hours of these two interacting with each other, I can definitely say that I wanted more.

7. Ex Machina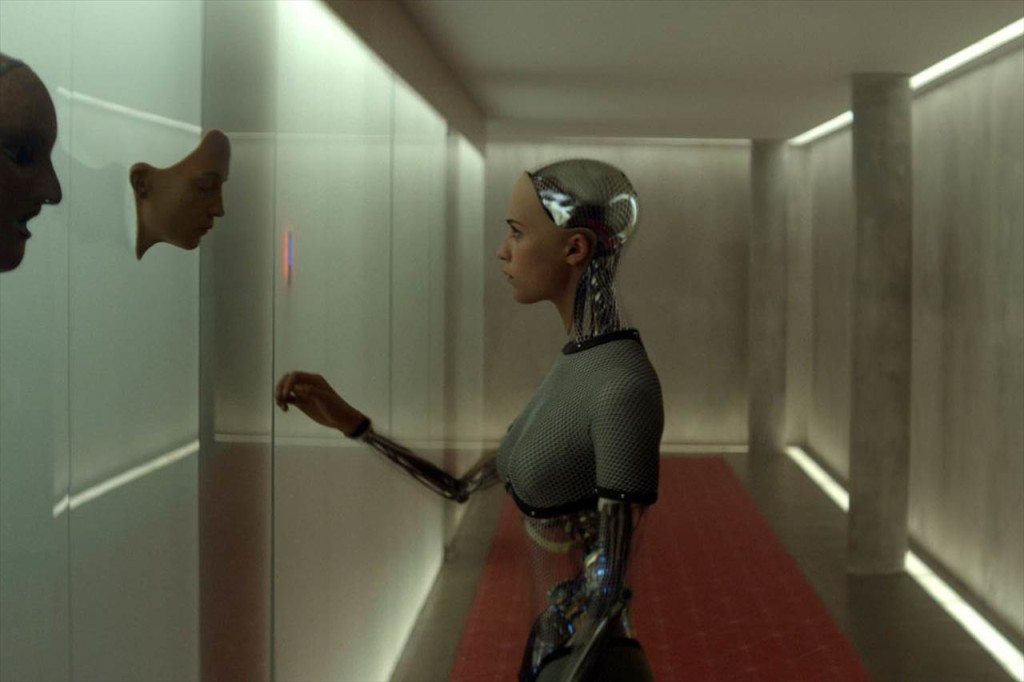 "Ex Machina" is the best science fiction movie of the year, a movie that is specifically about the things that make us human. A young man is chosen seemingly at random to interact with a highly developed artificial intelligence system, which happens to have been installed in a robot with a pretty lady face, and over the course of a week of interacting, this young man seriously questions whether or not this robot is actually "alive," but whether or not he has actual feelings for this thing. A fascinating movie about our possible future, how we might me sowing the seeds of our own destruction as a species, destruction which would actually come in the form of rapid evolution, "Ex Machina" posits the question "what would happen if man became god?" The answer doesn't leave much room for hope, let me tell you.
6. Spotlight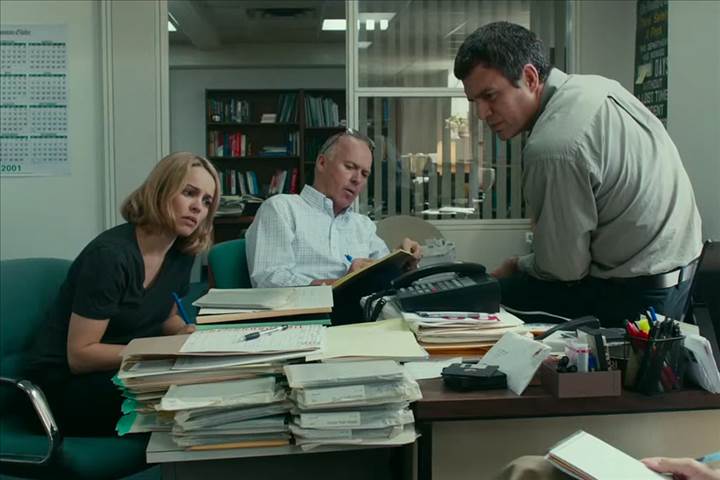 In "Spotlight," visual panache and overly stylized direction takes a backseat to a story and characters that are plenty compelling on their own. In the same company as "All The President's Men," this is a movie about a small group of journalists going around the very Catholic city of Boston and doing their best to uncover the rampant sex abuses committed by the clergy and the disgusting and immoral cover up of these abuses by the church officials in charge. Obviously this is not a cool or sexy topic for a movie, but it does make for a very interesting one, especially in terms of how this movie details not only the extent to which the Catholic Church hid these atrocities against their own congregants, but how this small group of investigative journalists went around putting together the pieces, bit by bit, until the horrifying puzzle was complete. Great acting coupled with a fascinating and well told story, directed with class, makes this easily one of the best of the year.
5. Sicario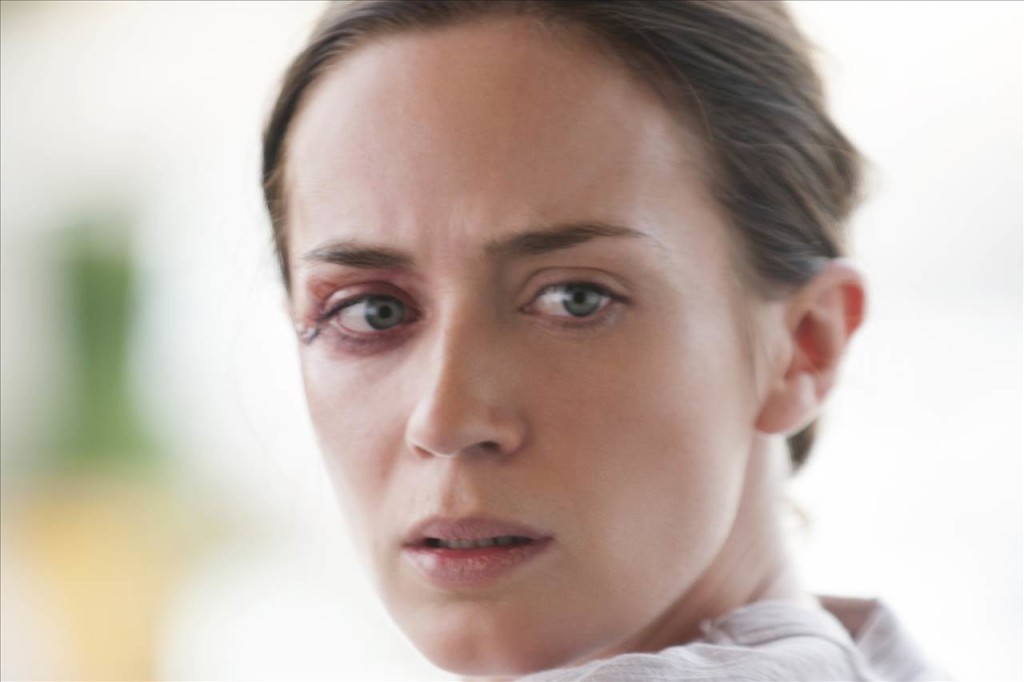 From the opening scenes set in the sun bleached American desert and traveling all the way through the depths of hell that is the U.S. War on Drugs, "Sicario" does not spare one moment. Even when there is seemingly a short break from the horrible murders and non-stop dread, this breaks proves to be near fatal for our lead character and shows us how deep this particular rabbit hole goes. Is this movie accurate in the way it portrays the drug war and how crazy things get in Mexico and our government's shady response? Factually it probably isn't very accurate, but that's not what this movie is going for; instead this is the type of movie that examines what war does to a person and how it can change someone and make them see the world differently and not for the better, and this may not be an official war between countries, it is a war nonetheless, with serious consequences for everyone involved, and "Sicario" does nothing if not drive this point home with the subtlety of a sledgehammer.
4. Creed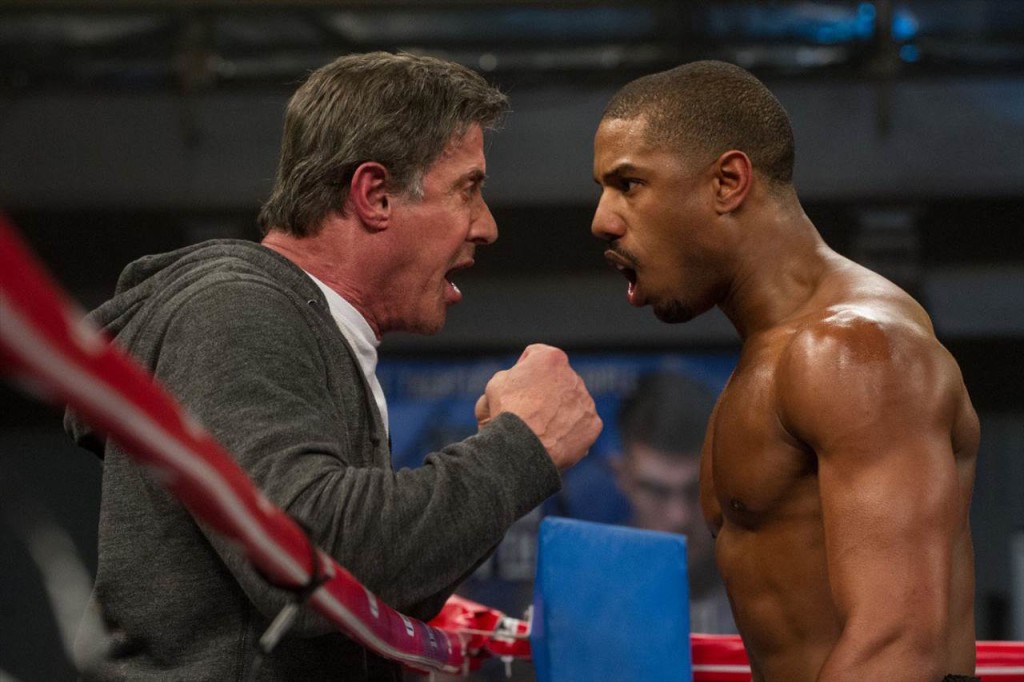 I thought "Rocky Balboa" was a great way to wrap up the story of cinema's most favorite boxer, and then along comes "Creed," a sort of sequel, sort of spin off movie focusing on the son of a character who died three movie installments ago. Bringing this franchise into the present and aiming for the future, "Creed" is downright entertaining from start to finish, with compelling characters, amazing boxing sequences, and a helluva soundtrack featuring both great Philadelphia artists and original music composed just for this film. Also let is be known that Michael B. Jordan is a movie star in the making and this particular movie is a huge step in that direction. Emotional without being cheesy, sentimental but still maintaining an edge, "Creed" is easily one of the best mainstream movies to come out this year.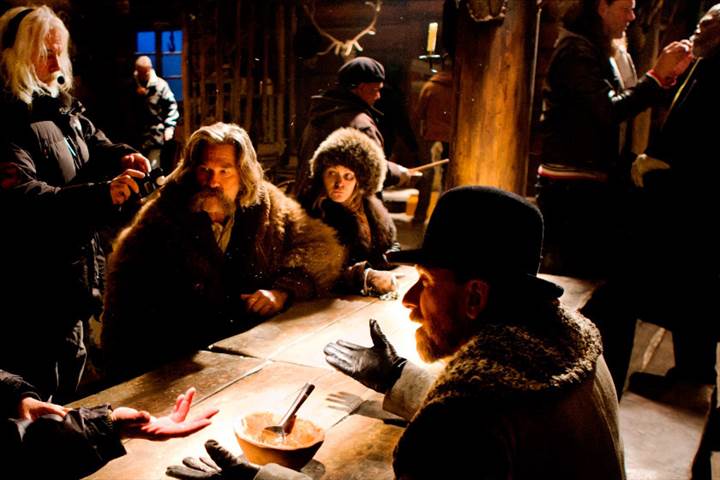 Anyone who knows me should know that this is not much of a surprise, as Quentin Tarantino movies usually end up very high on my top ten lists every year, with the bloody and intense "The Hateful Eight" being no exception. QT's version of an Agatha Christie murder mystery, told as a snowy western, set largely in one location, this is the kind of movie that lays down a lot of track in the first half before it goes haywire in the second. We learn about the characters and what brings them all together, we get a great idea of how they feel about each other, and then someone drops a match in the powder keg and the whole situation goes boom. With the lines between heroes and villains blurred nearly to incomprehension, this is Tarantino's hardest movie to watch in a number of respects, and yet when it ends, it also appears to be one of his most positive. A strange beast indeed, this is one likely to gain fans and admirers over time, maybe even moreso than anything else he's done to date.
2. The Revenant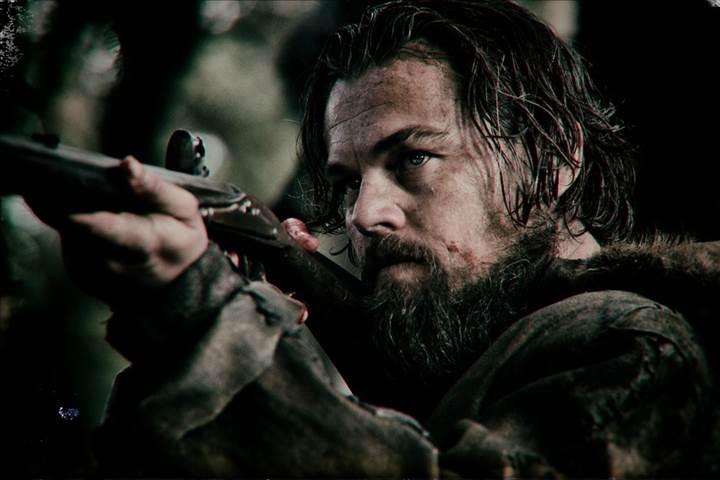 "The Revenant" is one of my favorite kinds of films, a truly ambitious piece of art, huge in scope both thematically and visually. Many talk about the arduousness of the actual production of the movie, but that doesn't matter if you can't see that work on the screen, and in "The Revenant" you can see that work. You can practically feel the wintery cold coming off of it, you can sense every bit of pain these characters endure, you get a chance to truly understand this epic journey. With something like there is a danger of reach exceeding grasp, but when reach and grasp are equaled, something truly unique and special is forged, just like this movie. A revenge story wrapped up in a survival tale, told with bits of magical realism, examining what happens when mankind tries to hunt down God for creating such a beautiful and terrible place, this is totally my kind of movie. Arty, weird, a little overblown, overly serious…these are things that turn off a lot of folks, but which works like cinematic catnip for me.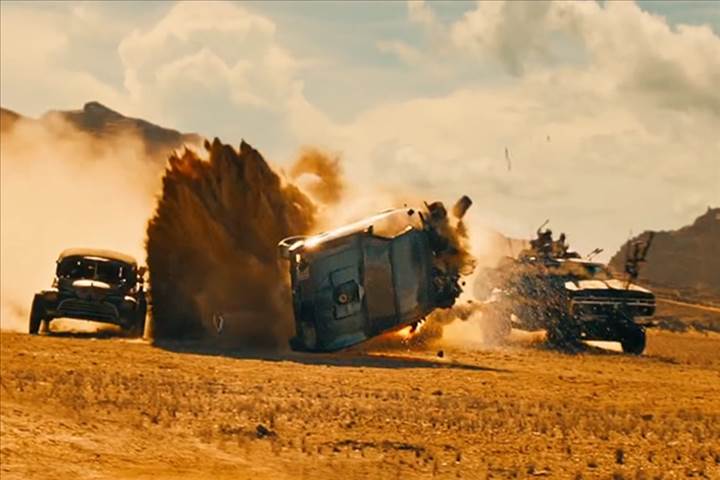 Speaking of ambitious, no one expected "Mad Max: Fury Road" to be as huge and intense and amazing as it ended up being, so that when it finally exploded across cinema screens this past summer, it made everyone sit up and take notice. Gorgeous and brutal (like "The Revenant" and "The Hateful Eight"), this is a movie no one asked for, yet we should all thank our lucky stars that we got it. While the action is kinetic and exciting, it is never muddled or boring, as this movie is really just a two-hour car chase. Tom Hardy is a damn good Max, but this movie belongs to the awesome character of Furiosa played by Charlize Theron, a total bad ass who starts the movie out by betraying her horrible boss and setting out to free a small group of women from his disgusting and abusive clutches, and with this simple set up we have an efficiently and expertly crafted story, featuring defined characters, clear motivations, and established goals, which all then combine with the amazing action to make for a runaway locomotive of a movie. This thing barrels forward in a way that makes other action movies seem so weak and leaden in comparison, and that is because they are. People will be ripping this movie's style off very soon, rest assured, and also expect these rip offs to totally miss the things that makes this movie so special. This is a towering work of cinema, a new landmark in the action genre landscape, the new standard bearer for over the top, in your face, take no prisoners filmmking. "Mad Max: Fury Road" is very much the best movie of 2015.